This is our fourth week of our first ever "Holiday Sales Hunt." Over the next few weeks we'll have a unique and different event for you to enjoy. Our fourth event starts today, the "12 Days of Samples!" on eBay. Check back each week for our latest offer.
It's "Twelve Days of Samples!" from Fenton Art Glass on eBay!

Starting on Wednesday, December 6, 2006, Fenton Art Glass will celebrate the twelve days of Christmas with twelve days of very special pieces on our eBay auction site. You'll find things from Dave Fetty as well as the five elves in our decorating department -- Kim Barley, Frances Burton, Robin Spindler, Stacy Williams and the Fenton Gift Shop's Featured Artist, Susan Bryan.

We think the bidding will be fast and furious for the wonderful items previewed below. Each auction lasts just 24 hours! Log-on to our eBay store often. Any one of them would make a great gift (even if you're buying for yourself!).

Here are 2 special pieces from the "Twelve Days of Samples!" To view the entire preview, click here.

10" l. Multi-Colored Frit and

Crystal Off-Hand Dolphin

(Angelo Rossi)

This Dolphin, made with multi-colored frit and covered with pure crystal, was created by Angelo Rossi. He's really something to see, measuring 10" long.

6-1/2" Black Glass Mosaic

Off-Hand Pig

(Dave Fetty)

We're squealing with delight! It's a Mosaic pig created by glass artisan Dave Fetty! Measuring 6-1/2" long, this fellow is really something, from his piggy nose to his curled tail!
• To shop for items in our eBay store
• To preview the items from the "Twelve Days of Samples!"
---

Fenton Art Glass is now a clue on JEOPARDY!®
Tune in to America's Favorite Quiz Show® on Wednesday, December 6, 2006! Watch for the special Fenton Art Glass clue!
"A production assistant from Jeopardy! contacted us several weeks ago," Fenton historian James Measell said. "She asked if we could supply a picture of a glassblower. I said 'sure,' and my colleague Terry Nutter sent them two different electronic images. We don't know which one will be used, but the production assistant called recently to tell us that the show with our image will air next week. We're going to alert Fenton glass collectors around the country so that they can tune in."
Jeopardy! has ranked first in Nielsen ratings for the quiz show genre for more than 1,000 weeks, and is the # 2 series in syndication for 87 consecutive ratings sweeps periods with nearly 37 million viewers weekly. (Source: Jeopardy! website)
Want to know where and when to find Jeopardy! in your area? Click here for an interactive map.
---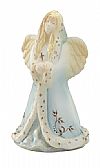 Limited Edition Snow Angel
A brand new sculpture from Suzi Whitaker, our Snow Angel will become a family heirloom to be displayed with pride. Her fur-trimmed robe recalls the hue of blue sky in winter, and Alpine-style scrollwork in the color of rich chocolate further adorns the robe.
• To buy the 7-3/4" Snow Angel
---
Fenton Gift Shop Exclusives...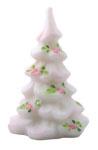 Opal Satin Handpainted Tree
This 6" White Opal Satin tree has been airbrushed with a light pink hue and handpainted with a delicate pink and green floral designed. Produced as a Gift Shop exclusive this will be a must have for any Fenton tree collection.
Canaan Valley on Cobalt Blue Top Hat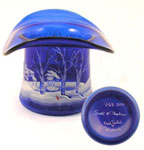 Cobalt blue glass is the perfect background for our popular handpainted Canaan Valley decoration, and the 3-3/4" tall Top Hat captures all the wonder of winter in this scenic area of West Virginia, right down to the bright red cardinal, our state bird. This Fenton Gift Shop Exclusive Top Hat is personally signed by Scott Fenton.
---
Everything is discounted in the Fenton Clearance Corner. All first quality items. New items added weekly! shop now

Original price $48.75 now $39.00 Perfect for your spring floral arrangement...Our ever popular Milk Glass in the Wheat Vase design with emerald green ring and been handpainted with dainty greenery and small red berries to add the finishing touch.

• To buy the 8" Handpainted Milk Glass Wheat Vase with Emerald Green Ring

New! Spring 2007
---
Canaan Valley...
The picturesque Canaan Valley of West Virginia is celebrated once again for Christmas 2006. Ice-covered trees and frosty woodlands come to life in this popular handpainted motif. Designer Robin Spindler's talent finds expression on six items - all new for this year! Each Canaan Valley item features the West Virginia state bird, a bright red male Cardinal, within the design. This alert fellow continues to seek seeds, as he forages along the ground amidst the winter grandeur of Canaan Valley.

• 081039M
19-1/2" Canaan Valley on Cobalt Blue Pillar Lamp

• 050419M
4" w. Canaan Valley on Cobalt Blue Blue Jay

• 059809M
5-1/2" Canaan Valley on Cobalt Blue Fairy Light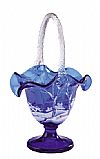 • 063359M
10-1/2" Canaan Valley on Cobalt Blue Basket

• 051609M
3-3/4" Canaan Valley on Cobalt Blue Fawn

• 048619M
7-1/2" Canaan Valley on Cobalt Blue Vase

For a closer look at Fenton Glass, visit an authorized Fenton dealer today. To find a dealer near you, Click Here!
---
Next QVC Show:
Tuesday,
December, 19
4am - 6am ET 1pm - 3pm ET
Guest Host:
For questions or comments, please do not reply to this email. Instead, email: askfenton@fentonartglass.com. This email has been sent to you because you have agreed to receive offers and information from the Fenton Art Glass Company. We respect your privacy and do not sell your personal information. For details, please review our privacy policy.

How to unsubscribe: We support responsible and ethical email marketing practices. Please know that we respect your right to be purged from our email distribution list. If you prefer not to receive offers or information from Fenton Art Glass, please use this page.
We encourage and support best practices in responsible email marketing.
If you use a Challenge-Response system for email, please make certain that you can receive our email by adding askfentononline@fentonartglass.com to your Allow List. For specific instructions for major ISPs, click here.
The sender of this email is the Fenton Art Glass Co., 700 Elizabeth St., Williamstown, WV, 26187.