This is our second week of our first ever "Holiday Sales Hunt." Over the next 5 weeks we'll have a unique and different event for you to enjoy. Our second event starts today, Personalized Gifts by Fenton. Check back each week for our latest offer.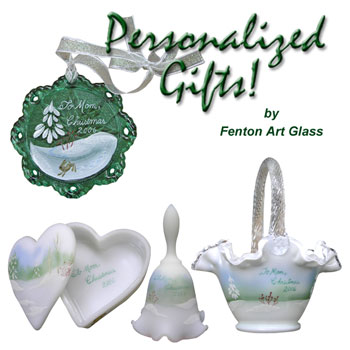 Your very own "personalized"...
Fenton creation awaits!
Just in time for holiday decorating and gift giving!
Select from five different, very unique Fenton creations all decorated with exquisite holiday motifs. The ornament, basket, bell and heart box all coordinate with one another illustrating a spectacular handpainted pattern by Fenton Designer, Robin Spindler. The two-piece Burmese colored purse, also designed by Robin is perfectly adorned with a holiday holly theme.
Simply select your favorite piece, add it to your shopping cart and enter your personalization during check-out. By December 8th your special creation will arrive.
---
6-1/2" Personalized Opal Satin Heart Box

Only 60 available!

8-1/2" Personalized

Silvercrest Basket

Only 55 available!

6" Personalized Opal Satin Bell

Only 85 available!

3-1/2" Personalized Emerald Green Ornament

Only 100 available!

3" Personalized Burmese Purse

Only 60 available!
---
Over 60 "preferred seconds" lamps at great prices! Limited Quantities of each lamp are available!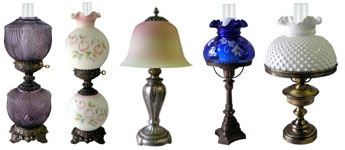 Order Yours Today ... Offer ends Sunday, November 19th! Shipments for all orders will take place no later than November 28th. In time for holiday decorating and gift giving.
Click here for the "Shine a Light on Fenton" Sale.
To browse all of the "Preferred Seconds" Lamps, click here.
---
New Sample Room Items this Week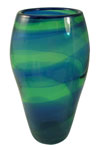 Dave Fetty and Angelo Rossi Transparent Blue and Green Off-Hand Vase
Transparent blue and green colors blend beautifully in this handsome vase created by glass artisans Angelo Rossi and Dave Fetty. This vase stands 10-1/4" tall and was made entirely off-hand (without a mould). It's inscribed on the underside of the base: "Angelo Rossi and Dave Fetty by Tom Fenton".
Bid Now (eBay)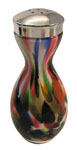 1960s Vasa Murrhina Salt Shaker

Wow, can you say "Vasa Murrhina"? This 4" tall salt shaker shape was designed by Stan Fistick and called "New World." This Vasa Murrhina example was made in the mid-1960s, but it was not in the Fenton line. This shaker is truly multi-colored!
Bid Now (eBay)
• To shop for items in our eBay store
• To shop for items from the new Fenton sample room
---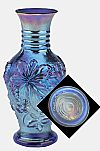 This Favrene vase (6-1/4" tall), made from an Imperial mould recently acquired by Fenton, has been personally signed by Christine Fenton, Lynn Fenton and Mike Fenton. Favrene glass, made with pure silver, is a longtime Fenton collector favorite. We have a very limited supply of these vases, so don't delay in placing your order!
• To buy the 6-1/4" Favrene Vase with signatures by Christine, Lynn and Mike Fenton
---
Gingerbread, Twinkling Glass and Vintage Charm ... Hometown Holidays in Historic Marietta, Ohio

Experience Christmas time in historic Marietta, where charming shops filled with treasures, homemade fudge, sparkling Fenton Glass, and much more await your visit. Take a carriage ride, enjoy a Victorian tea, a Christmas parade and a holiday concert. You'll take home memories to treasure. Click a date below for hotel package details and reservations.
---
Everything is discounted in the Fenton Clearance Corner. All first quality items. New items added weekly! shop now

Original price $28.50 now $22.75 This Cobalt Slag Iridized Penguin receives an early art glass treatment, with swirls of color mixed into pure white Milk Glass. Slag glass is a collectors favorite and sure to be sought after for many years to come.