This week kicks off our first annual "Holiday Sales Hunt." Over the next 6 weeks we'll have a unique and different event for you to enjoy. Our first event starts today, "Shine a Light on Fenton" Sale. Check back each week for our latest special offer.
One week only Lamp Savings Event!
Over 60 "preferred seconds" lamps at great prices!
Limited Quantities of each lamp are available! Act Now!
Order Yours Today . . . Offer ends Thursday, November 16th! Shipments for all orders will take place no later than November 28th. In time for holiday decorating and gift giving.
Click here for the "Shine a Light on Fenton" Sale.
To browse all of the "Preferred Seconds" Lamps, click here.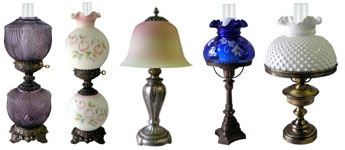 ---
New Sample Room Items this Week
1980s Cranberry Opalescent Tulip Vase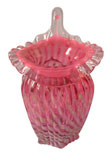 This one-of-a-kind Cranberry Opalescent tulip vase from the 1980s features minute gold mica flakes within the spiral optic effect as well as a wide crystal ring around the topmost edge. This piece stands 6-1/2" tall at the uppermost spot of the tulip, and, all in all, it's a great example of the skilled glassworker's abilities.
Bid Now (eBay)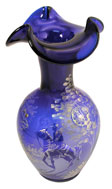 Cobalt Blue Vase (J. K. Spindler)
With vivid cobalt blue glass for her canvas, designer J. K. "Robin" Spindler used metallic gold paints and some special techniques to create a truly remarkable decoration on this 9-1/2" tall vase. The horse and rider are framed by trees and a mountain ledge in the dark of night. The moon and a crouching mountain lion add to the drama. This vase is personally signed "handpainted by J. K. Spindler 2005".
Bid Now (eBay)
• To shop for items in our eBay store
• To shop for items from the new Fenton sample room
---
Functional Fenton at its finest...
La-Tee-Da Effusion Lamps now available online!
Fenton has teamed up with La-Tee-Da to produce an awesome collection of effusion lamps! An absolute delight to the senses!
Attractively displayed in the Fenton Gift Shop and now available online at www.fentonartglass.com/lateeda.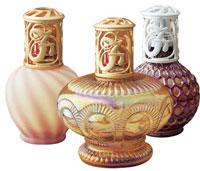 This brand new collection showcases eight unique lamps all topped with the Fenton trademark symbol synonymous of quality
handmade art glass.
Just follow the simple instructions included with each gift set, then sit back, relax and enjoy a fragrance delivery system like nothing you've ever experienced. Fenton La-Tee effusion lamps will keep your heart and home refreshed for many years to come.

La-Tee-Da effusion lamps economically release fragrance without a continuous flame. It works at approximately 1/3 the temperature of a candle, by pulling the fragrance up through the wick to the burner. The burner releases the fragrance and will saturate a room more quickly and consistently than other fragrance products. It typically takes about 45 minutes to fragrance the average size home.
• To shop for Fenton La-Tee-Da Effusion Lamps
La-Tee-Da Six Shooter Fragrance Sampler Pack

Add to the versatility of your La-Tee-Da effusion lamp with this special La-Tee-Da "Six Shooter" sampler pack. Contains six 4 oz. bottles, one each of these scents; Footprints in the Sand (Ocean Shore), Idyllic Refuge (Cinnamon Apple), Monogrammed Linens (Lavender), Perfectly Pomegranate (Pomegranate), Sheer Paradise (Sugared Citrus), and Stay Awhile (Tropical Vanilla).
• To buy the La-Tee-Da Six Shooter Sampler Pack

---
Gingerbread, Twinkling Glass and Vintage Charm ... Hometown Holidays in Historic Marietta, Ohio

Experience Christmas time in historic Marietta, where charming shops filled with treasures, homemade fudge, sparkling Fenton Glass, and much more await your visit. Take a carriage ride, enjoy a Victorian tea, a Christmas parade and a holiday concert. You'll take home memories to treasure. Click a date below for hotel package details and reservations.
---
Everything is discounted in the Fenton Clearance Corner. All first quality items. New items added weekly! shop now

Original price $30.00 now $22.50 This petite 4-1/2" Mini Bell in Blue Topaz with white ring has been handpainted with a blue floral motif along with greenery. Inscribed with the signature of Tom Fenton this piece will be a perfect addition to any bell collection.

• To buy the 4-1/2" Fenton Gift Shop Blue Topaz Handpainted Mini Bell

Original price $23.50 now $17.50 This lively colorful Fish Paperweight in Willow Green Iridescent is perfect for today's nautical theme. Handcrafted with pride by the artisans at Fenton.

• To buy the 5" Fenton Gift Shop Willow Green Opalescent Fish Paperweight

Original Price $32.50 now $24.25 "Jingles" the polar bear is outfitted for the holidays in a seasonal green sweater of holly berries and matching candy cane tie. This white opal satin polar bear has been handcrafted and handpainted with pride by the artisans at Fenton.