For a closer look at Fenton Glass, visit an authorized Fenton dealer today. To find a dealer near you, Click Here!
DESIGNED BY ROBIN SPINDLER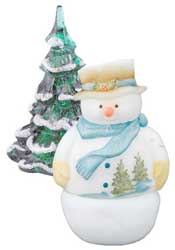 For over 100 years, Fenton Art Glass has been perfecting the glassmaker's art on the banks of the Ohio River in West Virginia. Now, in an exclusive offer, Fenton is proud to present "Winter Fantasy," a fairy light (decorative glass candleholder) in the shape of a roly-poly snowman designed to delight you.
Mr. Snowman's adorable features are individually painted by hand. He is wearing a top hat trimmed with holly and a snowflake spangled scarf. A winter scene of sparkling fir trees adorns his jolly belly - and all have been frosted with "ice" - finely ground glass that has been permanently fired into the painted surface. Each piece is signed by hand by the artist who painted it.
Initial offering of an
important new collection!
First item in the Winter Fantasy series, there will be coordinating glass pieces offered at a later date to create a charming winter season tableau.
(See additional pieces below)
Beautifully handcrafted and affordably priced.*
Handmade in the USA - Order the Snowman Fairy Light Today!
*The Winter Fantasy Snowman is being offered for just $89.97, payable in 3 monthly installments of just $29.99 each. Your satisfaction is guaranteed!
Plus $6.99 shipping and handling and any applicable state and local taxes, billed 1/3 each payment. Please allow 2 to 4 weeks for shipment.
Order toll-free: 1-800-933-6766, M-F, 8AM to 5PM EST or order online.
| | | |
| --- | --- | --- |
| 4" Winter Fantasy Opal Satin Snowlady | 3-3/4" Winter Fantasy Opal Satin Fawn | 6-1/2" Winter Fantasy Iced Fern Green Tree |
---
New Sample Room Items this Week
1961 Green Slag Hobnail Ash Tray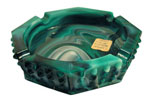 The development of opaque green colors was an important task for Fenton chemists in the 1950s-60s, and this sample piece represents a stage in that process. It's an octagonal 3877 Hobnail ash tray (just over 5" d.) in a color we'll simply call "green slag." The original paper sticker (dated 4/24/61) is still intact!
Bid Now (eBay)
1960s Jonquil Fish Paperweight with Fount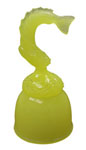 Here's an absolutely terrific example of Fenton's Jonquil color, which was sampled by us in the late 1960s but not put into the Fenton line. Understandably, all of these samples are quite scarce today, but none could be more so than this 5193 Fish paperweight that has not been cut off the fount after it was pressed! Here's your chance to net an elusive fish, indeed! 8" tall.
Bid Now (eBay)
• To shop for items in our eBay store
• To shop for items from the new Fenton sample room
---
Fenton Festival of Glassmaking
August 3-5, 2007
We're in the midst of planning the "Fenton Festival of Glassmaking," which will take place in Williamstown on August 3-4-5, 2007. Plan now to attend. Remember to visit the Fenton web site from time to time to see what's in store as our plans take shape.

In the meantime, we need your help. What events would you most like to see at the Fenton Festival of Glassmaking?

Dave Fetty demonstrates glassmaking techniques.

(File Photo)
---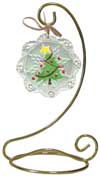 Gingerbread, Twinkling Glass and Vintage Charm ... Hometown Holidays in Historic Marietta, Ohio
Experience Christmas time in historic Marietta, where charming shops filled with treasures, homemade fudge, sparkling Fenton Glass, and much more await your visit. Take a carriage ride, enjoy a Victorian tea, a Christmas parade and a holiday concert. You'll take home memories to treasure.
---
Fenton Accessories $10 and Under...

Got Marbles? We do…Made with Fenton Glass and proudly produced in WV. A generous amount of regular size marbles and two shooters with storage pouch included.

Originally created as part of the Legendary Fashions collection, this 12" tall dressing table mirror is a perfect companion to display with your glass dolls or figurines, allowing you to see and enjoy all angles of the beautiful detail and handpainting. Each mirror is pad printed with the Fenton logo and Legendary Fashions signature, which can be left as is, or simply removed with soap and water for a versatile display mirror.

Fenton and you - perfect together! Spread the word that you're a Fenton fanatic, and start conversations with your very own Fenton Black Glass Logo. A "must-have" for the Fenton fan.

Spread the word that you're a Fenton fanatic, and start conversations with your very own Fenton logo ballpoint pen. You never know where the next Fenton piece may be, and when you brandish your Fenton pen, folks will talk and doors will open. A "must-have" for the Fenton fan.
---
Everything is discounted in the Fenton Clearance Corner. All first quality items. New items added weekly! shop now

Original price $69.50 now $44.50 Complete the holiday magic with serving pieces in deep shades of rich Ruby. Functional treasures for decorating and starting family traditions. (Candles not included)