For a closer look at Fenton Glass, visit an authorized Fenton dealer today. To find a dealer near you, Click Here!

UPCOMING HOLIDAYS:
Halloween, Oct 31 • Veterans' Day, Nov 11
Remembrance Day (Canada), Nov 11 Thanksgiving, Nov 23 • Chanukah, Dec 15 Christmas, Dec 25 • Kwanzaa, Dec 26
Boxing Day, Dec 26 • New Years Eve, Dec 31
---
Horizons ...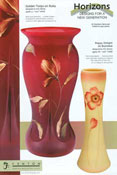 Designs for a New Generation
The 2006 Horizons Collection is bold and assertive, with sleek shapes and designs. This new grouping consists of nine contemporary shapes. Colors and glass treatments include - Ruby, Burmese, Aubergine, Opaline, plus the NEW Ebony Favrene and Indigo Blue. All Horizons items are limited to 950 pieces.
To browse and buy, click here.
| | | |
| --- | --- | --- |
| 12-1/4" Golden Tulips on Ruby Vase | 10-3/4" Poppy Delight on Burmese Vase | 9-1/2" Gold Leaves on Aubergine |
| 13" Floral Breeze on Burmese Vase | 10" Sweet Opaline Vase | 8-1/4" Vivid Poppies on Burmese Pitcher |
| 11-1/2" Cherry Blossoms on Indigo Blue Vase | 8" Butterflies on Lotus Mist Burmese Vase | 7" Dragonflies on Ebony Favrene Vase |
---
New Sample Room Items this Week
1966 Burmese Double-Crimped Vase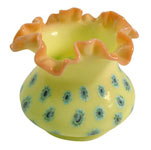 This shiny Burmese double-crimped vase (4" tall) is an experimental piece, and it's graced with multi-colored "canes" applied to the gob of hot glass during an early stage of the production process. We don't see a Fenton logo on the underside, and we think this vase was made here about 1966, when the Burmese color was in its experimental period at Fenton. Bid Now (eBay)
1975 Handpainted Milk Glass Picture Frame
(Michael Dickinson)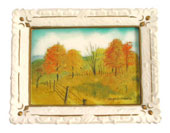 This satin-finished Milk Glass picture frame (5-1/4" x 6-1/2") made by Fenton in the mid-1970s is graced with a simply gorgeous Fall scene handpainted by Fenton designer/artist Michael Dickinson in 1975. As we look around the countryside near Williamstown, West Virginia, today, we can see where Michael got his inspiration! Bid Now (eBay)
• To shop for items in our eBay store
• To shop for items from the new Fenton sample room
---
Fenton's Collectibles, Republic, Missouri
Saturday, October 28 at 1pm
Dave Fetty will be having a seminar on how he makes off-hand glass at Fenton's Collectibles in Republic, Missouri this Saturday at 1pm.

Special pieces of Fetty ware will be available for customers to purchase and have signed by Dave. Customers may also bring up to 2 pieces from home to have signed. Refreshments will be served and door prizes will be given away.

Fenton's Collectibles is located on Interstate 44, Exit 67 in Republic, Missouri.

For more information,

Toll-Free 1-888-818-6861

Fenton's Collectibles is an authorized Fenton retailer and a Fenton Gold Showcase Dealer.

Never at a loss for ideas... Dave handcrafts limited editions of off-hand pieces based on his mood and inspiration.
---

Nancy Fenton, our Design Director needs your help! Fenton has created 4 beautiful Opaline Green Vases and Nancy can't decide which one she likes best. Take the survey
---
Recipe from Allrecipes.com
"These are cookies which have open spaces which are filled with crushed hard candy (yellow and red work best). When baked, the candy melts and gives the appearance of "stained glass".

Original recipe yield: 3 dozen
INGREDIENTS
2/3 cup butter
1 cup white sugar
1/2 teaspoon vanilla extract
2 eggs
3 cups all-purpose flour
2 teaspoons baking powder
1/2 teaspoon salt
1/3 cup milk
40 fruit flavored hard candies
DIRECTIONS
1. Preheat oven to 350 degrees F (180 degrees C). Grease cookie sheets.
2. In a large bowl, cream together the butter and sugar. Stir in vanilla and eggs.
3. In another bowl, sift together flour, baking powder and salt; add to egg mixture alternately with milk.
4. On a lightly floured surface, roll the dough 1/4 inch thick. Cut into 1/4 to 1/2 inch wide strips and, on a well-buttered baking sheet, form into window frames.
5. Keeping the colors separate, place candy in plastic bags and crush with a meat mallet. Place crushed candies inside window frames.
6. Bake for six minutes, or until candy is just melted. Cool on baking sheet for 5 minutes, until candy is hard. Carefully lift cookies off baking sheet with spatula.
---
• To shop for Fenton Gift Shop Exclusives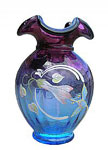 Our "Spring Melody" 6" Vase was designed and handpainted by Gift Shop Featured Artist Susan Bryan. Produced in rich Mulberry glass and handpainted with gold accents and a delicate hummingbird that sweetly flutters, seeking the nectar of a morning glory. This Featured Artist Gift Shop exclusive vase for April 2006 is numbered and strictly limited to only 100 pieces!
• To buy the 6" Fenton Gift Shop Spring Melody Mulberry Vase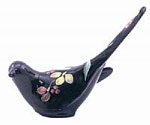 Fenton began to make this very popular bird in the 1960s and collectors have "flocked" to it ever since. This Happiness Bird has been decorated with iridescence paints in rust and gold fall leaves along with red berries which is dramatic on the black glass. Proudly handpainted and signed by the artist who completes each piece.
---
Everything is discounted in the Fenton Clearance Corner. All first quality items. New items added weekly! shop now

Original price $28.50 now $20.00 Every woman wants a black dress that's the height of fashion. Here's the dress of your dreams...a flashback to the 1950s and 1960s, when this style was really "in!" Perfect for your Fenton collection or for a young granddaughter.