UPCOMING HOLIDAYS:
Sweetest Day, Oct 21 • Halloween, Oct 31 • Thanksgiving, Nov 23
• Chanukah, Dec 15 • Christmas, Dec 25 • Kwanzaa, Dec 26
For a closer look at Fenton Glass, visit an authorized Fenton dealer today. To find a dealer near you, Click Here!
---
Aubergine ... A Vision to Behold!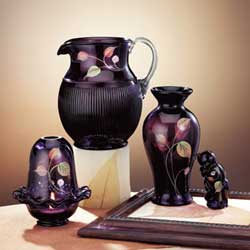 New for 2006, deep rich Aubergine strikes an elegant note. This warm color was inspired by fashion and then quickly embraced by home decorators. Like its complementary Marigold, it features streamlined shapes.
Stacy Williams was inspired to create a design that appears simple but captures attention with complex shading. Layer upon layer of sheer color flows fluidly through breeze-touched leaves accented by a pink Kousa pod.
| | | |
| --- | --- | --- |
| 9" Vision on Aubergine Vase | 19" Vision on Aubergine Petal Lamp | 11-13" Aubergine Swung Vase |
| 8" Vision on Aubergine Basket | 12" dia. Aubergine Ribbed Bowl | 4-1/2" Aubergine Two-Way Votive |
---
New! The Fenton Gift Registry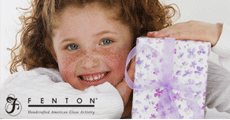 Fenton's Gift Registry makes it easy for fentonartglass.com shoppers to give and receive the perfect gift. It's a convenient way to show family and friends what you really want - and you'll know the gift you send will be treasured because it's exactly what they were hoping for!



After you register for our FREE Gift Registry, it's easy to add an item to your gift list...just click on the "Add to My Gift List" button on any of our product pages.
To register today for FREE, click here.
---
New Sample Room Items this Week
1978 Louise Piper Custard Satin Bell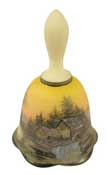 Handpainted as a sample by the legendary Louise Piper, this 5-3/4" tall Fenton bell in Custard Satin glass is simply one of the BEST we've ever seen. It's a great example of her meticulous attention to details. A country mill is framed by a gorgeous sunset and graceful trees with hilltops in the background. The bell is signed "Louise Piper" on the outside, and the handwritten phrase "Christmas 1978" also appears. On the inside, Louise has written "Fenton" and "Hand Painted by Louise Piper 1978".
Bid Now (eBay)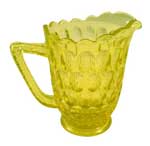 1968 Topaz Sample Creamer

Is your birthday May 14? If you were born in 1968, this sample Thumbprint 4-1/2" tall creamer in Topaz was made by Fenton on your birthday! The date "5-14-68" is engraved on the underside of the base. The Topaz color (often called Vaseline by today's collectors) is quite vivid, and this piece will glow like "gangbusters" under black light! We only wish we had a sugar bowl to go with it!
Bid Now (eBay)
• To shop for items in our eBay store
• To shop for items from the new Fenton sample room
---
If you like Williamstown ... you'll LOVE this book!! Order your copy today!
Fruitful Valley Revisited: A Chronicle of Williamstown, West Virginia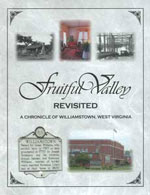 • 8-1/2" x 11" HARDBACK book with color dust jacket
• 200 pages of enjoyable pictures and text
• lavishly illustrated with more than 300 nostalgic photos
• historic maps of Williamstown
• chapters devoted to schools, churches, sports, industries, etc.
• your family may be in this book somewhere!
• Special price: $20 plus $6.50 shipping
• FREE Index with each book!
All proceeds from the sale of Fruitful Valley Revisited: A Chronicle of Williamstown West Virginia, will be donated to the swimming pool fund of the Williamstown Community Association.
Here's how to order:
Click here to buy now! (MasterCard or Visa).
Or, send your check for $26.50 (payable to "Williamstown Community Association") to Fenton Museum, 700 Elizabeth St., Williamstown, WV 26187. If you'd like to order multiple copies to be shipped to different addresses, call the Fenton Museum: 303-375-7772 ext. 255.
---
• To shop for Fenton Gift Shop Exclusives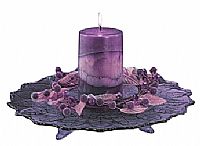 Entertain in style with this deep rich Aubergine leaf design cakeplate. This warm color was inspired by fashion and then quickly embraced by home decorators. Available only through the Fenton Gift Shop, this new exclusive for 2006 will be a pleasure to give or to own. Candle and decoration not included.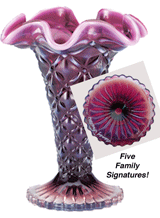 Wow!! Five (count 'em!) Fenton family signatures! Used for some Fenton special events in 2005, this 5 1/2" tall Plum Opalescent vase was inscribed with Nancy Fenton's signature. We had a few left after the events were over, and we noted that there is room for more signatures, so we got Christine, Lynn, Mike, and Randy to personally sign each vase with an engraving tool. Several of them added "06" or "2006" too. We have fewer than three dozen of these vases, so...when they're gone, they're GONE for good!
• To buy the 5-1/2" Plum Opalescent Vase with Five Fenton Family Signatures
---
Everything is discounted in the Fenton Clearance Corner. All first quality items. New items added weekly! shop now

Original price $59.50 now 38.50 Enjoy this elegant Aubergine Ribbed Basket with a crystal twisted handle. Each piece bears the handler's mark of the craftsman that applied the basket handle. Made in West Virginia by the artisans of Fenton.