UPCOMING HOLIDAYS:
• Bosses Day, Oct 16 • Sweetest Day, Oct 21
• Halloween, Oct 31 • Thanksgiving, Nov 23
• Chanukah, Dec 15 • Christmas, Dec 25 • Kwanzaa, Dec 26
For a closer look at Fenton Glass, visit an authorized Fenton dealer today. To find a dealer near you, Click Here!
---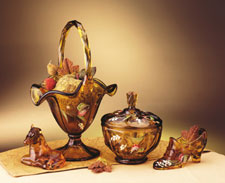 Introduced in 2005, Frances Burton's Wheatberry on Autumn gold quickly became our "best ever" decorated pattern for Fall. Her handpainted motif combines leaves, berries and wheat in an elegant yet vibrant design. We're pleased to offer new additions to this beautiful grouping. The Shoe is a new mould designed by Jon Saffell.

Among the new selections in Autumn Gold are the Two-way Votive and the beautiful Horse (designed by Suzi Whitaker), which is offered for the first time.
• To browse all of our 2006 Christmas Collection including "Wheatberry" on Autumn Gold
---
New Sample Room Items this Week

1972 Rosalene Hobnail Sample

This diminutive double-crimped Hobnail vase (2-3/4" tall) is a Rosalene sample from 1972, almost four years before this opaque color was in the Fenton line. This piece is a delightful color nonetheless, and an original paper label dates it to 6/13/72.
Bid Now (eBay)

Iridized Plum Opalescent Swung Vase

This iridized Plum Opalescent swung vase stretches itself out to a full height of 14-1/2 inches! The result is a terrific stretch glass finish for a full three-quarters of the outside and a great stretch on the interior, too. Not to stretch a point here... but this vase is a beauty!
Bid Now (eBay)
• To shop for items in our eBay store
• To shop for items from the new Fenton sample room
---
Fenton Festival of Glassmaking
August 3-5, 2007
We're in the midst of planning the "Fenton Festival of Glassmaking," which will take place in Williamstown on August 3-4-5, 2007. Plan now to attend. Remember to visit the Fenton web site from time to time to see what's in store as our plans take shape.

In the meantime, we need your help. What events would you
most like to see at the Fenton Festival of Glassmaking?

Dave Fetty demonstrates glassmaking techniques.

(File Photo)
---
Frank O. Myers, Fenton's First Basket Handler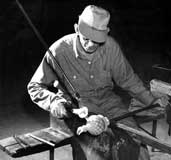 About 1900, glassworker Frank O. Myers got his start at a glass factory in Indiana, Pennsylvania, the very same plant where our company's founder, Frank L. Fenton, had begun as a glass decorator in 1897.
A loyal member of American Flint Glass Workers Local Union No. 71, Myers became an apprentice, first learning to gather glass and, before long, mastering pressing and blowing operations.
By about 1910, Myers was a skilled finisher, able to reshape pieces, such as flaring and crimping the tops of vases in many different ways.
He was also adept at attaching handles to cruets or pitchers then called "jugs." From time to time, his employer marketed glass baskets, and Myers was the fellow who put the handles on the baskets.

When Fenton decided to create baskets about 1939, Myers became our first basket handler. "He was very good at that job," Frank M. Fenton recalled. "And, he was very helpful in training other skilled glassworkers to become handlers. That was important to us in the early 1940s when several different baskets were in our line."
---
---
Everything is discounted in the Fenton Clearance Corner. All first quality items. New items added weekly! shop now

Original price $69.50 now $45.00 Enjoy the vibrant beauty of Amethyst Carnival glass with this classic cornucopia Feather Vase. Carnival glass has been a Fenton trademark since 1907. The deep shade of amethyst glass is sprayed with metallic salts while the glass is still hot. As the spray is applied, a rainbow of rich color emerges.