Reminder...Halloween is only 26 days away!
For a closer look at Fenton Glass, visit an authorized Fenton dealer today. To find a dealer near you, Click Here!
---
Trick or Treat from Fenton!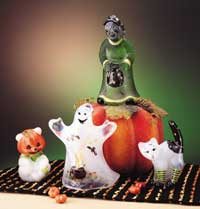 In costume and ready for "trick or treat," Lil' Punkin the Bear will make you smile with memories of a childhood Halloween long since past. Newly designed for 2006, our popular Ghost and Witch figurines feature some subtle (but not too scary!) bats in their handpainted designs. "Hat-on-Cat" returns with some spiffy new socks to grace its feline form.
---
New Sample Room Items this Week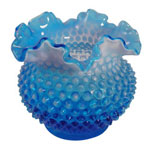 1970s Colonial Blue Opalescent Hobnail Vase

Fenton is always experimenting with glass color effects, and this 5" tall Hobnail vase from the early 1970s is a great "sample" of Colonial Blue Opalescent, a color that was not produced for the Fenton line. The crimp isn't perfect, but the color is spectacular!
Bid Now (eBay)
1968-69 Jonquil Hobnail Basket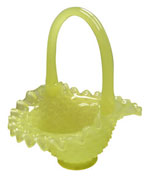 Wow! How often do you see (let alone get the chance to purchase!) Fenton's "Jonquil," a luscious yellow color made very briefly in late 1968-early 69 that did not make it into the Fenton line? This sample 7-1/2" tall Hobnail basket has the handler's mark of Ron Bayles and is dated 2/21/69.
Bid Now (eBay)
• To shop for items in our eBay store
• To shop for items from the new Fenton sample room
---
Fenton Gift Shop's 2006 Adopt-A-Thon raised $1,500 for local Humane Societies
| | |
| --- | --- |
| (Williamstown, WV). During the first Fenton Adopt-A-Thon, Aug 6th through Sept 4th. Fenton Gift Shop donated 5% of all Fenton glass animal figurine sales to the Washington County Humane Society and the Parkersburg Humane Society. The Gift Shop also collected donations of food and pet supplies for the humane societies. | (left to right) Kelly Knight, Dan Hendrickson and Cheryl Byers accepts donation checks from Christine Fenton at the Fenton Gift Shop in Williamstown. |
Christine Fenton presented checks for $750 to each of our local humane societies. Cheryl Byers from Washington County Humane Society and Dan Hendrickson and Kelly Knight from the Parkersburg Humane Society were on hand to receive the checks and donations.
"We appreciate the support of the community, their generous donations and help in making this a successful event," said Christine Fenton. "We hope to make people more aware of the many homeless animals that need our help. Hopefully the 2007 Adopt-A-Thon will be even bigger."

Participation in the Adopt-A-Thon spread to people from other communities as well, with visitors from as far away as Canton, Ohio contributing donations.
"I think your Adopt-a-Thon is the most wonderful thing you have ever done. I work as a volunteer for the Putnam Co. Humane Society so seeing a national company like yours helping with such a needy cause is FANTASTIC! Thank you for doing this", one visitor from Putnam County, WV commented.
---

Create memories to treasure!

Fenton Art Glass Ghost Tails and Fall-o-ween! Autumn in historic Marietta is the perfect weekend getaway. Escape and enjoy creative activities, unique shopping adventures, fall festivities and a chance to relax, all wrapped in a tapestry of beautiful fall foliage. Click a date below for hotel package details and reservations.

October 14-15, 2006
October 21-22, 2006
October 27-28, 2006
---
---
Everything is discounted in the Fenton Clearance Corner. All first quality items. New items added weekly! shop now

Original price $34.50 now $22.25 A vivid opaque blue that works well in American Country or French Country dιcor, this striking blue medley is an original Fenton color developed by Paul Rosenthal during the 1930s. The heat-sensitive glass ranges from light to dark blue to create beautiful gradations of color - a true art glass treatment.