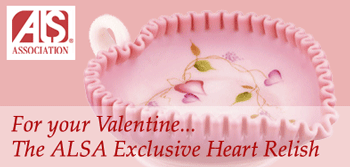 Honor your valentine with this Fenton classic...a heart-shaped relish modeled after those we first made a half-century ago. Kim Barley's handpainted Vining Heart decoration graces the piece. Each heart relish bears the signatures of nine family members and the ALSA logo. Limit:1850.
ALS (Lou Gehrig's disease) has impacted the lives of loved ones in the Fenton family. Amyotrophic lateral sclerosis (ALS) is a progressive neuro-degenerative disease that attacks nerve cells and pathways in the brain and spinal cord. The ALS Association funds research into the causes of and treatments for ALS; $5.00 from the sale of each Rosalene Heart Relish will be donated to the ALSA.
• To buy the 6-1/4" ALSA Rosalene Handpainted Heart Relish
---
New! The Deal of the Day!
Each day the Fenton website will spotlight one special clearance item. The item can be found on www.fentonartglass.com. The item changes everyday at 9am ET. Each day, Monday through Friday, you can get a special price on one Fenton item. However, you'll need to shop early, because the item is available in limited quantities and only on sale until the next Deal of the Day! starts.

Today's Deal of the Day! is the Fenton Gift Shop Silver Crest Handpainted Heart Bon Bon Dish.

Was $99.00

Now $89.50
---
FREE Master Craftsman Seminar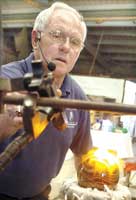 The phrase "off hand" really means working "by hand," as the glass artisans create various effects by shaping molten glass and applying threads or bits of glass in contrasting colors.
Dave may use a mould to bring the piece to its final shape, but all the decorative effects -- colored frit, hanging hearts, pulled feathers, handles, ringing, threading, etc. are done strictly by hand.
Don't miss out on your chance to attend a FREE 1 hour master craftsman seminar featuring Dave Fetty or one of his apprentices...on a special Saturday in 2007!
April 14, May 12, June 9, July 14, August 11, September 8, October 13, November 10, December 8
Spaces are limited for these special "up close and personal" sessions so reserve your seat today!
Call Fenton Gift Shop customer service at 1-800-319-7793 x311
or send email to service@fentongiftshop.com your preferred date and time.
---
Fenton Gift Shop Exclusives...
Violet Hobnail Fan Tray

Victorian elegance can be yours with this stunning Violet Hobnail fan tray. Simply divine on a dressing table or in the powder room, it's a touch of elegance from times forgotten. The perfect place to store your jewelry, hair accessories and precious treasures. Or, use for entertaining and fill with candies or nuts; in the bath you'll want to place loads of votive candles or soaps on this wonderful fan tray. The perfect gift for a Red Hat Society member!

French Opalescent
Diamond Optic Vase
This stunning 5-1/2" French Opalescent Diamond Optic Vase with a delicate Pink Crest was handcrafted with pride by the artisans at Fenton.
---
Everything is discounted in the Fenton Clearance Corner. All first quality items. New items added weekly! shop now

Original price $58.75 now $37.75 Handcrafted in dreamy Rosemilk Opalescent Iridized glass this Candy Box will be a pleasure to give or to receive. Perfect to fill with candy, potpourri or any treasure of your choice.

---

"Collectors, dealers and all who appreciate the beauty of decorative art glass will enjoy The Glass Messenger."

To subscribe today, click here.