The Artistry of Dave Fetty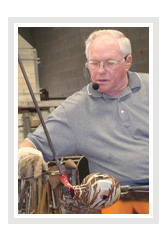 Dave Fetty began his career in the glass industry at age 19, when he worked at the Blenko Glass Company in Milton, West Virginia. Dave's mentor at Blenko was glassworker ''Shorty'' Finley, who taught him some of the skills for making glass offhand (without moulds).

Dave joined Fenton Art Glass in 1965, and he worked closely with artisan Robert Barber in the mid-1970s, designing and making some of Fenton's first limited edition pieces. Later, as a production supervisor and trainer, Dave helped other Fenton glassworkers develop special skills.
Although he retired in 1998, Dave continues to contribute his design and glassmaking talents to Fenton, producing unique items that are tributes to American art glass as a visiting artist at other glass manufacturers. Shown above is the stamp that appears on the bottom of Dave's creations.
Signature Pieces
068556BA
6 1/2''
Cutting Gardens Vase
Limited to 500 pieces
Sold Out!

05035K8
6 1/2''
Ada's Feathered Purse
Limited to 1500 pieces
Sold Out!

070700J
10'' Ruby Royale Vase
Limited to 250 pieces
Sold Out!