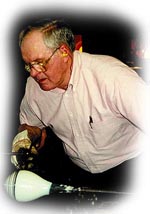 Observe and feel the magic as master craftsmen Dave Fetty and Jim Ralston create special Centennial pieces.

Special 20% discount coupon on one offhand Dave Fetty piece for each participant!

Workshop times: One Saturday a month; 10:00am and 11:00am

Admission is FREE but confirmation of reservations required!
Please contact Jena Blair at jena@fentongiftshop.com or call Jena at 1/800/319-7793 to reserve your FREE place for this special Fenton Centennial event.
During the Fenton Centennial Celebration, July 29 - August 2, 2005, no reservations will be taken. They are open to the public on a first come-first served basis. You can sign up for the glassmaking workshop and other daily events in the information booth at Fenton in Williamstown, WV during the celebration.


Event Dates:
10am Sessions: Jan. 8 Feb. 12 Feb. 19 Mar. 12 Apr. 9 May 14 Jun. 11 July 9 Aug. 13 Sept. 10 Oct. 8 Nov. 12 Dec. 10
11am Sessions: Jan. 8 Feb. 12 Feb. 19 Mar. 12 Apr. 9 May 14 Jun. 11 July 9 Aug. 13
Sept. 10 Oct. 8 Nov. 12 Dec. 10