The Fenton Gift Shop in Williamstown, West Virginia
Fenton Gift Shop Hours:
Fenton Gift Shop is now located at 2242 Williams Hwy., Suite 107-108 (Route 14 in Boaz), Williamstown, WV 26187
HOURS: Tuesday-Saturday 10 a.m.-4 p.m.
Closed Sunday and Monday
304-375-7772 or 800-319-7793
********************************************************
New Limited Edition offerings continue to be available and pre-orders accepted as usual via email: purchasing@fentongiftshop.com or call 1-800-319-7793, ext 342.
The Fenton Art Glass Company property was sold in 2017 to Wood County Schools. Plans are for the factory to be demolished and a new school built on the site.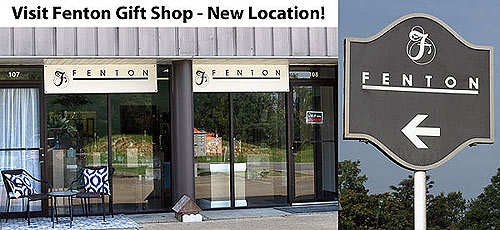 ***************************NOTICE*************************
We no longer have the staff to research inquiries about glass: value, history, identification, etc. We do have reference books on Fenton Art Glass available on our web site: (http://www.fentonartglass.com/shop/product.asp?c=0&l=books and magazines), however, they do not include current price guides.
We suggest you contact your local antiques dealer, the local library, or one of the collector clubs: http://www.fentonartglass.com/collectors. The Williamstown Antique Mall (local) may also provide assistance: 304-375-6315. A piece like yours may be listed on eBay, which can provide current pricing information. Otherwise, please send any email inquiries about glass "production" to: purchasing@fentonartglass.com

Items are also available through the weekly Fenton eBay Auctions and eNewsletters.
UPDATE ON FENTON ART GLASS COMPANY and FENTON GIFT SHOP:
Fenton Art Glass Co. ceased traditional glassmaking in 2011. They continue to use more than a century of glassmaking expertise and skill to create beautiful, handcrafted art glass jewelry. As the company continues to wind down the remaining factory "traditional glass" inventory, a varied selection of handcrafted glass is still available. Glass not made at Fenton as well as non-glass items are available at Fenton Gift Shop at the new store location. Limited Editions and one-of-a-kind pieces are also offered in the shop as well as on eBay.