Fenton Gift Shop is Open in Williamstown, West Virginia
FENTON GIFT SHOP:
Fenton Gift Shop is now located at 2242 Williams Hwy., Suite 107-108 (Route 14 in Boaz), Williamstown, WV 26187
HOURS: Tuesday-Saturday 10 a.m.-4 p.m. Closed Sunday and Monday

PHONE: 304-375-7772 or 800-319-7793 FAX: 304-699-2709
EMAIL: Purchasing@fentongiftshop.com
Visit Fenton Gift Shop on Facebook! Sign up for our eNewsletter!
*******************************************************************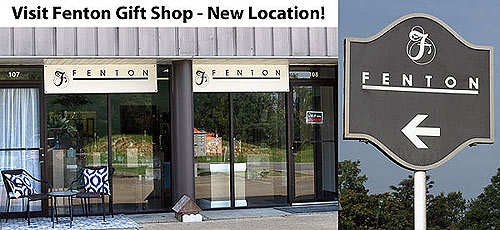 New Limited Edition offerings as well as vintage glass and handcrafted jewelry continue to be available. Pre-orders for the Limited Editions are accepted via email: purchasing@fentongiftshop.com or call 1-800-319-7793, ext 342.
The Fenton Art Glass Company property was sold in 2017 to Wood County Schools. The factory has been demolished and a new school is being constructed on the site.
**********************NOTICE********************
We no longer have the staff to research inquiries about glass: value, history, identification, etc. There are reference books on Fenton Art Glass, however, they do not include current price guides. We suggest you contact your local antiques dealer, the local library, or one of the collector clubs: http://www.fentonartglass.com/collectors. The Williamstown Antique Mall (local) may also provide assistance: 304-375-6315 or email: antiquemall@suddenlink.com. A piece like yours may also be listed on eBay, which can provide current pricing information. Otherwise, please send any email inquiries about glass "production" to: askfenton@fentonartglass.com
Items are also available through the weekly Fenton eBay Auctions and eNewsletters.
UPDATE ON FENTON ART GLASS COMPANY and FENTON GIFT SHOP:
Fenton Art Glass Co. ceased traditional glassmaking in 2011. The factory site was purchased by Wood County Schools. Demolition of the factory and original Fenton Gift Shop was completed in 2018 to make way for construction of a new elementary school. Fenton Gift Shop moved to its new Boaz location in July, 2017.
Vintage Fenton Art Glass and new Limited Edition glass (made at Mosser Glass using the Fenton moulds exclusively for the Gift shop), as well as unique giftware is available at Fenton Gift Shop, 2242 Williams Hwy., Williamstown, WV 26187 (State Route 14 in Boaz). Info: 304-375-7772 or 800-319-7793.
Orders for www.fentonartglass.com will no longer be processed "online". TO PLACE YOUR ORDER: Please email orders for www.fentonartglass.com and jewelry orders to: chill@fentonartglass.com. You'll receive a confirmation email. When you order, please include a daytime phone number, item#, name, advertised price, and the quantity you wish to order. Orders above $50 receive free shipping via USPS. A $3.50 shipping charge will be added to all orders $50 and under.