Fenton Art Glass Company celebrates…
FREE Fenton Factory Tours
- a Fabulous Vacation Experience!
---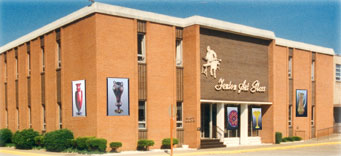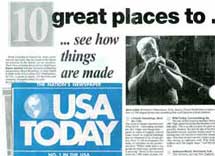 2005 is the 100th anniversary of Fenton Art Glass – make 2005 YOUR YEAR to visit Fenton!

Rated in USA Today as one of the TOP 10 tours in America, there is nothing like the Fenton Factory Tour. Watch raw materials become molten glass which is shaped by artisans in the age-old tradition. Furnaces glow, sparks fly, and from heat, noise and motion emerge works of art to captivate and delight.

The crafting experience showcases the talent of skilled artisans painstakingly handcrafting each piece, and ends in the Gift Shop where an artist handpaints glassware to customer specifications, while the Fenton Museum highlights glassware from 1880 to the present.

But there is so much more – special Centennial Events designed to make your visit a truly "once in a lifetime experience" – decorate your own Fenton Christmas ornament, observe firsthand the talents of skilled craftsmen Dave Fetty and Jim Ralston as they create special Fenton Centennial pieces…visit www.fentoncentennial.com for all the information you need to plan your Fenton Factory Experience.

For all of your Fenton needs, shop online with an authorized Fenton dealer today, or click here to find a dealer near you.