Fenton Art Glass, handcrafted in America for 100 years...reminds...Community involvement and charitable contributions are critical to each of us. Please take a moment to consider an opportunity specially designed for Fenton enthusiasts, and note that May is ALS awareness month.
Fenton fans and Fetty fanatics are TWISTED over the one-of-a-kind Fabulous Fetty Feather Vase to be auctioned on eBay to benefit ALS Association!
---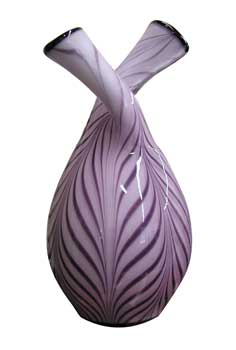 Don't miss out on this very special opportunity to own an absolutely unique Dave Fetty creation – a "feather" vessel that is no ordinary vase – it's extraordinary! Master glass craftsmen Dave Fetty was positively inspired when he created this intriguing double-neck Vase…starting with Milk glass, Violet threads are

applied over the piece and carefully pulled to create the unique and desirable "feather" design, a medley of amethyst and lavender hues covered with crystal; a Black glass ring is added to each opening to finish the piece. This special Fabulous Fetty Feather Vase bears the signatures of nine Fenton family members as well as the Dave Fetty backstamp, making this handcrafted piece of artisan glass even more desirable. The auction begins at noon on Monday, May 16, 2005.

The Fenton family chose this unique piece to auction exclusively on eBay, with the proceeds to benefit the ALS Association. The ALS Association is the only national non-
profit voluntary health organization dedicated solely to the fight against ALS. Often referred to as Lou Gehrig's disease, amyotrophic lateral sclerosis (ALS) is a progressive neurodegenerative disease that attacks nerve cells and pathways in the brain and spinal cord. There is no known cure for ALS.

The Fenton Foundation of the Fenton Art Glass Company has been providing philanthropic support for over 50 years. In 2004, the Fenton Foundation selected the ALS Association as its national partner. The ALS Association was chosen because of the Fenton family's direct experiences with this disease, and to date, Fenton has donated over $21,000.00 to the ALS Association through the sale of selected pieces. The Fenton family will continue to work in partnership with ALS Association to make advances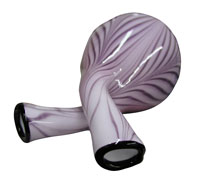 in the fight against Lou Gehrig's disease. For more information about ALS and The ALS Association, visit www.alsa.org or call 1-800-782-4747.

The handcrafted Fabulous Fetty Feather Vase began as raw materials became molten glass blown freeform or "offhand", shaped by Dave Fetty in the age-old tradition. Furnaces glow, sparks fly, and from heat, noise and motion emerge works of art.

Creating spectacular art glass for a century, Fenton Art Glass Company represents American handcrafted glass artistry. Located in Williamstown, WV, Fenton is known for its wide range of colors, handpainting and handcrafting. Three generations of Fenton family members remain active in the business and are proud to continue an American glassmaking tradition begun in 1905.

For more information please call 800-933-6766 or visit www.fentonartglass.com.

For more information about ALS and The ALS Association, visit www.alsa.org or call
1-800-782-4747.