Fenton Art Glass, handcrafted in America for 100 years, announces...
Fenton fanatics are aflutter over the Fenton Chocolate Glass Logo to be auctioned on eBay to benefit ALS Association!
---
Fenton Chocolate Logo # 30 of 300
Limited Edition, only 300 pieces ever made
Signed by all nine Fenton family members
---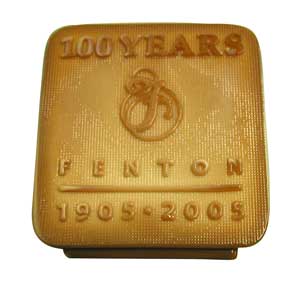 Rich Chocolate glass ranges in color from a deep mocha to a milky cocoa shade and no two pieces are ever exactly alike. Chocolate glass is a collector favorite, specially reissued to celebrate our 100th anniversary. The 3 1/4" square Fenton Logo is crafted in heat-sensitive Chocolate glass; this results in swirls and striations of color throughout each piece. This Fenton Chocolate glass Logo was limited to just 300 pieces, and created especially for eBay in June 2005.
We are auctioning Fenton Chocolate Logo, individually numbered # 30/300.
It is signed by all nine Fenton family members: George, Nancy, Tom, Mike, Scott, Christine and Randy Fenton; Lynn Fenton Erb and Shelley Fenton Ash.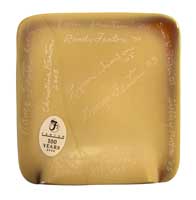 The auction begins at noon Eastern Time on Tuesday, November 15. When bidding starts at Noon ET, click here.
The Fenton family chose this unique piece to auction exclusively on eBay, with the proceeds to benefit the ALS Association. The ALS Association is the only national non-profit voluntary health organization dedicated solely to the fight against ALS. Often referred to as Lou Gehrig's disease, amyotrophic lateral sclerosis (ALS) is a progressive neurodegenerative disease
that attacks nerve cells and pathways in the brain and spinal cord. There is no known cure for ALS.

The Fenton Foundation of the Fenton Art Glass Company has been providing philanthropic support for over 50 years. In 2004, the Fenton Foundation selected the ALS Association as its national partner. The ALS Association was chosen because of the Fenton family's direct experiences with this terrible disease, and to date, Fenton has donated over $25,000.00 to the ALS Association through the sale of selected pieces. The Fenton family will continue to work in partnership with ALS Association to make advances in the fight against Lou Gehrig's disease. For more information about ALS and The ALS Association, visit www.alsa.org or call 1-800-782-4747.