Fenton Gift Shop Limited Edition Handpainted Buttercream Alley Cat . . .

Donít miss the chance to purchase this exceptional Gift Shop Exclusive Buttercream Alley Cat designed by our award-winning Fenton artist
Kim Barley. Her handpainted design turns this ''Alley Cat''
into an adorable gray tabby!

This iridized 11'' Buttercream collectible, made for Fenton by Mosser Glass, is the purr-fect addition to your collection!
Designed, handpainted, signed, and numbered #1-50 by Kim Barley, just 35 now remain. . . priced at $125 each! To order, please call the Fenton Gift Shop at
304-375-7772, ext. 282 or 321. Orders will be filled on a first call, first served basis.
This Alley Cat is limited to
one per customer.
Z5177BCHP
11'' Alley Cat with Gray Tabby Design by Kim Barley, $125.00
SPECIAL NOTE:
January 2014 Fenton Gift Shop hours: Monday and Tuesday 10 a.m.- 3 p.m. and Friday and Saturday 10 a.m.- 4 p.m. (ET). Fenton Gift Shop will continue offering a wide variety of items via their eBay auctions and eNewsletters. Phone orders are also welcome. Limited tours of the beadmaking department will be available upon request.
---
Substantial 25% - 80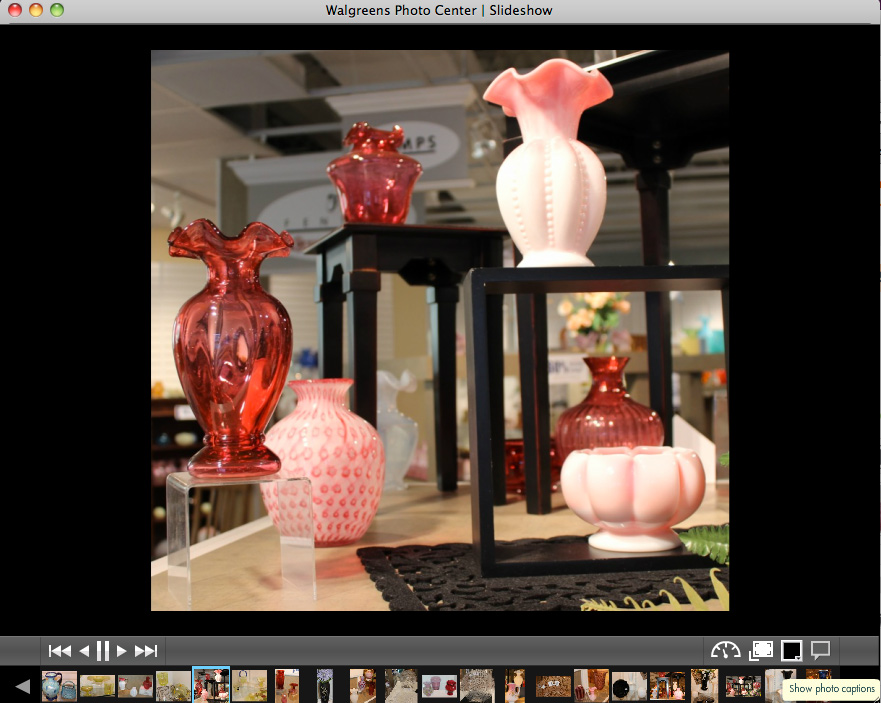 % Storewide Savings. . .
Fenton Gift Shopís
Wind Down Sale
continues on mail orders!

More than 450 photos of existing inventory are now available for your viewing in three Walgreens albums.
Don't miss out on some of the last of our Limited Designer Exclusives now offered at 25% Savings. Enjoy 60% mail-order savings on a wide array of beautiful art glass including museum pieces, cameo, gift shop exclusives, chills, and preferred seconds.

Also save 80% on a select grouping
of "Off-Hand" creations from Fenton master craftsmen!
The "Click here" links will take you to Walgreens Photos where you'll be instructed to log in to your account or set up an account if you are not a member. (If you haven't set up an account to view these photos, it's fast, easy, secure and free!) Once you are logged in, you will be able to view the album link you selected.

Click here for Limited Exclusives - 83 photos - 25% OFF!

Click here for 60% Wind Down Savings - 315 photos!

Click here for 80% Savings! 25 photos - "Off-Hand" Originals!

PLEASE NOTE: To view larger sized images, select the slide show option which you can control at your desired speed and choose the photo caption icon on far right (white outline with gray inside) to see the image number at the bottom of each photo. Write down the image number (ex: IMG_2240) of the slide(s) you wish to receive details on when you speak with one of our sales associates. Screen shots of slide show images are shown here.
To help facilitate your questions on prices and availability in a timely fashion...please email promos@fentongiftshop.com
the image numbers (ex: IMG_0016) and descriptions of the pieces you are interested in ordering.

Also, please include a daytime phone number where you may be reached.

---
Celebrate West Virginia's Statehood
with Handcrafted Art Glass Jewelry from Fenton. . .
Our handmade in USA Celebrate West Virginia golden yellow bead is a Cornerstone bead designed by Truda "TJ" Mendenhall. The card for this bead has these words: "Commemorate with us West Virginia's Sesquicentennial 1863-2013."
The handpainted images on this lovely bead show the WV map, state bird and flower. Each bead is initialed by the artist who completed it. Because of the handmade process, bead size may vary in size, but most will be approximately .76'' in height.
No matter how you wear it, a beautiful handpainted design shows! The image at right illustrates how this bead is nicely displayed when worn with our Sterling Silver Tassel Necklace (60495 or 60496). Fewer than 20 now remain! Don't miss your opportunity to own one of these commemorative beads! Click on the links below to order.
0B027SKJ - Celebrate West Virginia Cornerstone Bead, $65.00
60495 - 33'' Tassel Necklace, $95.00
60496 - 39'' Tassel Necklace, $99.00

Click here to view more Sterling Silver accessories. . . you'll find the perfect spacer or stopper bead for your necklace or bracelet.