NOTE: For delivery by December 25,
please place your online order by Monday, December 16th.

Fenton USA Presents. . . Internet Special Limited Edition Paperweight
Want a unique desk accessory or gift for someone special this holiday season? We have the perfect item: this paperweight designed and handpainted by award-winning Fenton artist
J. K. "Robin" Spindler. The flat 3-1/2" diameter paperweight, handcrafted in lustrous black glass, features a wonderfully detailed handpainted face of a black cat by award-winning Fenton designer J.K. "Robin" Spindler. Those big blue eyes peeking out from under the snowflakes will melt your heart!

The textured snowflakes add to the elegance of this remarkable creation. Each paperweight is dated and signed on the side:
"JK Spindler 2013". Robin also numbered each piece: 1/20, 2/20, 3/20. Just 20 were completed with this design and are ONLY available on our website. Limit one per customer, please. Don't delay adding this art glass creation to your collection! Robin's one-of-a-kind sample, which had extra sparkle, recently sold for more than $180 during our eBay auction. Cat Paperweight - I8747JX - $95.00 Buy Now!
Fenton Gift Shop's Iridized Perky Cat Figurine. . .
Speaking of cats, the Fenton Gift Shop has a limited quantity of this iridized Opal Satin Perky Cat figurine, sure to please figurine collectors!

The festive handpainted design by Michelle Kibbe includes a Santa hat perched on one of the cat's ears, a dotted blue scarf, a bird sitting atop his birdhouse on a pine bough and a Christmas tree complete with a golden star!

Click here to check out more exclusive designs from the Fenton Gift Shop.

X5318M9HP - Opal Satin Iridized Perky Cat Figurine - $65.00 Buy Now!
Fenton Jewelry "Black Friday Revisited" Special!
Buy Three Beads . . . Receive One FREE!
Thanks to all of you who notified us about online ordering issues on Black Friday. We experienced ''technical difficulties'' with our Black Friday Online Bead Special and apologize for the inconvenience.
Those issues have been resolved and we are pleased to offer a ''Black Friday Revisited'' Special with
new selections for the free bead (shown below).
Purchase any three Fenton Handmade in USA beads from our website: www.fentonartglass.com and receive a FREE bead from the selections shown below. Simply add the bead item# or name in the Comments Section of your online order.

Please list your 1st, 2nd, and 3rd choice . . . quantities are very limited. All requests will be honored on a first come, first served basis. Offer expires at 8 a.m. ET on Monday, December 9! This offer is through the Fenton web site only and is not valid through any Fenton dealers. PLEASE NOTE: December 15 is last day to place holiday orders for delivery by Christmas!

FREE with 3 Bead Online Purchase!

0B771 Fiesta
Designed by Jena L. Blair

FREE with 3 Bead Online Purchase!

0B026CN The Kiss of Spring
Designed by Truda Mendenhall

FREE with 3 Bead Online Purchase!

0B718A Pink Tourmaline
Designed by Jena L. Blair

Don't forget about our Frequent Buyer Program. . . you could earn two free beads this weekend. . . one to keep for yourself and one to use as a gift, or treat yourself to both! Click here to view the Fenton Jewelry 2013 Christmas collection or click here for the complete jewelry collection. Our sterling silver earrings, necklace, bracelet, and/or pendants are perfect "add-ons" for any Fenton bead... click here to view our Sterling Silver Accessories.
---

Earn a FREE Limited Edition Fenton Bead with our Frequent Buyer Program. . .
Buy ten beads from one Fenton dealer or via the Fenton website and you'll earn a FREE limited edition bead. Shown at right are our latest Frequent Buyer Program limited edition beads: Rachel (Vasa Murrhina design by Jena Lane Blair) and Emily (handpainted design by Truda Mendenhall). . . perfect Fall fashion accessories! Each handpainted bead is initialed by the artist who completed it. These Frequent Buyer Program beads are limited to 100 each nationwide. Click here for details and click here to view our entire jewelry collection.
---
More Online Specials at www.fentonartglass.com

60506AS
Crimson Snowflakes Earrings
$99 + Free Shipping Buy Now!


60506AS1
Peppermint Candy Earrings
$99 + Free Shipping Buy Now!


60506AS2
Northern Lights Earrings
$99 + Free Shipping Buy Now!


FG810 Cherub Metal Stand
$69.50, Now $41.70 Buy Now!
---
Find a Fenton Dealer. . . Though we continue to wind down the factory inventory, many authorized Fenton dealers around the country still have a nice selection of Fenton Art Glass AND many now carry the Fenton jewelry line! Click here to find a dealer near you!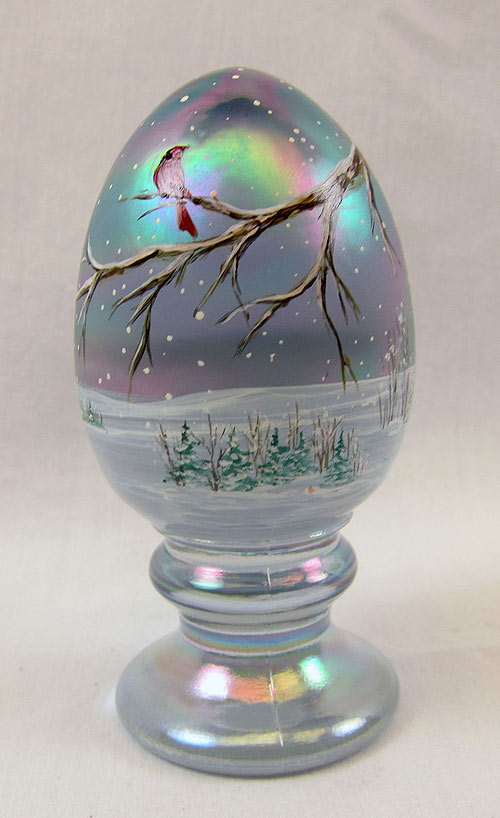 Fenton eBay Auctions. . . Here's your opportunity to own a unique Fenton creation, including rare pieces, one-of-a-kinds and designer samples, through our weekly eBay Auctions! Items featured this week... include the Egg on Stand figurine shown here, as well as one-of-a-kind handpainted Santas by Frances Burton, an adorbale Opal Satin Bear by Kim Barley and a lovely Ruby Slag Christmas Tree with a design by Stacy Williams. Each piece is signed by the talented Fenton artist who created it. Don't miss this opportunity to add one of these unique OOAK selections to your Fenton collection! Be sure to visit us on Facebook and Pinterest!

Fenton Custom Designs for Beads. . .
We've received many requests for specially designed beads. Most of these designs are "exclusive" to one retailer or organization, so we can not sell them on our website. Shown here is the West Virginia 150th Bead, available at several Fenton authorized jewelry dealers. If your group or store is interested in a custom designed bead, please call us for details at 1-800-933-6766, ext. 209. Click here to view the complete list of custom designed beads with contact info for the retailers or organization from whom you may purchase them. Please contact the retailer or organization listed beside each Custom Design bead. . . and be sure to say you saw it mentioned in the Fenton Newsletter!

HOT LINKS. . . Find beautiful Fenton glass selections via our website with these categories:
For questions or comments, please do not reply to this email. Instead, email: askfenton@fentonartglass.com.

This email has been sent to you because you have agreed to receive offers and information from the Fenton Art Glass Company. We respect your privacy and do not sell your personal information. For details, please review our privacy policy.

How to unsubscribe: If you prefer not to receive offers or information from Fenton Art Glass, please use this page to unsubscribe.

If you use a Challenge-Response system for email, please make certain that you can receive our email by adding askfentononline@fentonartglass.com to your Allow List.

For specific instructions for major ISPs, click here.

The sender of this email is the Fenton Art Glass Co., 700 Elizabeth St., Williamstown, WV, 26187