Fenton Gift Shop's Wind Down Sale continues on all mail orders!
50% Storewide Savings
(with normal exclusio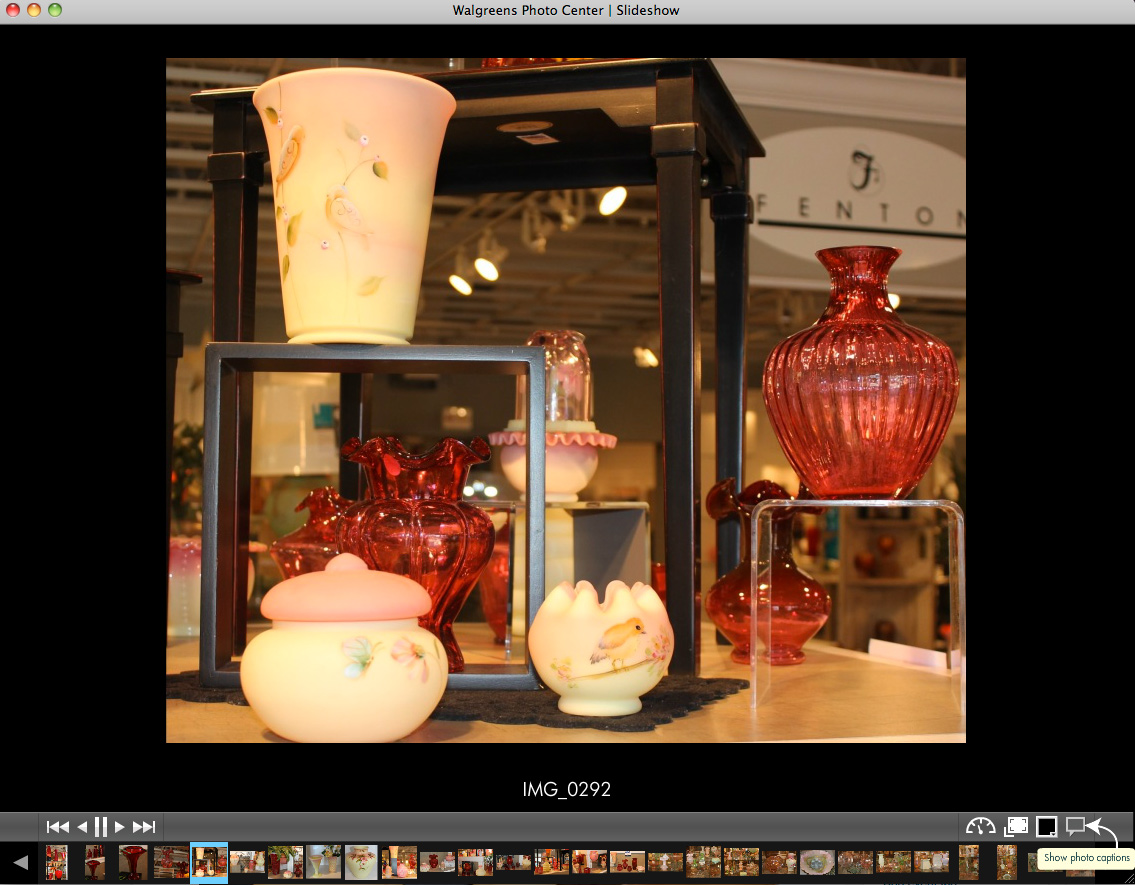 ns)
More than 650 photos of existing inventory are now available for your viewing in three Walgreens albums. Don't miss out on some of the last of our Limited Designer Exclusives and "oldies but goodies" Lamps offered at no discount. Also be sure to check our 50% Savings albums for a wide array of inventory including museum pieces, lamps, cameo, gift shop exclusives, chills, and preferred seconds.
Click here for Fenton - 50% OFF!
96 photos of items recently displayed in our museum!

Click here for 50% Savings!
443 photos of all remaining inventory including lamps, cameo, seconds and chills.

Click here for Limited Fenton - No discount
119 photos - Limited Designer Exclusives and select Lamps at no discount.
The "Click here" links will take you to Walgreens Photos where you'll be instructed to log in to your account or set up an account if you are not a member. (If you haven't set up an account to view these photos, it's fast, easy, secure and free!) Once you are logged in, you will be able to view the album link you selected.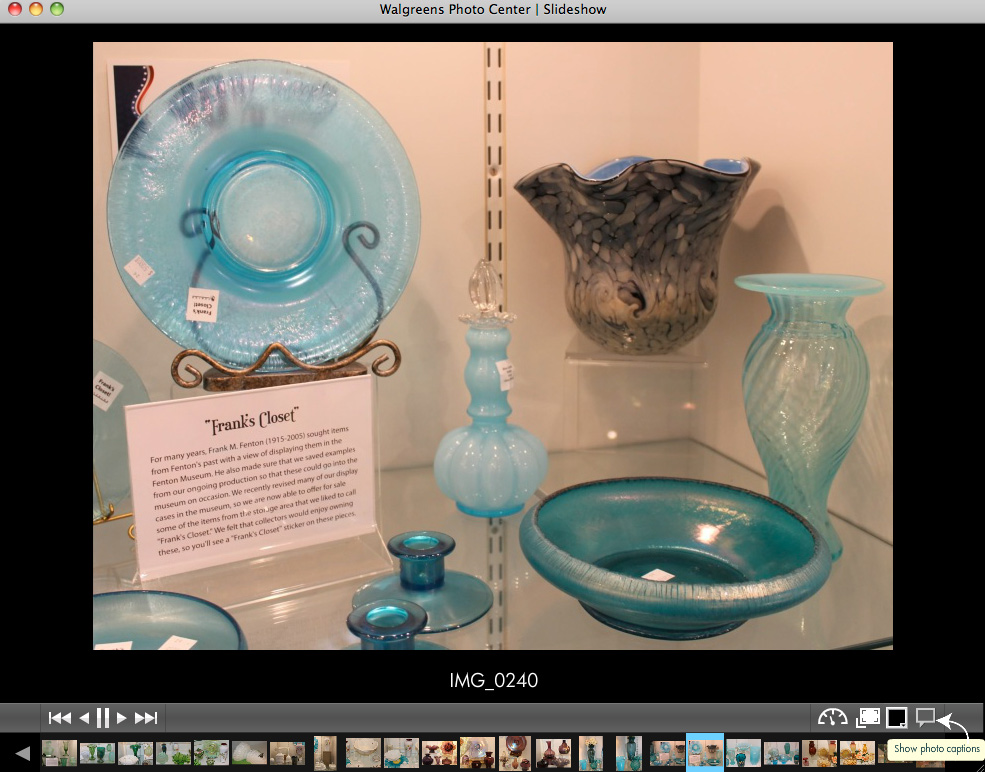 PLEASE NOTE:
To view larger sized images, select the slide show option which you can control at your desired speed and choose the photo caption icon on far right (white outline with gray inside) to see the image number at the bottom of each photo. Write down the image number (ex: IMG_2240) of the slide(s) you wish to receive details on when you speak with one of our sales associates. Screen shots of slide show images are shown here.
To help facilitate your questions on prices and availability in a timely fashion... please email promos@fentongiftshop.com the image numbers (ex: IMG_0016) and descriptions of the pieces you are interested in ordering.

Also, please include a daytime telephone number where you may be reached.
---
Fenton Jewelry "Online Only" Earrings Special!
Choose from these three bead and earring sets for a unique, made in America handcrafted gift. . . just $99 for each pair! OR, create your own look by choosing a Fenton bead and a pair of our earrings (60506).


60506AS Crimson Snowflakes Beads
on Sterling Silver Earrings Buy Now!


60506AS1 Peppermint Candy Beads
on Sterling Silver Earrings Buy Now!


60506AS2 Northern Lights Beads
on Sterling Silver Earrings Buy Now!
Don't forget about our Frequent Buyer Program. . . you could earn two free beads this weekend. . . one to keep for yourself and one to use as a gift, or treat yourself to both! Click here to view the Fenton Jewelry 2013 Christmas collection or click here for the complete jewelry collection. Our sterling silver earrings, necklace, bracelet, and/or pendants are perfect "add-ons" for any Fenton bead... click here to view our Sterling Silver Accessories. Click here
for handcrafted in USA Sorority jewelry.
---
More Online Specials. . .
Be sure to visit our website at www.fentonartglass.com for the latest online specials, including:
special price of $17.50 each on select Fenton reference books - our lowest prices ever!


30% discount on Stained Glass, including the Madonna in Green, shown at right. Click on the image to order this beautiful stained glass Panel.
50% discount on Fenton International Anniversary glass, including this Happy Anniversary Candle or Candy Bowl. Click on the image to order. Add some color holiday treats for a wonderful seasonal Anniversary gift!
---
Fenton Glass Auctions Scheduled for 2014 . . .
Fenton Art Glass and the Fenton Gift Shop have scheduled three auctions during 2014 to sell more than 1,500 items of Fenton glass. Auction dates are: April 26, June 14 and July 26 at auctioneer Randy Clark's Dexter City Auction Gallery in Dexter City, Ohio. The June 14 auction will feature rare Fenton Carnival glass, while the April 26 and July 26 auctions will feature other Fenton glass from throughout the factory's 106 years of glassmaking history. Watch future eNewsletters for additional information and photos as they become available.

Founded in 1905, the Fenton Art Glass Co. began making glass in Williamstown on January 2, 1907. Glass production ceased in July 2011. The Fenton Gift Shop remains open, and its hours of operation are as follows:
November: Monday - Saturday 9 a.m. - 5 p.m. and Sunday Noon - 4 p.m. and
December: Monday - Saturday 9 a.m. - 5 p.m. and Sunday Noon - 5 p.m.
---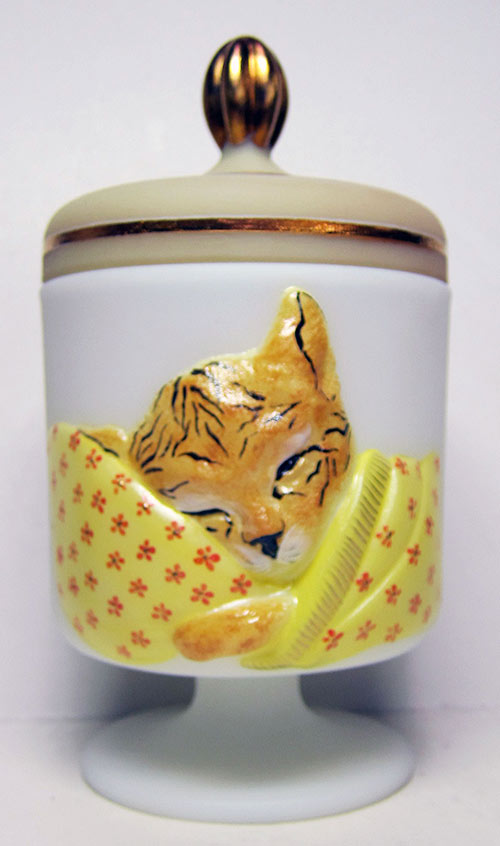 Find a Fenton Dealer. . . Though we continue to wind down the factory inventory, many authorized Fenton dealers around the country still have a nice selection of Fenton Art Glass AND many now carry the Fenton jewelry line! Click here to find a dealer near you!
Fenton eBay Auctions. . . Here's your opportunity to own a unique Fenton creation, including rare pieces, one-of-a-kinds and designer samples, through our weekly eBay Auctions! Items featured this week... include this unique handpainted Chessie Box (shown here) designed by Robin Spindler, as well as her one-of-a-kind Cat face Paperweight and a Custard Satin Plate by Stacy Williams. We also included a festive Penguin figurine, signed by Fenton artist A. Farley.
Be sure to visit us on Facebook and Pinterest!

Fenton Custom Designs for Beads. . .
We've received many requests for specially designed beads. Most of these designs are "exclusive" to one retailer or organization, so we can not sell them on our website. If your group or store is interested in a custom designed bead, please call us for details at 1-800-933-6766, ext. 209. Click here to view the complete list of custom designed beads with contact info for the retailers or organization from whom you may purchase them. Please contact the retailer or organization listed beside each Custom Design bead. . . and be sure to say you saw it mentioned in the Fenton Newsletter!

HOT LINKS. . . Find beautiful Fenton glass selections via our website with these categories:
For questions or comments, please do not reply to this email. Instead, email: askfenton@fentonartglass.com.

This email has been sent to you because you have agreed to receive offers and information from the Fenton Art Glass Company. We respect your privacy and do not sell your personal information. For details, please review our privacy policy.

How to unsubscribe: If you prefer not to receive offers or information from Fenton Art Glass, please use this page to unsubscribe.

If you use a Challenge-Response system for email, please make certain that you can receive our email by adding askfentononline@fentonartglass.com to your Allow List.

For specific instructions for major ISPs, click here.

The sender of this email is the Fenton Art Glass Co., 700 Elizabeth St., Williamstown, WV, 26187