Fenton Art Glass Handpainted Iceberg Online Special . . .
Just 25 each of these unique handpainted Icebergs are available to order via our web site. They are not available anywhere else. We asked Robin Spindler to use her creative imagination for
these handcrafted crystal paperweights and, as you can see, she delivered two special designs!
The Surfer Iceberg measures 5-3/4" h. and 4" in width across the front. Robin's handpainted design features
a surfer catching a big wave.
The Skier Iceberg measures
6-1/2" h. and 4" in width across the front. Robin's handpainted design features
a bear watching as a skier glides down the wintry slopes. Perfect desk accessory for the surfer, skier or outdoors enthusiast!
Each Iceberg is signed "JK Spindler 2013" and they are available online while supplies last for $95.00 each.
---
Fenton Gift Shop's Wind Down Sale continues. . .
40% Storewide Savings (with normal exclusions) on all mail orders!
More than 600 new photos of existing inventory are now available for your viewing in two Walgreens albums.
Don't miss out on some of the last of our Limited Designer Exclusives and "oldies but goodies" Lamps offered at no discount. Also be sure to check our 40% Savings album for a wide array of inventory including lamps, cameo, gift shop exclusives, chills, and preferred seconds.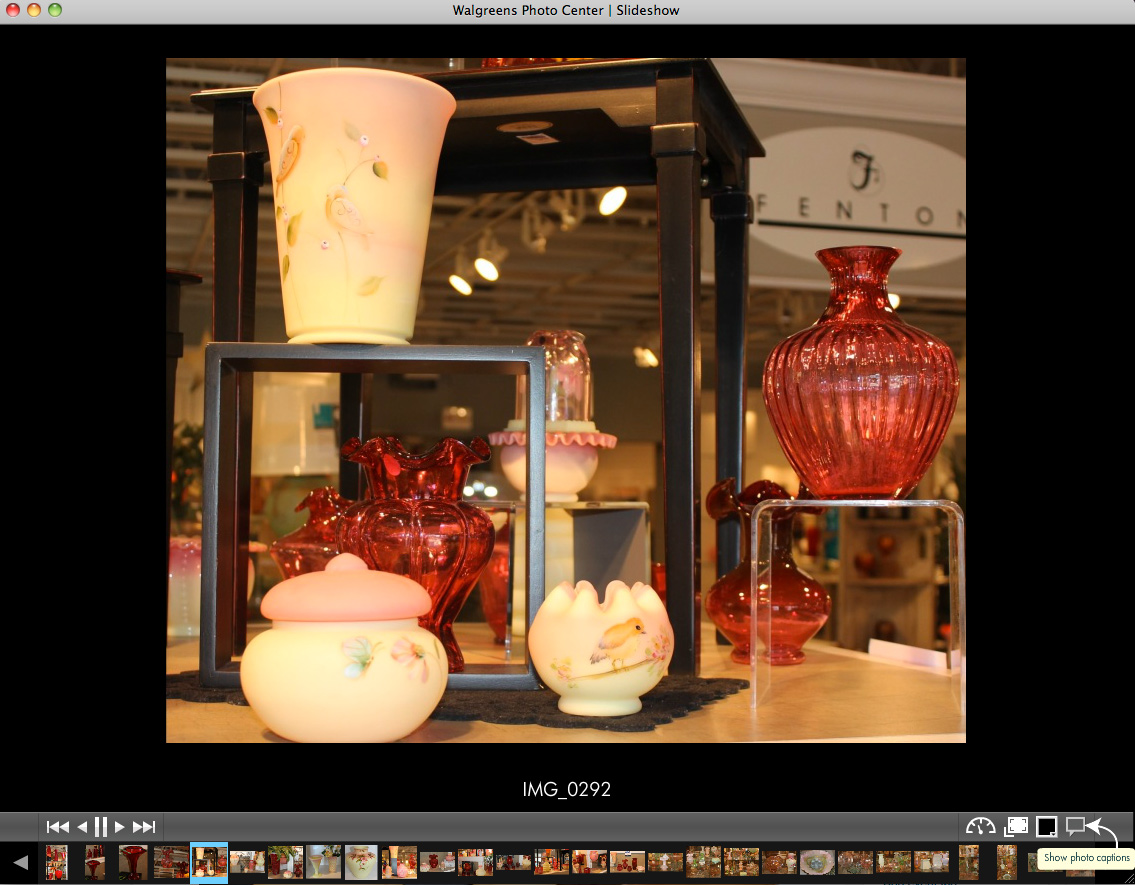 The "Click here" links will take you to Walgreens Photos where you'll be instructed to log in to your account or set up an account if you are not a member.
(If you haven't set up an account to view these photos, it's fast, easy, secure and free!) Once you are logged in, you will be able to view the album link you selected.

Click here for Exclusives & Lamps
Offered at No Discount.
157 photos - Limited Designer Exclusives
and select Lamps at no discount.
Click here for 40% Savings!
471 photos - All remaining inventory including lamps, cameo, seconds & chills.

PLEASE NOTE: To view larger sized images, select the slide show option which you can control at your desired speed and choose the photo caption icon on far right (white outline with gray inside) to see the image number at the bottom of each photo. Write down the image number (ex: IMG_2240) of the slide(s) you wish to receive details on when you speak with one of our sales associates. Screen shots of slide show images are shown here.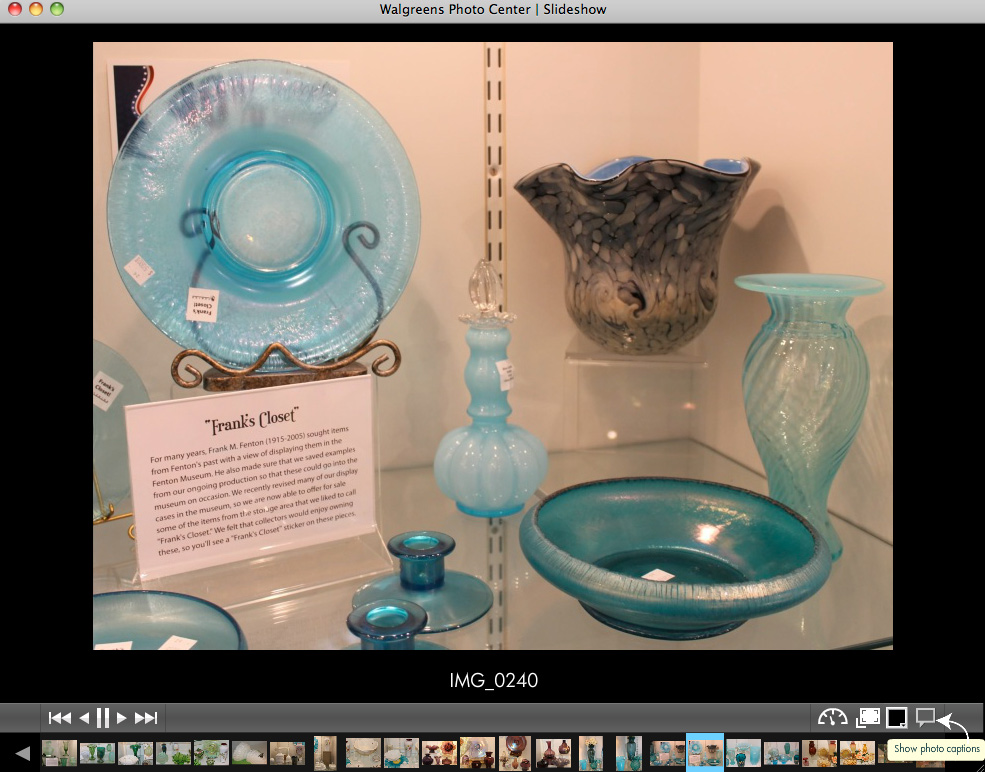 To help facilitate your questions on prices and availability in a timely fashion... please email promos@fentongiftshop.com
the image numbers (ex: IMG_0016)
and descriptions of the pieces you
are interested in ordering.

Also, please include a daytime telephone number where you
may be reached.
---
Celebrate Sorority Sisterhood with Handcrafted Art Glass Jewelry from Fenton
Our handcrafted Sorority beads feature the Greek letters as well as handpainted designs of each Sorority's symbols. There's nothing like this unique jewelry. . . handmade in USA! Shown below are a just few examples of the 25 handcrafted beads we currently have available. Each bead is shown with three views to illustrate the artwork.
Click on each bead image for details.
Click here for the complete listing of Sorority jewelry. You'll want to accessorize with other unique Fenton beads and sterling silver accessories, so be sure to check out the Hot Links shown below!