Fenton Gift Shop Customer Appreciation Event Nov. 9-10
Visit Fenton Gift Shop during our Customer Appreciation Days next weekend!
Highlights for this November 9-10 event include a fine selection of Limited Designer Exclusives, Silent Auction collectibles, substantial storewide savings with minimal exclusions, a Family Signing Event on Saturday, and a few Surprises!

Click here for details on this upcoming event and watch future newsletters for more!
---
Become a "Fenton Art Glass Scholar"
with these Fenton Reference Books!
Our great deal on Fenton reference books is still available! These complete sets of reference books cover the history of the Fenton Art Glass Company from 1905 to 1999/2002 and illustrate our products in great color photos.
Just $79 for the six-book set and shipped postpaid via U. S. Postal Service Priority Mail! Click here to order! The original prices of these books and the price guides would total about $240.00 ... but you can have them all for $79 + FREE SHIPPING! What a deal!

You also have the opportunity to acquire the "coffee table" book published for our 100th anniversary in 2005. This hardcover book has the signatures of nine Fenton family members and originally was sold on QVC for $100. The seven-book set is just $109.00 + FREE shipping via the U.S. Postal Service!
Click here to order!
---

Earn a FREE Limited Edition Fenton Bead with our Frequent Buyer Program. . .
Buy ten beads from one Fenton dealer or via the Fenton website and you'll earn a FREE limited edition bead. Shown at right are our latest Frequent Buyer Program limited edition beads: Rachel (Vasa Murrhina design by Jena Lane Blair) and Emily (handpainted design by Truda Mendenhall). . . and they make perfect Fall fashion accessories! Each handpainted bead is initialed by the artist who completed it. These latest Frequent Buyer Program beads are limited to 100 each nationwide. Click here for details! Click here for Fenton's sterling silver accessories. Check out our 2013 Christmas collection or click here for the complete collection.
---
Find a Fenton Dealer. . . Though we continue to wind down the factory inventory, many authorized Fenton dealers around the country still have a nice selection of Fenton Art Glass AND many now carry the Fenton jewelry line! Click here to find a dealer near you!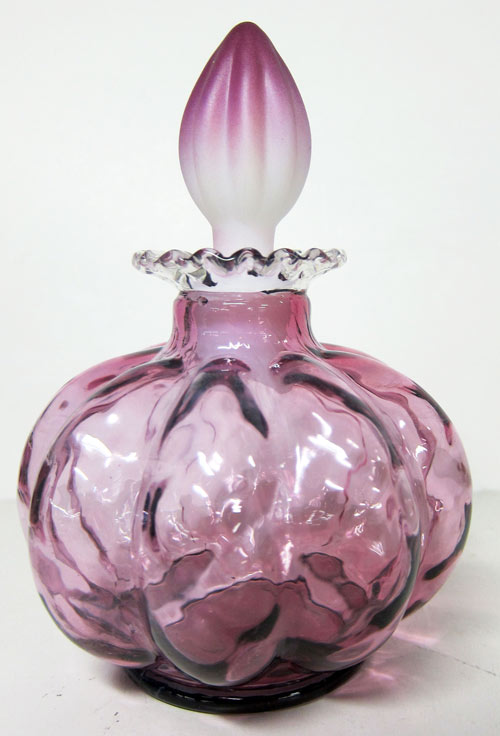 Fenton eBay Auctions. . . Here's your opportunity to own a unique Fenton creation, including rare pieces, one-of-a-kinds and designer samples, through our weekly ebay Auctions! Items featured this week... include the Mulberry Perfume Bottle shown at right, as well as a one-of-a-kind handpainted Opal Satin Sleigh on brass runners figurine by Kim Barley, a rare Periwinkle Blue Flip Vase and an adorable Polar Bear figurine handpainted in a seasonal design.

Be sure to visit us on Facebook and Pinterest!

Fenton Custom Designs for Beads. . .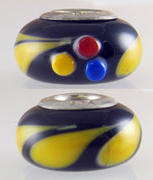 We've received many requests for specially designed beads. Most of these designs are "exclusive" to one retailer or organization, so we can not sell them on our website. Shown here is the Steel Dots Bead, available at several Fenton authorized jewelry dealers, including Adams Hallmark, Amish Traditions, Country Peddler, and the Fenton Gift Shop. If your group or store is interested in a custom designed bead, please call us for details at 1-800-933-6766, ext. 209. Click here to view the complete list of custom designed beads with contact info for the retailers or organization from whom you may purchase them. Please contact the retailer or organization listed beside each Custom Design bead. . . and be sure to say you saw it mentioned in the Fenton Newsletter!

HOT LINKS. . . Find beautiful Fenton glass selections via our website with these categories: