. . .
When they're gone, these pieces are history!
The Fenton Gift Shop offers 30% Storewide Savings (with minimal exclusions) when you place a phone order by calling 304-375-7772 or 800-319-7793 ext. 282 and ext. 321. PLEASE NOTE: October phone order hours are Monday-Saturday 9am-4:30pm and Sunday Noon-3:30pm ET.

More than 450 photos of inventory in the Fenton Gift Shop were uploaded to our Walgreens Photo account in September. (If you haven't set up an account to view these photos, it's fast, easy, secure and free!)

Listed below are links to the six photo albums available for viewing. The "Click here" links (see below) will take you to Walgreens Photos where you'll be instructed to log in to your account or set up an account if you are not a member. Once you are logged in, you will be able to view the album link you selected.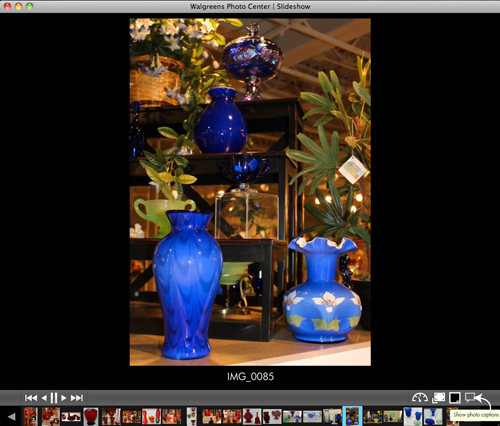 PLEASE NOTE: To view larger sized images, select the slide show option which you can control at your desired speed and choose the photo caption icon on far right (white outline with gray inside) to see the image number at the bottom of each photo. Write down the image number (ex: IMG_0085) of the slide(s) you wish to receive details on when you speak with one of our sales associates. A screen shot of a slide show image is shown to the right.

To help facilitate your questions on prices and availability in a timely fashion... please email promos@fentongiftshop.com the image numbers (ex: IMG_0016) and descriptions of the pieces you are interested in ordering.

Also, please include a daytime telephone number where you may be reached.

Please note: As we continue to wind down
our gift shop inventory, we will share more updated album links in future newsletters.

Fenton Gift Shop Photo Album Links:
Click here to view album named: Left Side - 30% OFF! (~86 photos)
Click here to view album named: Right Side - 30% OFF! (~280 photos)
Click here to view album named: Lamps - 30% Off (~38 photos)
Click here to view album named: Cameo Glass - 30% OFF! (~84 photos)
Click here to view album named: Seconds - 30% OFF! (~26 photos)
Click here to view album named: Limited Editions - No Discount (~19 photos)

Any problems or questions, please email promos@fentongiftshop.com