---
Fantastic Deal on Fenton Reference Books Continues. . .
Here's your opportunity to acquire a fantastic deal on reference books about Fenton Glass! We have complete sets of six paperback books that cover the history of the Fenton Art Glass Company from 1905 to 1999/2002 and illustrate our products in great color photos. Just $79 for this six-book set (00395AS), complete with price guides (while supplies last) and shipped to you postpaid via U. S. Postal Service Priority Mail!
Click here to order! All of these books are in "as new" condition (there may be very minor rubbing on the spine edges). Even if you already own one or more of these books, this is a great opportunity to acquire additional copies. Details are provided when you click on the link to order. These books are included in the six-book set:

Fenton Glass: The First 25 Years (originally $29.95): This book covers the founding of the company in 1905 through 1932.

Fenton Glass: The Second 25 Years (originally $29.95): Topics covered include the Depression years, catalog reprints, major Fenton product lines and the leadership change in 1948.

Fenton Glass: The Third 25 Years (originally $29.95): This book provides the company history from 1956 through 1980, catalog reprints, ware numbers, and color codes.

Fenton Glass: The 1980s Decade (originally $34.95): Chapters in this book trace the changes and developments in both the people and the products of the Fenton Art Glass Company throughout the 1980s including the Connoisseur Collection, Mother's Day, Christmas editions, and special products for QVC).

Fenton Glass: The 1990s Decade (originally $34.95): The 1990s Decade covers the Company Growth 1990-1999 and special collections and colors produced during those years.

Fenton Glass: Especially for QVC (originally $36.95): This book catalogs the history of glass produced exclusively for QVC, from the first show in 1988 through August, 2002. More than 1350 items are shown.

If you total the original prices of these books and the price guides, it would be about $240.00 ... but you can now have them all for just $79 with FREE SHIPPING! Click here to order!

As they say on TV ... but wait, THERE'S MORE! You also have the opportunity to acquire this hardback "coffee table" book published for our 100th anniversary in 2005. This book has the signatures of nine Fenton family members and was first sold on QVC in 2005 for $100. This seven-book set, (00396AS) complete with price guides (while supplies last), is just $109.00 + FREE shipping via the U.S. Postal Service! This book alone sells for $50 on our company website! This book contains exquisite color photos of the 100 very best Fenton products chosen by members of the Fenton family. Signatures of nine Fenton family members are included in each book. This book is shipped separately from the six-book set as it is already pre-packaged.
---
Fenton Art Glass Online Ruby Overlay Vase Special. . . While Supplies Last!
M86168RUHP $175 Now $131.25 t 9-1/2'' Ruby Overlay Vase

This beautiful 9-1/2'' Melon Vase is handcrafted in Ruby Overlay and a limited quantity remains. For more than half a century, overlay colors have been produced by Fenton. Typically, a core of Milk Glass is gathered and shaped by a skilled glassworker called a Blocker. Then, a layer of colored glass is gathered over the Milk Glass. Our glass technologists assure that the two layers of glass will match perfectly, expanding and contracting at the same rate.

This particular mould was purchased from the Imperial Glass Co. in the mid-1980s. It originated with the Consolidated Glass Co. of Coraoplis, PA in the 1920s. There would have been seven glassworkers used in one shop to produce this beautiful piece.

Stacy William's handpainted lush floral design fits perfectly on this vase! Three blooms and a bumblebee are on the front and a lone blossom appears on the back. Originally offered as a limited edition of 40, fewer than 12 now remain. Each vase is signed and numbered by Stacy Williams.
---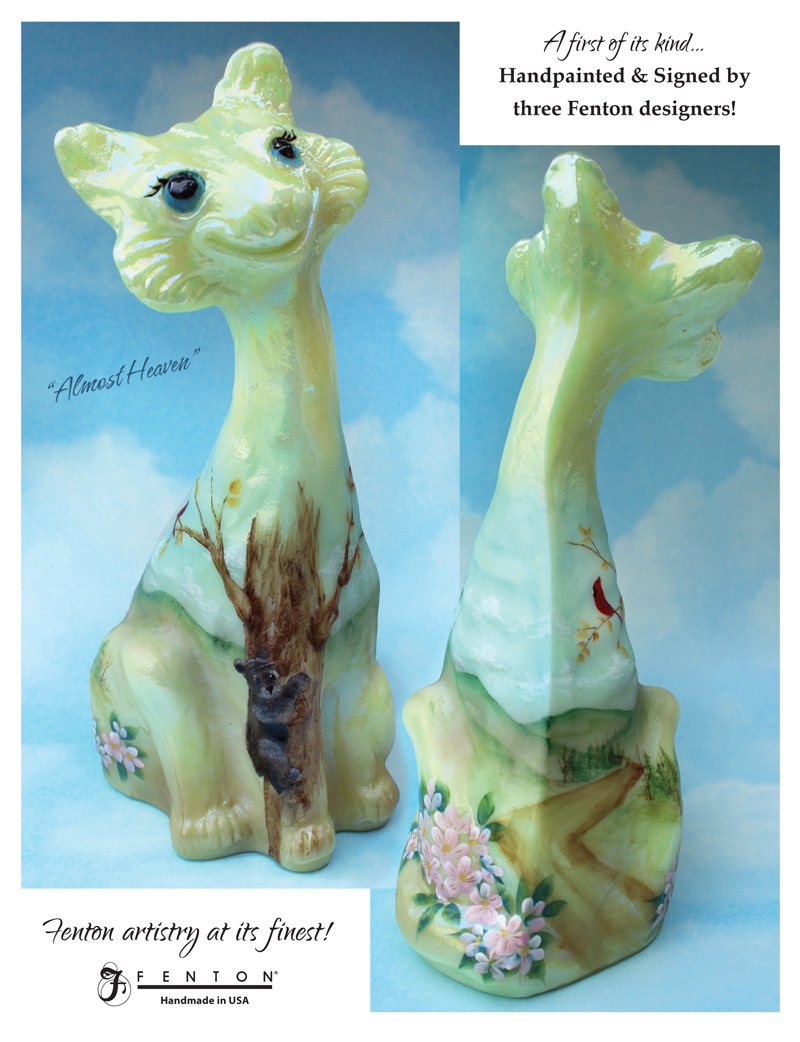 Fenton Gift Shop Presents Limited Exclusive
''Almost Heaven'' Alley Cat. . .
Donít miss the chance to purchase this exceptional Limited Exclusive 11'' Alley Cat designed by our extraordinary Fenton artists: J.K. ''Robin'' Spindler, Frances Burton and Kim Barley.
This iridized Buttercream collectible, made for Fenton by Mosser Glass, is truly spectacular and Fenton artistry at its finest!

This Limited Exclusive Alley Cat symbolizes and captures the beauty of our nationís 35th state. Kim, Frances and Robin bring to life West Virginia's rolling hills, fall foliage, black bear, cardinal and rhododendrons amongst the tranquil skies we know and love. Designed and signed by all three artists, our "Almost Heaven" Alley Cat, a first of its kind, is priced at $195 (includes a numbered certificate) and limited in production to 150.
Quantities are becoming limited, so if you haven't already reserved your Limited Exclusive Alley Cat, don't miss out!
Call the Fenton Gift Shop at 304-375-7772 ext. 282 or 321
or email your name, address and phone number to promos@fentongiftshop.com (subject: Almost Heaven).

Orders will be filled in the order in which they are received.

Click here for a viewable/printable pdf file of this Alley Cat.