Fenton Art Glass Presents. . . Fenton Reference Books Online Special!
Here's your opportunity to acquire the Best Deal Ever on reference books about Fenton Glass! We have complete sets of six paperback books that cover the history of the Fenton
Art Glass Company from 1905 to 1999/2002 and illustrate our products
in great color photos.

Just $79 (U.S.) for the six-book set (00395AS), complete with various price guides and shipped to you postpaid via U. S. Postal Service Priority Mail! Click here to order!

These books were prepared with the
full cooperation of Fenton family members, so you'll read some great stories and learn a lot about Fenton glass. All of these books are in "as new" condition with the contents bright and shiny (there may be very minor rubbing on the spine edges). Even if you already own one or more of these books,
this is a great opportunity to acquire additional copies that are just as fresh as the day they were printed! These books are included in the six-book set:

Fenton Glass: The First 25 Years (William Heacock, covers 1905-32) originally $29.95
This book covers the founding of the company to early catalog reprints and the Depression Years. Included is a Fenton Glass Carnival Pattern Guide and a listing of the colors Fenton made in Carnival glass. Also covered: Chocolate Glass, Fenton Opalescent, Animals, Karnak Red Art Glass, Stretch Glass, and more! The book was authored by the late William Heacock, a featured columnist for The Antique Trader Weekly and a contributing editor of the Glass Collector's Digest.

Fenton Glass: The Second 25 Years (Heacock, covers 1930-55), originally $29.95
Topics covered include the Depression years, catalog reprints, major Fenton product lines and the leadership change in 1948. Colors illustrated include: Mandarin Red and Flame; Mongolian Green; Periwinkle Blue; Ebony; Jade Green; Chinese Yellow; Ruby; Royal Blue; Ming and San Toy; Rose; Amber; Satin Poinsettia and Silverton; and Opalescent colors.

Fenton Glass: The Third 25 Years (Heacock, Edited by Frank M. Fenton and James Measell, covers 1956-80) originally $29.95. This book provides the Fenton Art Glass Company company history from 1956 through 1980, catalog reprints, ware numbers, and color codes. The book illustrates many patterns and items most likely to be encountered by today's Fenton collectors as well as some unusual pieces. Among the patterns illustrated are: Cactus, Coin Dot, Hobnail, Thumbprint, and Rose. Colors shown in this book include: Opalescent glass in Cranberry, Plum and Topaz; Wild Rose and Opaque Blue; Overlay and Opaque colors; Goldenrod; Jamestown Blue; Silver Jamestown; Blue Marble; Burmese; Vasa Murrhina; Colonial Pink; and Jonquil Yellow. Also illustrated are Bicentennial Glass and Robert Barber Art Glass pieces.

Fenton Glass: The 1980s Decade (Edited by James Measell) originally $34.95
Chapters in this book trace the changes and developments in both the people and the products of the Fenton Art Glass Company throughout the 1980s. Other elements of the Fenton story, ranging from collectible glass (Connoisseur Collection and Mother's Day and Christmas editions) and special products to Fenton's diversification ventures (QVC), are the focus in later chapters of the book.

Fenton Glass: The 1990s Decade (Measell) originally $34.95
The 1990s Decade covers the following topics: Company Growth 1990-1999; The Fenton line; Historic Collection colors; Connoisseur Collection; Family Signature Series; Easter and Christmas Limited Editions; Carnival Glass; Special Products; and Fenton and QVC. Colors covered include Cranberry, Mulberry, Sea Mist Green, Jade Opaline, Petal Pink, Twilight Blue, Milk Glass, Plum, Rose Pearl, Ocean Blue, Fuschia, Rose Magnolia, Misty Blue, Aquamarine, Dusty Rose, and more.

Fenton Glass: Especially for QVC (Measell covers 1988-2002)
originally $36.95. This book catalogs the history of glass produced exclusively for QVC, from the first show in spring of 1988 through Bill Fenton's retirement show and the introduction of the 2002 Charleton Collection, through August 2002. More than 1350 items are shown. Authored by James Measell.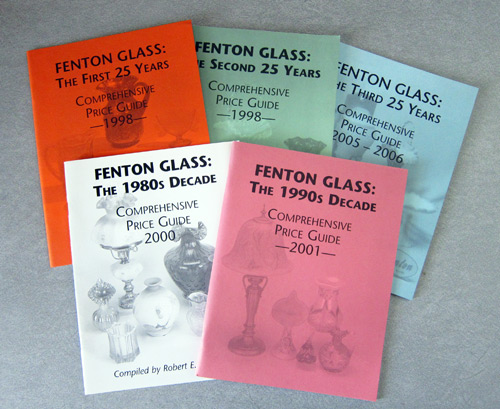 As these books were first published years ago, there were various price guides prepared to go with them. Of the six books listed above, only Fenton Glass:Especially for QVC is the only title currently being sold separately on our website. While our supplies last, we'll include ALL the price guides that go with each book! If you total the original prices of these books and the price guides, it would be about $240.00 ...
but you can now have them all for just $79 with FREE SHIPPING!
As they say on TV ... but wait, THERE'S MORE!!! You also have the opportunity to acquire the "coffee table" book published for our 100th anniversary in 2005. This book has the signatures of nine Fenton family members and was first sold on QVC in 2005 for $100.



This seven-book set, (00396AS) complete with price guides, is just $109.00 (U.S.) and ships to you FREE via the U.S. Postal Service! What a savings! This book alone is $50 (including shipping) on our company website! With 176 pages, this hardback book (11'' x 11'') contains exquisite color photos of the 100 very best Fenton products from our earliest days to the present. Members of the Fenton family chose the pieces to be included in the book. Signatures of nine Fenton family members are in each book. Definitely a family keepsake! Among the pieces included in the book are the Banded Drape Pitcher and Tumbler from 1910; sandcarved Rose Quartz Lady; a Chocolate Butterdish; the Seasons Vase in Favrene; Wisteria Lane Lamp; Rubina Verde Covered Box with Martha Reynolds' design of a dragonfly with floral; Mandarin Red Console Set. . . and more!
---
Fenton Art Glass Online Vase Special. . .
I4861G5CJ
$225 Now $150
6-1/4'' Elephants Cameo Gray Flip Vase

Elephants, D/P Sample, and the signatures
of Chris Carpenter, Kelsey Murphy and
Robert Bomkamp are inscribed on each piece.

This 6-1/4'' Cameo Flip Vase, titled Elephants, is handcrafted in a specially formulated opaque gray glass with wonderful color striations in various gray tones, and decorated with an airbrushed green tint around the top edge. No two vases are alike!

The magnificently detailed sand- carved scene depicts adult and baby Elephants circling around the vase as they follow their leader through a canopy of trees. The original design
is by Cameo artists Kelsey Murphy and Robert Bomkamp. Each vase is numbered #614 (design record) and
1 of 8, 2 of 8, etc. and also has the Fenton script F with USA.
---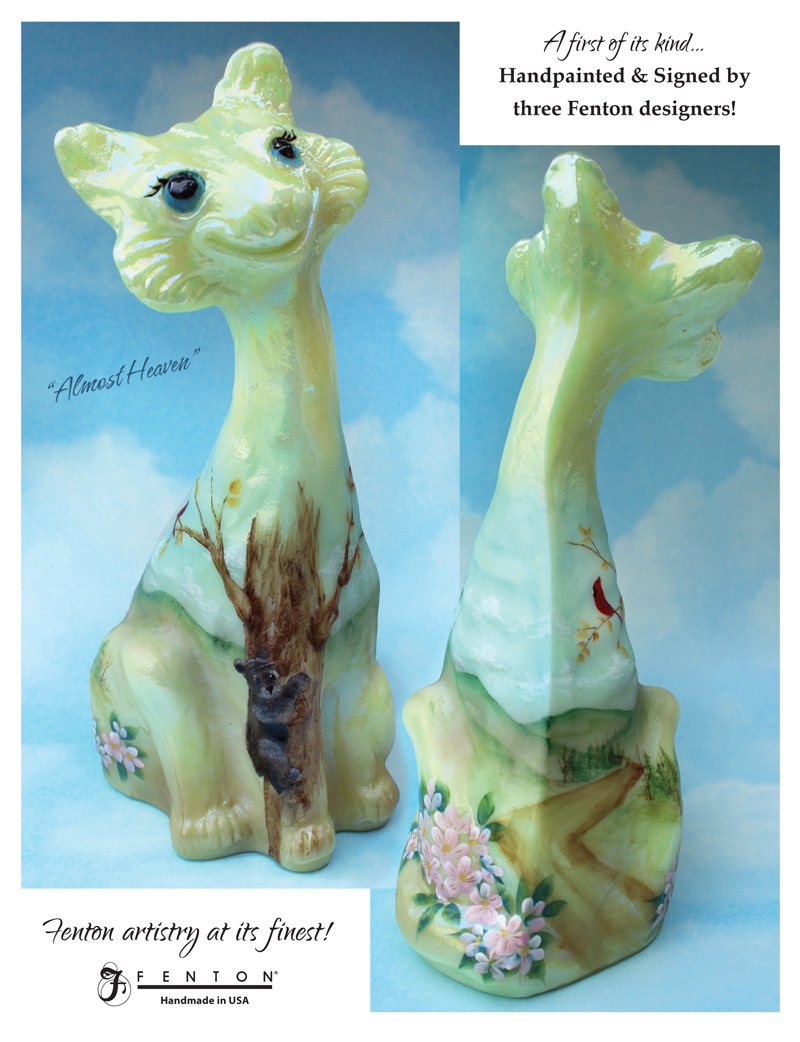 Fenton Gift Shop Presents Limited Exclusive
''Almost Heaven'' Alley Cat. . .
Donít miss the chance to purchase this exceptional Limited Exclusive 11'' Alley Cat designed by our extraordinary Fenton artists: J.K. ''Robin'' Spindler, Frances Burton and Kim Barley.
This iridized Buttercream collectible, made for Fenton by Mosser Glass, is truly spectacular and Fenton artistry at its finest!

This Limited Exclusive Alley Cat symbolizes and captures the beauty of our nationís 35th state. Kim, Frances and Robin bring to life West Virginia's rolling hills, fall foliage, black bear, cardinal and rhododendrons amongst the tranquil skies we know and love. Designed and signed by all three artists, our "Almost Heaven" Alley Cat, a first of its kind, is priced at $195 (includes a numbered certificate) and limited in production to 150.
Quantities are becoming limited, so if you haven't already reserved your Limited Exclusive Alley Cat, don't miss out!
Call the Fenton Gift Shop at 304-375-7772 ext. 282 or 321 or email your name, address and phone number to promos@fentongiftshop.com (subject: Almost Heaven).

Orders will be filled in the order in which they were received.

Click here for a viewable/printable pdf file of this beautiful Alley Cat.

---