---
Fenton Gift Shop Proudly Presents. . . ''Almost Heaven''
Celebrating Wild & Wonderful West Virginiaís 150th birthday
and the collaborative talents of three Fenton Art Glass designers!
Donít miss the chance to purchase this exceptional Limited Exclusive 11'' Alley Cat designed by our extraordinary Fenton artists: J.K. ''Robin'' Spindler, Frances Burton and Kim Barley. This iridized Buttercream collectible, made for Fenton by Mosser Glass, is truly spectacular and Fenton artistry at its finest!

This Limited Exclusive Alley Cat symbolizes and captures the beauty of our nationís 35th state. Kim, Frances and Robin bring to life West Virginia's rolling hills, fall foliage, black bear, cardinal and rhododendrons amongst the tranquil skies we know and love.

Designed and signed by all three artists, our "Almost Heaven" Alley Cat...a first of its kind...is priced at $195 (includes a numbered certificate) and limited in production to 150.
Reserve your Limited Exclusive Alley Cat today by calling the Fenton Gift Shop at 304-375-7772 ext. 282 or 321 or email your name, address and phone number to promos@fentongiftshop.com (please use as subject: Almost Heaven).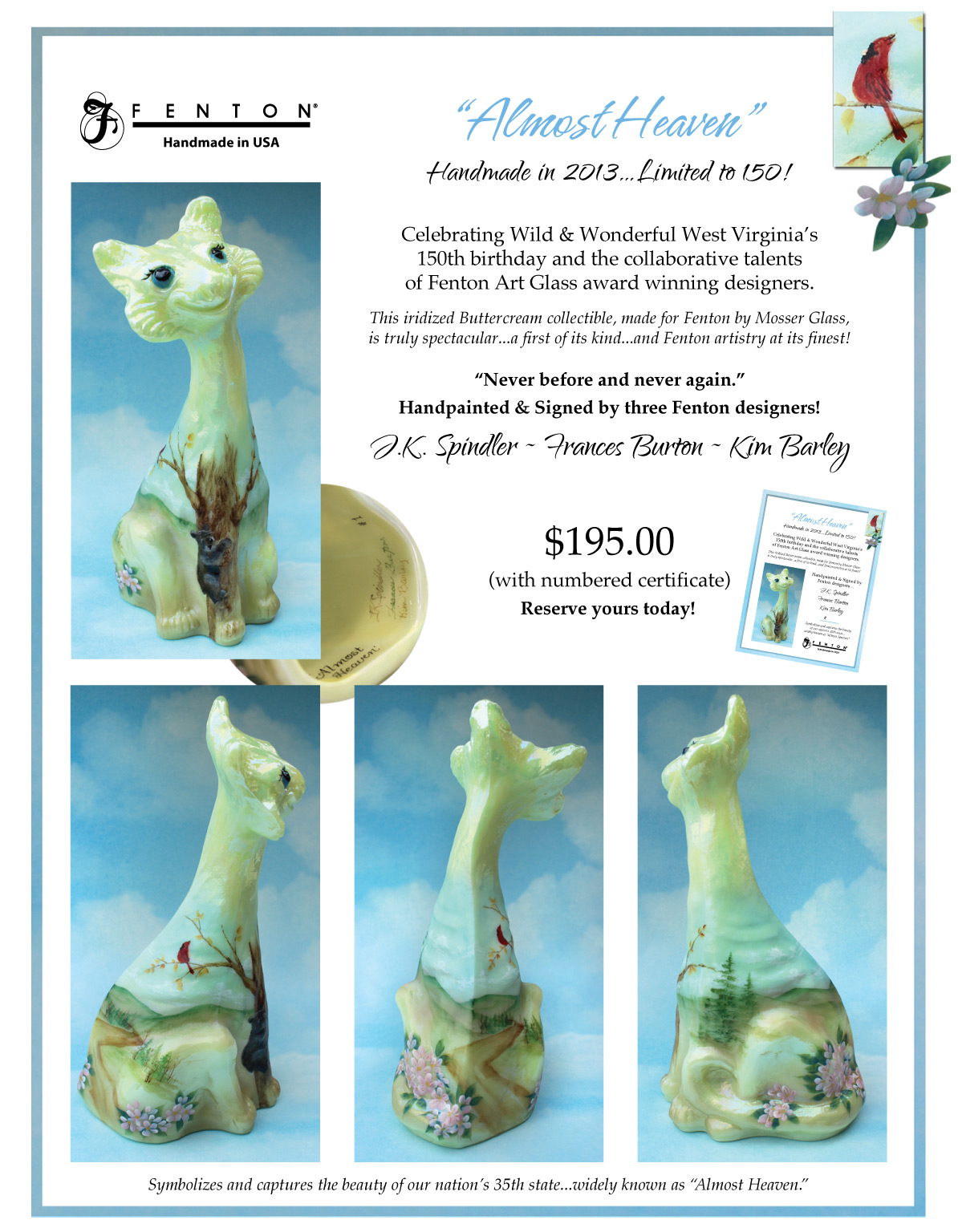 ---
Fenton Gift Shop 25% Savings Continue!
The Fenton Gift Shop continues their 25% Storewide Savings Sale (with minimal exclusions). If you canít make it to Fenton, you can place a phone order by calling the Gift Shop at 304-375-7772 or 800-319-7793 ext. 282 and ext. 321. Phone order hours are Monday-Saturday 9am-4:30pm; and Sunday Noon-3:30pm ET. Photos of most Fenton Gift Shop inventory were uploaded at the Walgreens Photo web site in previous newsletters. Click here to access the albums and instructions on how to set up your Walgreens account to view these albums.