Fenton Art Glass Presents. . . End of Month Specials!
Add a new and unique piece to your seasonal tabletop display with Fenton Art Glass! As we enter this lovely Fall season, we are pleased to offer limited quantity selections from our While Supplies Last glass and Accessories categories in the Fenton online shopping cart. Items shown in this newsletter are discounted at least 25%! This offer is valid until 4 p.m. ET on Monday, September 30. NOTE: Fenton jewelry and Sterling Silver Accessories are not included in this offer.
Stacy Williams designed the handpainted accents on this two-part Fairy Light in the shape of a Santa head. Note the rosy cheeks and twinkling eyes! Sculptor J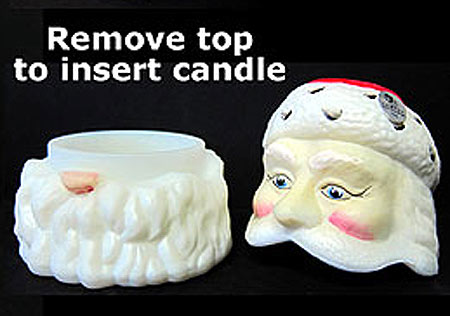 on Saffell designed the mould for this piece. As shown below, you simply remove the top part of this piece, insert a candle, replace the top and watch it radiate the warmth of the season!

05080HPA
$79.50 Now $59.63
4-1/2'' Santa Two-part
Fairy Light in Opal Satin
Design by Stacy Williams
The magic continues with sparkly decorations embellishing a Halloween favorite, our 3-1/4'' Dragon figurine (shown below), named Bandit. Handcrafted in Black glass, Bandit features a whimsical and fun handpainted design with glitter accents by Stacy Williams.
Our popular glass Buckle Shoe is perfect for your holiday display! The two 4-1/2'' Buckle Shoes shown below are handcrafted in Milk Glass and in Jolly Green. Each Shoe is handpainted with a colorful, festive seasonal design by Michelle Kibbe. These shoes are perfect places to store precious momentos, love notes, sweet treats or, add a Fenton bead and give as a gift to someone special! All handpainted Fenton glass is signed by the talented Fenton artist who completed it.


05386DG $39.50 Now $29.63
3-1/2'' Black Dragon Figurine


07737MI2 $35.00 Now $26.25
4-1/2'' Milk Glass Buckle Shoe

07737KP $35.00 Now $26.25
4-1/2'' Jolly Green Buckle Shoe
---
Special Savings on Accessories. . .

55651 $11.20 + Free Shipping!
4-3/8'' Wooden Windup Musical Base


55231 $9.95 + Free Shipping!
12'' Legendary Fashions Mirror


FG810 $69.50 Now $48.65
9-1/4'' Cherub Metal Stand
---
Fenton Gift Shop 25% Savings Continue!
The Fenton Gift Shop continues their 25% Storewide Savings Sale (with minimal exclusions) throughout September. However, if you canít make it to Fenton, you can place a phone order by calling the Gift Shop at 304-375-7772 or 800-319-7793 ext. 282 and ext. 321. September phone order hours are Monday-Thursday 10am-3:30pm; Friday and Saturday 10am-4:30pm and Sunday Noon-3:30pm ET. Photos of most Fenton Gift Shop inventory were uploaded at the Walgreens Photo web site in previous newsletters. Click here to access the albums and instructions on how to set up your Walgreens account to view these albums.
---