---
Special Savings on Remaining Hummel Stained
Glass
We are pleased to offer these beautiful stained glass creations at a 30% discount. The 6-1/2'' Suncatchers and 7'' x 7'' Stained Glass creations pictured here feature designs by Sister Maria Innocentia Hummel.

Shown left to right: HM2004 Apple Tree Boy and HM2005 Apple Tree Girl (originally $35, now $24.50 each); HM2006 Umbrella Boy and HM2007 Umbrella Girl (originally $40, now $28 each - sale ends 9/1).

A talented artist and devoted Franciscan nun, Sister Hummel's artwork is renowned for characteristic simplicity, celebration of innocence and warm reflection on human nature. Her natural, simple, harmonious and sometimes humorous works focus on the essential elements of the unspoiled innocence of childhood. The enduring quality of the art, and the constant reminder that it is 'all about the children' is an appeal to the heart that spawned a worldwide legacy now into its second century. Imported. Please click on each image for details. Click here to view the complete offering of these beautiful stained glass art selections.
---
Find a Fenton Dealer. . . Though we continue to wind down the factory inventory, many authorized Fenton dealers around the country still have a nice selection of Fenton Art Glass! Click here to find a dealer near you!
Fenton eBay Auctions. . . Here's your opportunity to own a unique Fenton creation, including rare,
one-of-a-kinds and designer samples, through our weekly ebay Auctions! Items featured this week...

Artist Events Featuring Fenton Jewelry Designers Jena Blair and Truda Mendenhall
Our next Artist Events are going to be in October. If you are going to be near Corning, New York or Zanesville, Ohio please stop by the locations listed below and visit with our jewelry designers! Jena Lane Blair will be demonstrating the art of beadmaking at The Corning Museum of Glass on October 19 from 10 a.m.-5 p.m. Please contact the museum at (607) 438-5214 for details. Truda ''TJ'' Mendenhall will be demonstrating bead handpainting techniques on October 26 from 1-4 p.m. at Charm of Dresden in Zanesville, Ohio. Please contact them at (740) 754-1525 for details. Be sure to visit us on Facebook and Pinterest!
Fenton Custom Designs for Beads. . .
We have received requests for specially designed beads from many customers. Most designs are "exclusive" to one retailer or organization, so we can not sell them on our website. However, we are providing a list of available Custom Designs. If your group or store is interested in a custom designed bead, please call us for details on this program at 1-800-933-6766, ext. 209.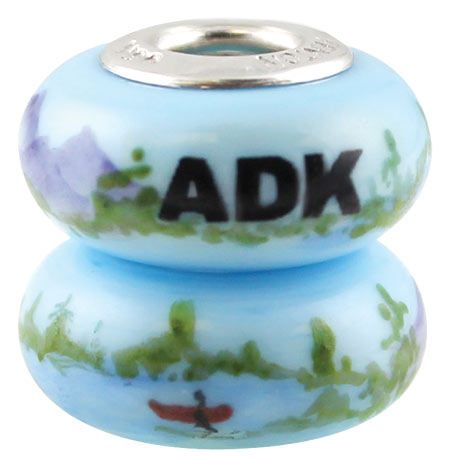 Shown here is our handpainted ADK bead, an exclusive to Allen's Jewelry in Old Forge, NY. Click here to view the complete list of custom designed beads with contact information for the retailers or organization from whom you may purchase them. Please contact the retailer or organization listed beside each Custom Design bead. . . and be sure to say you saw it mentioned in the Fenton Newsletter!

HOT LINKS. . . Find beautiful Fenton glass selections via our website with these categories: