Fenton USA Presents. . .
Classic Burmese. . .While Supplies Last!
We are pleased to offer these very limited quantities of select pieces in Burmese Satin and Blue Burmese. Beautiful Burmese blushes from a creamy yellow to a peachy pink as a result of pure gold in the formula. Quantities are very limited, so don't miss this opportunity to add a unique piece of Fenton's Burmese glass to your collection!
Burmese History:
In 1885, Frederick Shirley, an Englishman who immigrated to America, patented the formula for an opaque, heat-sensitive glass which, when warmed-in, shaded from lemon yellow to salmon pink. As legend has it, when several of Shirley's pieces were presented to Queen Victoria, she exclaimed that the color reminded her of a Burmese sunset. Mr. Shirley's Mt. Washington Glass Company in New Bedford, Massachusetts, adopted the Burmese name and soon allowed a prestigious British firm, Thomas Webb & Sons, to make Burmese in that country.
Fenton chemist Charles Goe replicated Shirley's Burmese in 1969, after many trials. It has since become one of the most collectible Fenton colors. Burmese contains pure gold, and careful reheating coaxes the delicate pink shading into existence. The yellow color comes from a small amount of depleted uranium in the batch. Over the years, there have been variation in the color of the yellow from greenish to a cream hue. Our recent Burmese glass selections reflect the original Burmese with a creamier yellow base.

The creamy yellow matte finish of this lovely 8-1/2'' Burmese Satin vase features a lush handpainted botanical design by Kim Barley. She was inspired by Redoute, a famous botanical painter in Empress Josephine's court. Originally part of a three-piece Garniture Set offered on QVC, a limited quantity of this vase remains! M6853BR 8-1/2'' Burmese Vase with Kim Barley Design, $85.00


These Blue Burmese oval vases feature colorful and fun designs by Fenton designer Stacy Williams.

Look closely and you'll spy the whimsical little ladybug on this mushroom vase!
Kim Barley handpainted
and signed each piece. Numbered and limited to
40 pieces, six mushroom vases now remain!


220133
Limited Edition
8'' Blue Burmese Oval Vase
Design by Stacy Williams
Handpainted by Kim Barley
$165.00


220132
Limited Edition
8'' Blue Burmese
Oval Vase
Design by
Stacy Williams
Handpainted by
Kim Barley
$165.00



A brightly colored bird perches on a stem of equally colorful petals on this oval vase. Numbered and limited to 30 pieces, just
five bird vases
now remain!
---
---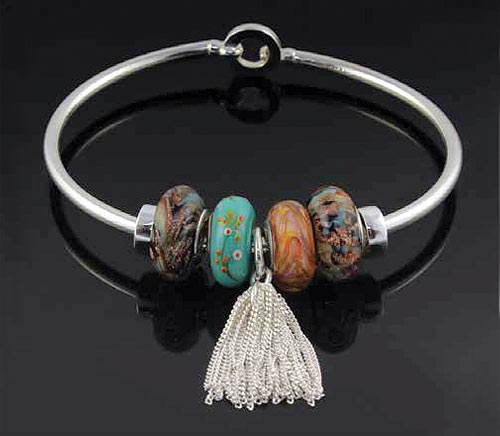 What's Coming from Fenton Jewelry. . .
Speaking of necklaces and jewelry, watch our newsletters for the launch of our Summer and Christmas 2013 Collection of handcrafted jewelry! We've heard your requests and we are going to deliver! Included in our next offering will be Sterling Silver jewelry accessories
. . . from earrings and bracelets to chains and tassels! Shown here is
a "sneak peek" at our new Fenton Bangle bracelet with tassel. The
word Fenton is embossed on the clasp. The Bangle bracelet will be available in three sizes.
Meanwhile, please take at look at our available beads and plan which beads will go on your Fenton bracelet, earring or necklace! To view
our current Fenton Jewelry collection, click here. Don't forget about
the Frequent Buyer Program. . . Buy 10 beads from one Fenton dealer or via the Fenton website and you earn a FREE limited edition bead. Click here for details.
---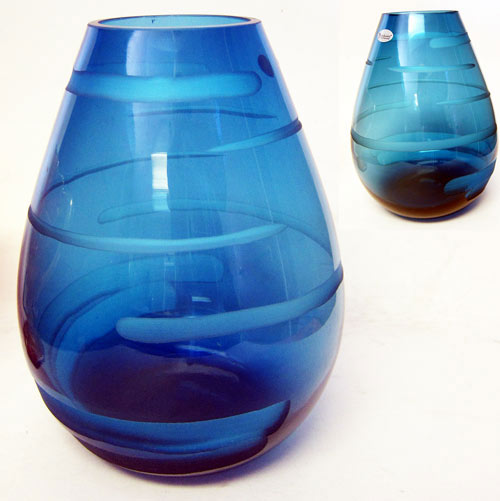 Fenton International Summer Sizzlers. . .
Our Fenton International Summer Sizzlers online specials continue with artistic handcrafted glass gifts from around the world!
Shown at left is the Bands vase from Fenton International's Blue Odyssey collection. Blue Odyssey glass features a deep blue hue that flows down over rich purple to create the background for individual works of art.
The Fenton International logo (see image at right) is on the bottom of each vase.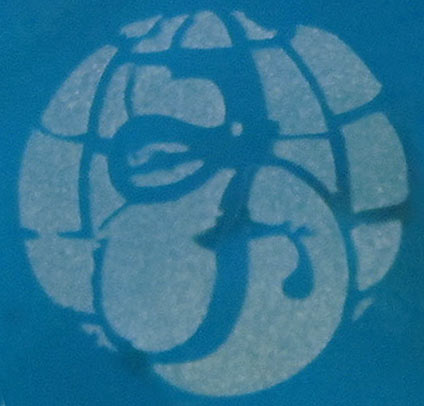 Fenton designer Stacy Williams created the hand cut pattern that is perfect for this shape. Imported.
91054
7-3/4'' Blue Odyssey Bands Vase
Originally $45.00, Summer Sizzler Price: $22.50!
Summer Sizzler Savings on Fenton International's Anniversary Glass!
The perfect way to say ''I Love You'' or a unique gift for a special Anniversary...

Our Fenton International Anniversary crystal glass collection features beautiful flowers and wording. Each flower is hand cut into the glass. Precious metal lettering is applied and the design is handpainted and fired to create the brilliantly sparkling image. Imported.

Our Fenton International Anniversary collection includes plates, candle bowls, candy boxes, bells, and much more.

Plan ahead for a special gift. . . click here to view
all Anniversary selections with 50% savings!

92008 9-1/4'' Heart Vase with words:
Love is patient, love is kind. . .
Originally $25.00, Summer Sizzler Price: $14.88


92001 50th Anniversary 7-1/4'' Bell
And the Greatest of These is Love
Originally $25.00, Summer Sizzler Price: $12.50
---

Find a Fenton Dealer. . . Though we continue to wind down the factory inventory, many authorized Fenton dealers around the country still have a nice selection of Fenton Art Glass! Click here to find a dealer near you!

Fenton eBay Auctions. . . Here's your opportunity to own a unique Fenton creation, including rare, one-of-a-kinds, through our weekly ebay Auctions! Items featured this week...

Artist Events Featuring Fenton Jewelry Designers Jena Blair and Truda Mendenhall
Thanks to everyone who stopped by our booth at the Mountain State Art & Craft Fair in Ripley, WV! Plan ahead if you are going to be near Corning, New York or Zanesville, Ohio in October and visit with our jewelry designers!
Jena Lane Blair will be demonstrating the art of beadmaking at The Corning Museum of Glass on October 19
from 10 a.m.-5 p.m. Please contact the museum at (607) 438-5214 for details.

Truda ''TJ'' Mendenhall will be demonstrating bead handpainting techniques on October 26 from 1-4 p.m. at
Charm of Dresden in Zanesville, Ohio. Please contact them at (740) 754-1525 for details.
Be sure to visit us on Facebook and Pinterest!


HOT LINKS. . . Find beautiful Fenton glass selections via our website with these categories:

Fenton Earrings - Handmade in USA
Fenton Beads and Earrings
Frequent Buyer Program for Beads

Fenton Glass While Supplies Last

Fenton Gift Shop Exclusives
Fenton International - Anniversary Glass
Stained Glass
For questions or comments, please do not reply to this email. Instead, email: askfenton@fentonartglass.com.

This email has been sent to you because you have agreed to receive offers and information from the Fenton Art Glass Company. We respect your privacy and do not sell your personal information. For details, please review our privacy policy.

How to unsubscribe: If you prefer not to receive offers or information from Fenton Art Glass, please use this page to unsubscribe.

If you use a Challenge-Response system for email, please make certain that you can receive our email by adding askfentononline@fentonartglass.com to your Allow List.

For specific instructions for major ISPs, click here.

The sender of this email is the Fenton Art Glass Co., 700 Elizabeth St., Williamstown, WV, 26187