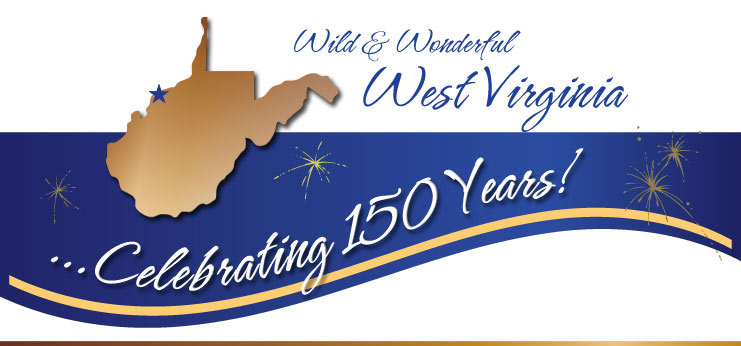 Fenton USA Presents. . . The Celebration Continues!
West Virginia became the 35th state
in the USA on June 20, 1863, and we continue our celebration of 150 years of statehood!
Fenton Art Glass has a long and rich history in the Mountain State. Groundbreaking for the Fenton factory took place in Williamstown, West Virginia in the early fall of 1906, and our first glass was made here on January 2, 1907. Though traditional glassmaking ceased in 2011, today beautiful handcrafted glass jewelry is created in the same building. Click here for information on special events commemorating West Virginia's 150th Statehood Anniversary!
Celebrate the Artistry of West Virginia
with Fenton Art Glass . . .
As we continue to wind down factory inventory, we are pleased to offer limited quantity selections which represent the finest of Fenton Art Glass. Don't miss your opportunity to add these magnificent representations of glass craftsmanship to your collection.
This beautiful 10'' Vase was included in the 2009 Connoisseur Collection. . .
simply the best of the best! Each piece comes with a printed certificate.
Lady Elegance is the perfect name for this vase. The vivid iridescence of our Favrene glass is beautifully complemented by an elegant handpainted lush floral design by Stacy Williams. When first introduced, the Lady Elegance Vase was limited to 750 pieces. We have located a few remaining vases (fewer than a dozen) in a storage area at the Fenton factory.

The spirit of innovation applied to age-old glassmaking techniques is what makes Favrene a real rarity today. As with many handmade glasses, Fenton's Favrene isn't a recent invention. It is Fenton's unique version of two earlier glasses ― Tiffany's Favrile and Steuben's Blue Aurene. Enticed by the silvery blue color found in these
pieces, Frank M. Fenton worked to develop a similar color. A special reheating process was necessary to create the silvery layer on the outside of each piece. Favrene was introduced in the Fenton line in the 1991 Connoisseur Collection and continues to be a collector favorite. 08559T7 10'' Lady Elegance Favrene Vase, $295.00, Buy Now!

The Horizons Collection marked a new direction for Fenton Art Glass. A letter from company president George Fenton was included in the 2007 catalog. In it, he states, ''...As always, each article of Fenton glass bespeaks our pride in the craftsmanship of the designers and the skilled artisans who make these products possible. Our Horizons and Studio collections for 2007 mark new directions for us, as we seek to adapt and change in keeping with emerging trends in a highly-competitive marketplace."
Included in the 2007 Horizons collection, this elegant 11-3/4'' Aubergine Satin Vase features a Stacy Williams design called "Asian Art on Aubergine." Simple,
yet elegant. . . the graceful art of the Orient effortlessly spans centuries and is perfectly expressed with matte gold patina on sanded glass. Each vase is signed by Stacy and by George Fenton. We have fewer than a dozen remaining in stock.
07742KC 11-3/4'' Asian Art on Augberine Satin Vase
George Fenton signature, $175.00, Buy Now!



C43853H 7-1/4'' Sea Green Satin Grape Vase
Originally $119.50, Now $89.00 Buy Now!

This 7-1/4'' Grape Vase is handcrafted in Sea Green glass with a satin finish. The mould originated at Imperial Glass, but Fenton purchased it from Indiana Glass.

Award-winning Fenton designer Robin Spindler created the ''brushed look'' effect on the pattern of grapes in bas relief. The vases has shades of purple, pink, green, and gold for a realistic look.

06477DM Originally $58.50, Now $46.75 Buy Now!
3'' Mom's A Treasure Burmese Purse Treasure Box
You're a Treasure is handpainted ''inside'' the bottom section.
The signatures of Shelley Fenton, Nancy Fenton, Lynn Fenton,
and the artist who completed each piece on the bottom.

This lovely Purse Treasure Box, handcrafted in our classic Burmese glass, is extra special! This is a perfect gift to let someone know they are special to you.

Originally produced as a Mother's Day item, our Purse Treasure Box mould was designed by Suzi Whitaker. Suzi worked closely with our decorating designers to develop this two-part purse that is fun, functional and a bit funky!
Each Treasure Box features a handpainted floral motif designed by Stacy Williams and a special message inside: You're a Treasure. Each Treasure Box also includes a gem accent on the clasp and the signatures of Shelley Fenton, Nancy Fenton, and Lynn Fenton, as well as the signature of the artist who completed each piece.
---
Fenton Jewelry's Art Glass Beads. . .
Fenton jewelry designers Jena Lane Blair and Truda ''TJ'' Mendenhall have combined their talents to create lovely three-dimensional works of art glass jewelry. With truly unique designs, each bead has a sterling Silver core (approx. 3/16" dia.) embossed with Fenton USA and features the initials of the artist. Creating a three-dimensional bead is like ''painting with molten glass'' according to Jena.

Shown below: Cherry Delights-"Cherry cobbler, cherry pie, cherry ice cream...yum!" Panda Playtime-"Adorable
Panda cubs frolic in the bamboo." Butterfly Sweathearts-"Soft delicate wings flutter in a gentle breeze."
Three views are shown of our handcrafted Beach Buddies glass bead. The design was inspired by treasured memories of a day at the shore... and you'll love the delightfully whimsical sea life depicted on this bead!


0B422HO
Butterfly Sweethearts
$45.00


0B434HU
Panda Playtime
$45.00


0B442HV
Cherry Delights
$45.00


0B431GM
Beach Buddies Bead
Three sides shown above
$45.00

Made in USA. . .
Initialed by the artist. . .
Sterling Silver Core. . .
Free Shipping!

Click here to view the current Fenton Jewelry Collection, including our handcrafted glass Teardrop earrings. Don't forget about our Frequent Buyer Program. . . Buy 10 beads from one Fenton dealer or via the Fenton website and you earn a FREE limited edition bead. Click here for details the Frequent Buyer Program.
---

Find a Fenton Dealer. . . Though we continue to wind down the factory inventory, many authorized Fenton dealers around the country still have a nice selection of Fenton Art Glass! Click here to find a dealer near you! Fenton Jewelry retailers in West Virginia have ''custom designed'' beads available. Adams Hallmark, with six store locations, has exclusive beads in the Blue and Gold colors. The Bronze Look, with stores in Princeton and Bluefield, WV, has a ''Black Bear 150th WV'' handpainted bead. Watch this newsletter for a link to our "custom designs" page.


Fenton eBay Auctions. . . Here's your opportunity to own a unique Fenton creation, including rare, one-of-a-kinds, through our weekly ebay Auctions! Items featured this week...

Artist Events Featuring Fenton Jewelry Designers Jena Blair and Truda Mendenhall
Fenton Jewelry designers Jena Lane Blair and Truda ''TJ'' Mendenhall will be demonstrating the art of beadmaking and handpainting Fenton jewelry July 4-7 Daily at the Mountain State Art & Craft Fair, Ripley, WV. There will also be two custom design beads available only during this event to commemorate the 50th Anniversary of this festival.Click here for info on this event and click here for the current schedule.


HOT LINKS. . . Find beautiful Fenton glass selections via our website with these categories:

Fenton Earrings - Handmade in USA
Fenton Beads and Earrings
Frequent Buyer Program for Beads

Fenton Glass While Supplies Last

Fenton Gift Shop Exclusives
Fenton International - Anniversary Glass
Stained Glass
For questions or comments, please do not reply to this email. Instead, email: askfenton@fentonartglass.com.

This email has been sent to you because you have agreed to receive offers and information from the Fenton Art Glass Company. We respect your privacy and do not sell your personal information. For details, please review our privacy policy.

How to unsubscribe: If you prefer not to receive offers or information from Fenton Art Glass, please use this page to unsubscribe.

If you use a Challenge-Response system for email, please make certain that you can receive our email by adding askfentononline@fentonartglass.com to your Allow List.

For specific instructions for major ISPs, click here.

The sender of this email is the Fenton Art Glass Co., 700 Elizabeth St., Williamstown, WV, 26187