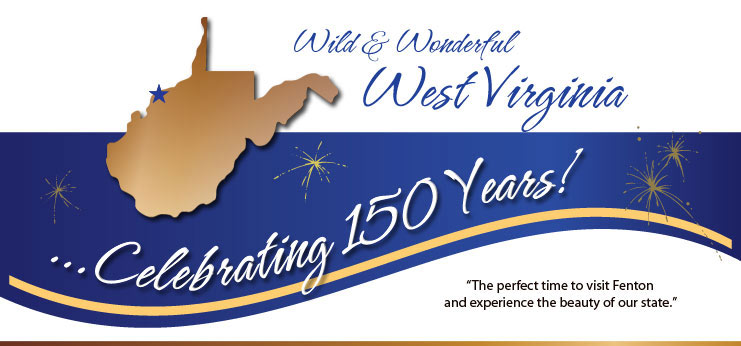 Did you know. . . West Virginia became the 35th state in the USA on June 20, 1863.
Origin of the Name: Virginia was named for Queen Elizabeth I of England (known as the Virgin Queen). Sir Walter Raleigh may have suggested this name around 1584. The West was added when "West" Virginia separated from Virginia in 1863.
State Nickname: Mountain State; State Bird: Cardinal; State Animal: Black Bear; State Flower: Rhododendron
State Butterfly: Monarch; State Tree: Sugar Maple; State Fish: Brook Trout; State Fruit: Golden Delicious Apple
State Colors: Old Gold and Blue; State Motto: Montani semper liberi (Mountaineers are always free)
State Song: West Virginia My Home, The West Virginia Hills, This Is My West Virginia;
Click here to learn more about special events commemorating the 150th Anniversary of West Virginia's statehood!
Learn more about the Fenton Art Glass Company (1905-current): Fenton History; Travel to Fenton
Celebrate the Artistry of West Virginia with Fenton Art Glass . . .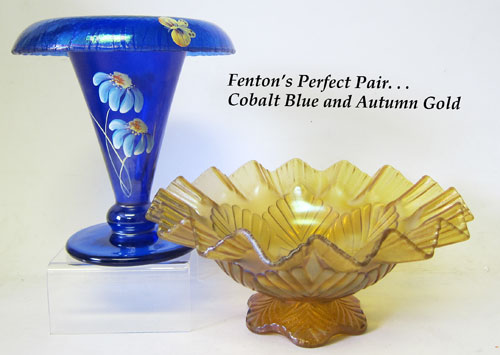 We are pleased to offer these selections in the West Virginia state colors of Blue and Gold.

Our Cobalt Blue Stretch Glass Rolled Top Trumpet Vase was handcrafted at our factory in Williamstown, West Virginia. The mould is from the 1920s and was also used to make our Fan Vase. This vase stands approx. 6-1/2'' tall.

The Cone Flowers and Butterfly design is by Michelle Kibbe,
and each vase is signed by
the talented Fenton artist
who handpainted it.

More than 60 different Blues
are in the Fenton product line. Cobalt creates a dark blue and copper imparts a light blue. In combination with each other or with additional coloring agents, cobalt and copper are used for almost all of our blue colors.

CV640EL Cobalt Stretch Trumpet Vase $90.00 Buy Now!

Stretch glass was first made about 1915 and played an important part in Fenton's production during the 1920s. Decades later we made this glass once again in much the same way. After the glass is sprayed with a solution of metallic salts to create the iridescent finish, the items
are reheated so that they can be reshaped. A skilled glassworker, called a finisher, reshapes the item causing the iridescent surface to stretch. This process creates a myriad of striations and a texture that is a delight to see. Each piece reflects some of the great traditions of the American glass industry as well as our pride in handmade art glass. We've made these pieces even more special by adding George Fenton's signature!
Each piece is signed George Fenton 13.

CV164AQ Autumn Gold Leaf Bowl $50.00 Buy Now!

Our Autumn Gold Leaf Bowl is the perfect tabletop companion for the Trumpet Vase. The fiery fury of Fenton's furnaces create a ''liquid gold'' that, when cooled, is captured forever in the honeyed shades
of Autumn Gold glass. Measuring approx. 8-1/2'' in diameter, this elegant bowl features a unique ''zipper-crimp'' edge. George Fenton's signature appears under the top of one of the crimped edges.
---

Fenton Gift Shop Presents. . .
Dave Fetty Bear Figurines!
Nothing could be finer than a Dave Fetty Bear figurine, handcrafted in West Virginia's state colors! The Fenton Gift Shop has a very limited quantity of these unique and wonderful bear figurines. Each handblown bear is unique. . . handcrafted in Milk Glass, Golden Yellow and Blue colors. Dave created his distinctive hanging hearts design on the yellow and blue bear figurines. He brightened up the Milk Glass bear with a festive yellow and blue frit design. Because of the handmade process, no two will be exactly alike.


F5151BYBH 3-1/2'' Yellow Bear w/Blue Hanging Hearts, $150.00 Buy Now!

F5151BWBY 3-1/2'' White Bear w/Gold and Blue Frit Design, $130.00 Buy Now!

F5151BBYH 3-1/2'' Blue Bear w/Gold Hanging Hearts, $150.00 Buy Now!


Each bear includes Dave's personal stamp and he also inscribed
Dave Fetty 2013 on each figurine. Since quantities are very limited on these bears (fewer than 12 remain), only one figurine of each bear color will be sold per customer.
---
Fenton Jewelry's Mountain Heritage and Special ''West Virginia'' Color Beads. . .
Our popular "color-themed" glass beads are top sellers! Choose from a variety of colors and styles to create your own West Virginia look! Click on each bead image for details.


0B016HY - NEW!
Mountain Heritage
$49.50


0B779
Beloved WV
$39.50


0B207
Blue Feathers
$35.00


0B022DY
I Love Blue
$35.00


0B050
Golden Pearl
$29.50


0B051
Golden Pearl
$29.50
Click here to view the current Fenton Jewelry Collection, including our handcrafted glass Teardrop earrings. Don't forget about our Frequent Buyer Program. . . Buy 10 beads from one Fenton dealer or via the Fenton website and you earn a FREE limited edition bead. Click here for details the Frequent Buyer Program.

Fenton Jewelry retailers in West Virginia have ''custom designed'' beads available. Adams Hallmark, with six store locations, has exclusive beads in the Blue and Gold colors. The Bronze Look, with stores in Princeton and Bluefield, WV, has a ''Black Bear 150th WV'' handpainted bead. Watch this newsletter for a link to our "custom designs" page.
---

Find a Fenton Dealer. . . Though we continue to wind down the factory inventory, many authorized Fenton dealers around the country still have a nice selection of Fenton Art Glass! Click here to find a dealer near you!

Fenton eBay Auctions. . . Here's your opportunity to own a unique Fenton creation, including rare, one-of-a-kinds, through our weekly ebay Auctions! Items featured this week...

Artist Events Featuring Fenton Jewelry Designers Jena Blair and Truda Mendenhall
Fenton Jewelry designers Jena Lane Blair and Truda ''TJ'' Mendenhall will be demonstrating the art of beadmaking and handpainting Fenton jewelry July 4-7 Daily at the Mountain State Art & Craft Fair, Ripley, WV. There will also be two custom design beads available only during this event to commemorate the 50th Anniversary of this festival.Click here for info on this event and click here for the current schedule.


HOT LINKS. . . Find beautiful Fenton glass selections via our website with these categories:

Fenton Earrings - Handmade in USA
Fenton Beads and Earrings
Frequent Buyer Program for Beads

Fenton Glass While Supplies Last

Fenton Gift Shop Exclusives
Fenton International - Anniversary Glass
Stained Glass
For questions or comments, please do not reply to this email. Instead, email: askfenton@fentonartglass.com.

This email has been sent to you because you have agreed to receive offers and information from the Fenton Art Glass Company. We respect your privacy and do not sell your personal information. For details, please review our privacy policy.

How to unsubscribe: If you prefer not to receive offers or information from Fenton Art Glass, please use this page to unsubscribe.

If you use a Challenge-Response system for email, please make certain that you can receive our email by adding askfentononline@fentonartglass.com to your Allow List.

For specific instructions for major ISPs, click here.

The sender of this email is the Fenton Art Glass Co., 700 Elizabeth St., Williamstown, WV, 26187