Fenton USA Presents. . . Family Signing on While Supplies Last Glass!

As many of you know, Fenton Art Glass is extra special when the piece has been signed by a member of the Fenton family. Four generations of the Fenton family have been involved in the factory, continuing a glassmaking legacy for more than a hundred years. We have asked the ''available'' Fenton family members to participate in a special online offering. This is a perfect opportunity for early gift shopping! A Fenton family signature piece for someone special or treat yourself!


For three days only ― starting at 5 p.m. ET on Wednesday, May 22 and ending at 5 p.m. on Friday, May 24 ― a Fenton family member will personally inscribe his or her signature on each item purchased from our While Supplies Last category! There are nearly 100 items to choose from in this category. As we continue to decrease factory inventory, items with smaller quantities have been moved to the While Supplies Last category. Click here for the complete listing of While Supplies Last (WSL) items or choose from the selections shown below. Click on the image for details.

NOTE: Only the Fenton family member who is available during this offer time period will be signing the glass. Special signing requests will not be accepted. This offer applies to WSL items purchased online via the Fenton web site and excludes previously purchased items and telephone orders.

Fenton Jewelry Heartstrings Collection. . . Perfect Made in USA Gifts!
Wedding . . . Graduation . . . Birthday
Our popular Heartstrings beads are the perfect gift choice for everyone in the wedding party― from the mother and mother-in-law and grandmothers of the bride and groom, to the sister, best friend or daughter!

Have a special graduation, anniversary or birthday coming up soon? Express your love for someone special with a unique handcrafted in USA gift. . .
an heirloom in the making. . . Fenton Jewelry. Each bead is handcrafted in Fenton's popular Milk Glass and features a handpainted design, the descriptive word (Mother, Sister, etc.) and the initials of the artist who painted it. The beads have a sterling silver core embossed Fenton USA. A "story" card about each bead is also included. Click on each bead above for details or click here for the Spring 2013 Jewelry Collection or click here to view the complete collection.

0JN01M - 30'' Mom Necklace

Regularly priced at $159-$165 each, our Mom and Grandma necklaces are offered for the special introductory price of
$149 each + free shipping!

Fenton Necklaces
Special Introductory Price:
$149 each + FREE Shipping!


92008 Buy Now! 9-1/4'' Heart Vase
wording: Love is patient, love is kind. . .
Originally $25.00, Now $12.00 Each!
Perfect tabletop displays for receptions!
Click here for more Fenton International!

Give Mom or Grandma a gift that she'll treasure forever. . . Fenton Jewelry! Each 30'' Rhodium Plated stackable link necklace is packaged in an attractive organza gift bag with three Fenton glass beads, their story cards and two Sterling Silver spacers. The Heartstrings beads are also sold separately (click on each bead shown below for details).


0B008HR
Grandma
Heartstrings Bead $35.00


0B008HS
Mom
Heartstrings Bead
$35.00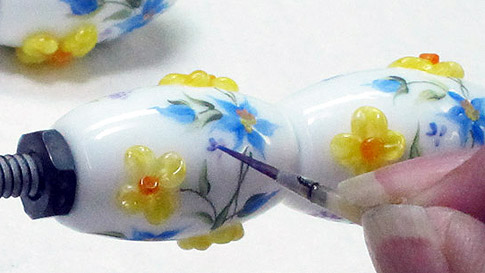 ---
Fenton Jewelry Spring Artist Event . . .
Truda Mendenhall at Corning Museum May 25!
Our Artist Events continue at participating Fenton jewelry dealers.
Fenton Jewelry designer Truda ''TJ'' Mendenhall will be demonstrating the
art of handpainting Fenton jewelry on May 25 from 10 a.m. - 5 p.m. at
The Corning Museum of Glass in Corning, NY. Please call to confirm the event time by calling (607) 438-5214. The photo at right shows how Truda painstakingly applies the final touches on her handpainted floral design for the April Garden bead (see April 18, 2013 newsletter). You'll also have the opportunity to purchase exclusive Artist Event beads available only at these events! Click here for the current schedule and check back for updates!
Fenton eBay Auctions. . .Own a unique Fenton creation, including rare, one-of-a-kinds, through our weekly ebay Auctions! Items featured this week...
Be sure to check out Fenton Jewelry on Pinterest and Fenton Art Glass on Facebook!
Find a Fenton Dealer. . . Though we continue to wind down the factory inventory, many authorized Fenton dealers around the country still have a nice selection of Fenton Art Glass! Click here to find a dealer near you!

Hot Links. . . Find beautiful Fenton glass selections via our website with these categories:
For questions or comments, please do not reply to this email. Instead, email: askfenton@fentonartglass.com.

This email has been sent to you because you have agreed to receive offers and information from the Fenton Art Glass Company. We respect your privacy and do not sell your personal information. For details, please review our privacy policy.

How to unsubscribe: If you prefer not to receive offers or information from Fenton Art Glass, please use this page to unsubscribe.

If you use a Challenge-Response system for email, please make certain that you can receive our email by adding askfentononline@fentonartglass.com to your Allow List.

For specific instructions for major ISPs, click here.

The sender of this email is the Fenton Art Glass Co., 700 Elizabeth St., Williamstown, WV, 26187