Help USGlass ''Kickstart'' Glassmaking. . .
USGlass needs to catalog and "curate" Fenton moulds as a first step in resuming glass production in Williamstown. ''Curate'' means deciding which moulds to use for success in today's market. USGlass continues to raise funds for the restart of Fenton production including restarting furnaces, product development, and hiring marketing personnel. To
kickstart
this process and to provide useful information to the glass collector community, USGlass has initiated a unique project on
Kickstarter.com
for the compilation of an online catalog of more than 10,000 Fenton moulds, including those from other companies.
Pledges may be made from $1 and up. There are special perks to those donating $10 or more and to those donating $100 or more.
The deadline for pledges is May 20, 2013. . . and the clock is ticking!
Click here
for details on this special project. Please share this link with those you think may want to "kickstart" glassmaking in Williamstown. . . and help continue a glassmaking legacy! Thank you!
Fenton Art Glass Presents. . . Spring 2013 Jewelry Collection


Our Spring 2013 Jewelry Collection is now in stores! In addition to the beautiful Heartstrings collection we've been previewing in our newsletters, we are proud to introduce an additional 16 new styles and designs to suit your personal fashion preferences! Here's a look at the latest handmade in the USA glass beads from Fenton Jewelry! Click on each image or ware number for details or visit www.fentonartglass.com.

0B365 - $39.50
Forget-me-nots
Tiny petals nestled among golden dewdrops.


0B366 - $39.50
Monet's Petite Water Lilies
The petite version of our Focal bead.


0B367 - $39.50
Blooming Optimist
A tiny garden blooming in rose-colored glass!

These beautiful creations were designed by Jena Lane Blair.

Shown above are our three new designs for Spring. Shown at left are production images of the creation of these beautiful glass beads.

Click here for the Spring 2013 Collection.


Click here to view the current Fenton Jewelry Collection.
Don't forget about our Frequent Buyer Program! Purchase 10 beads from a single Fenton dealer or from the Fenton website, and you'll earn a FREE limited edition bead! Click here for details the Frequent Buyer Program.
---
Fenton Jewelry Spring Artist Events . . .
Participating Fenton jewelry dealers are hosting Artist Events with Fenton jewelry designers Jena Lane Blair and Truda ''TJ'' Mendenhall demonstrating the art of beadmaking. You'll also have the opportunity to purchase exclusive Artist Event beads (shown here), available only at these events! Click here for the current schedule and check back for updates! Please confirm the date and time for each event with the Fenton jewelry dealer as they are subject to change! Jena and Truda will be demonstrating beadmaking at the following locations in May.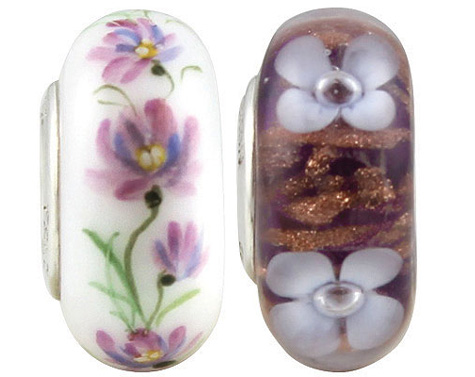 Jena Lane Blair Artist Event
May 3: 3-6 p.m. Myers & Pugh Designer Jewelry, Newark, OH (740) 344-9259
May 4: 1-4 p.m. Charm of Dresden, Dresden, OH (740) 754-1525

Truda "TJ" Mendenhall Artist Event
May 25: 10 a.m. - 5 p.m. The Corning Museum of Glass, Corning, NY (607) 438-5214
---
Fenton eBay Auctions. . .Own a unique Fenton creation, including rare, one-of-a-kinds, through our weekly ebay Auctions! Items featured this week...
Be sure to check out Fenton Jewelry on Pinterest and Fenton Art Glass on Facebook!
Find a Fenton Dealer. . . Though we continue to wind down the factory inventory, many authorized Fenton dealers around the country still have a nice selection of Fenton Art Glass! Click here to find a dealer near you!

HOT LINKS. . . Find beautiful Fenton glass selections via our website with these categories:
For questions or comments, please do not reply to this email. Instead, email: askfenton@fentonartglass.com.

This email has been sent to you because you have agreed to receive offers and information from the Fenton Art Glass Company. We respect your privacy and do not sell your personal information. For details, please review our privacy policy.

How to unsubscribe: If you prefer not to receive offers or information from Fenton Art Glass, please use this page to unsubscribe.

If you use a Challenge-Response system for email, please make certain that you can receive our email by adding askfentononline@fentonartglass.com to your Allow List.

For specific instructions for major ISPs, click here.

The sender of this email is the Fenton Art Glass Co., 700 Elizabeth St., Williamstown, WV, 26187