Fenton USA Presents. . . Welcome Spring
Robin's Egg Blue Online Special!

In many parts of the country, birds once again trill their songs and the flowers and trees are starting to bud and blossom. Robin's Egg Blue glass from Fenton USA is the perfect way to add a touch of Spring hues to your home!

Our Spring Color Splash Online Special: 20% Discount on Robin's Egg Blue glass from the Fenton web site ONLY. This offer is valid from 5 p.m. on April 10 through 5 p.m. (ET) on April 15. The sale price appears in red above each item.

You may choose from a variety of shapes, patterns and styles in this lovely hue, including the items shown in this newsletter. Click here for all available Robin's Egg Blue glass selections. Please note that quantities may be limited on some pieces as we continue to wind down the factory inventory.

04380T1 Robin's Egg Blue 10'' American Vase Originally $79.50, Now $63.60 Buy Now!


03753T1
$47.50 Now $38.00 Buy Now!
Approx. 9-1/2'' Swung Vase


07255T1
$79.50 Now $63.60 Buy Now!
10'' Tulip Vase



04388T6
$29.50 Now $23.60 Buy Now!
6'' dia. Nut Dish

Robin's Egg Blue
Online Special
Ends at
5 p.m. ET April 15!


05033N6
$49.50 Now $39.60 Buy Now!
4'' Elephant Treasure Box

---
Fenton Gift Shop Customer Appreciation Days… April 20-21, Williamstown, WV


As we continue to wind down our inventory, the Fenton Gift Shop is excited to show how much we've appreciated your loyal patronage over the years. This bittersweet weekend promises to be a great shopping experience with 30% savings on a wide assortment of Fenton plus an extra 10% credit in Fenton Sunny Money.*

Avid Fenton collectors attending this event will especially enjoy our unusual and rare silent auction items … many very limited quantity surprises … and a lottery exclusive drawing held on Sunday, April 21 at 11:30 a.m. (ET)!

Award-winning designer Robin Spindler will amaze you with her one-of-a-kind and limited edition creations, including a Bengal Chessie Box (#1/30) that you may bid on today! Fenton designers Kim Barley, Frances Burton and Stacy Williams are also designing unique limited editions and one-of-a-kinds, so there'll be something fo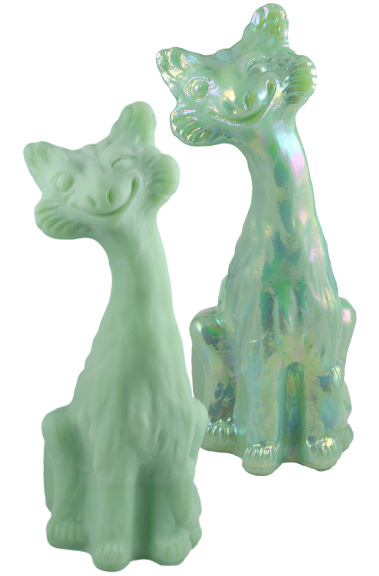 r everyone, including interesting and collectible items from "Frank's Closet." If you haven't seen the wooden "chills" on sale, be sure to get to that part of the shop.

HOT OFF THE PRESS…Stay tuned for a sneak peek in our next e-newsletter of exclusive "Jadeite" Alley Cats produced by Mosser Glass for the Fenton Gift Shop. Our designers are very busy "dressing up" these exclusive event beauties that will sell out fast … so we hope you can make it to their debut on April 20th!

NOTE: Please do not call prior to April 22 to order an Alley Cat. If any designs remain after Saturday, we will offer those for sale through a lottery drawing for all interested phone order customers.

We look forward to seeing you on April 20-21! However, if you can't make it, you can still enjoy 30% Storewide Savings and 10% Sunny Money credit on April 22-24 by calling (304) 375-7772 or (800) 319-7793 ext. 282, 321 or 383.

*30% storewide discount excludes Fenton Beads & Earrings, Event Exclusives, select Fenton Gift Shop Exclusives, and Warehouse Sale and Clearance items.

Customer Appreciation Event hours: Saturday 9 a.m.-5 p.m. and Sunday 11 a.m.–5p.m. ET.
---
Fenton Jewelry Spring Artist Events . . .
Participating Fenton jewelry dealers are hosting Artist Events. . . beginning with the Fenton Gift Shop on April 20 during their Customer Appreciation Days event. Fenton Gift Shop will host a Custom Bead Day on Saturday, April 20 from 9 a.m.-1 p.m. (ET) with Jena and Truda, and a Fenton Family Signing Event with Chris Fenton and Randy Fenton throughout the day.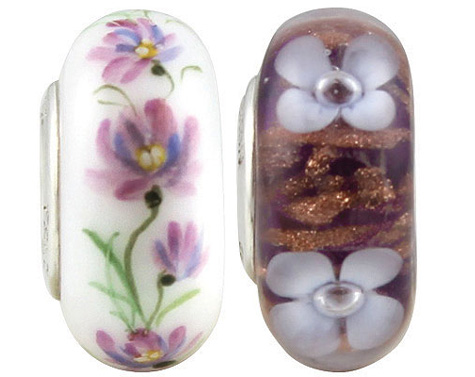 If you can't make it to our factory, visit one of the participating dealers for beadmaking demonstrations from two of our talented artisans, Jena Lane Blair and Truda Mendenhall. You'll also have the opportunity to purchase our Artist Event beads (shown below), available only at these special events!

Click here for the current schedule and check back for updates! Please be sure to confirm the date and time for each event with the dealer as they are subject to change!
---
Coming Soon! Mosaic Glass Teardrop Earrings from Fenton Jewelry. . .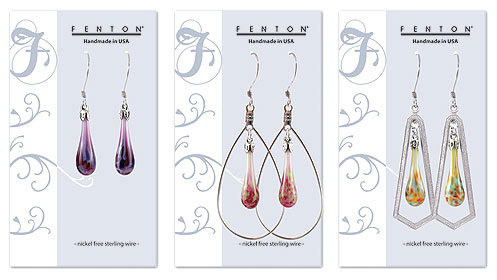 Our Spring 2013 Jewelry Collection will soon ship to Fenton dealers around the country. Click here for a sneak peek at this offering. Included in this offering are these beautiful handcrafted Mosaic Teardrop Earrings.

Three Mosaic styles are being introduced: Enchanted Berries, handcrafted in lovely hues of purple and pink; Sweet Pea, handcrafted in pinks and soft greens; and Santa Fe Morning, handcrafted in hues of gold, coral and turquoise. Click on each name to see our coordinating glass bead.
Teardrop Earrings range from 3/4'' to 1'' in length. Pair with our handcrafted Fenton Made in America glass beads! In an age of mass production, Fenton remains committed to honoring the tradition of expressive, handmade creations. Each Fenton Made in America Teardrop Earring pair bears the signature of handcraftsmanship; those slight variations that convey distinction, character and charm.
---
Fenton eBay Auctions. . .Own a unique Fenton creation, including rare, one-of-a-kinds, through our weekly ebay Auctions! Items featured this week...
Find a Fenton Dealer. . . Though we continue to wind down the factory inventory, many authorized Fenton dealers around the country still have a nice selection of Fenton Art Glass! Click here to find a dealer near you!

HOT LINKS. . . Find beautiful Fenton glass selections via our website with these categories:
For questions or comments, please do not reply to this email. Instead, email: askfenton@fentonartglass.com.

This email has been sent to you because you have agreed to receive offers and information from the Fenton Art Glass Company. We respect your privacy and do not sell your personal information. For details, please review our privacy policy.

How to unsubscribe: If you prefer not to receive offers or information from Fenton Art Glass, please use this page to unsubscribe.

If you use a Challenge-Response system for email, please make certain that you can receive our email by adding askfentononline@fentonartglass.com to your Allow List.

For specific instructions for major ISPs, click here.

The sender of this email is the Fenton Art Glass Co., 700 Elizabeth St., Williamstown, WV, 26187