Fenton USA Presents. . .
St. Patrick's Day Bunny Figurine Online Special!

Just in time for Easter and ready to hop into your Fenton collection... cute Bunny figurines... handmade in the USA at Fenton Art Glass.

Our St. Patrick's Day Online Special Offer: $39.50 + $8 shipping (via USPS) and handling for each Lavender Satin Mini Bunny figurine shown here. A very limited quantity is available of each figurine, while supplies last! These figurines each feature an Internet Special "exclusive" design by award-winning Fenton designer Kim Barley. Kim signed and numbered each Mini Bunny figurine. Lavender glass contains neodymium, so pieces will appear as different colors under various lighting conditions, a characteristic called dichroic. This makes Lavender a great conversation topic! Click on each bunny shown above to order.


I5293BRH1 - Just 6 Figurines Available!
Burmese Lop Ear Bunny Figurine- Signed and Numbered by Robin Spindler
Online Special Price $55.00 + $8 Shipping!

This 3-1/2'' Lop Ear Bunny is handcrafted in Burmese glass, a Fenton classic color made with pure gold in the formula. Burmese provides the perfect springtime canvas for our popular Lop Ear Bunny. This little guy will make a lovely addition to your Easter display or to give as an unique gift for a figurine collector! We found just six of these figurines in our factory and wanted something special in the way of a handpainted design...so we asked award-winning Fenton designer Robin Spindler to work her artistic magic. As you can see from the different views of this figurine, she did a wonderful job. We wanted to show all the wonderful views, from the adorable expression and gemstone accents to the meticulous handpainted details, right down to those black pawprints! Each figurine is signed ''JK Spindler 2013'' and numbered (1 of 6, 2 of 6, etc.). Remember: These figurines are only available through the Fenton website.

Special Note: Fenton Gift Shop March Madness $ do not apply to items offered via the Fenton company web site.
---
Fenton USA Handcrafted Glass Beads. . .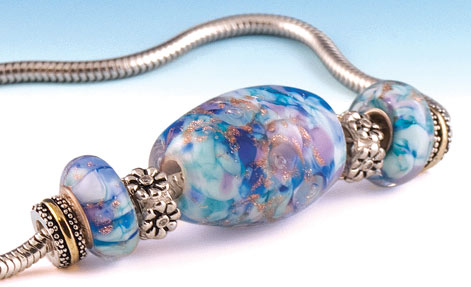 Northern Lights and Serenity!
Fenton Handmade in USA beads will bring you ooohs and aahhs of admiration!
The Northern Lights Vasa Murrhina bead was designed by Jena Lane Blair. Vasa Murrhina beads use an ancient, time-honored technique of using gold aventurine frit (finely ground glass). Jena describes Northern Lights as "a magical kaleidoscope in the winter sky."
Our Serenity glass Focal Bead was designed by Jena Lane Blair. She describes
this bead as "Blessings of Peace, Contentment and Joy."
Because of the handmade process, bead size may vary. Fenton beads will fit most popular brands of bracelets and jewelry accessories. The accessories shown above are not currently available to purchase through our web site, but we're working on adding accessories in the near future! Meanwhile, we suggest you contact your Fenton jewelry dealer or local jewelry store. To view more Handmade in USA jewelry, click here. You'll receive Free Shipping on Fenton handmade in USA jewelry!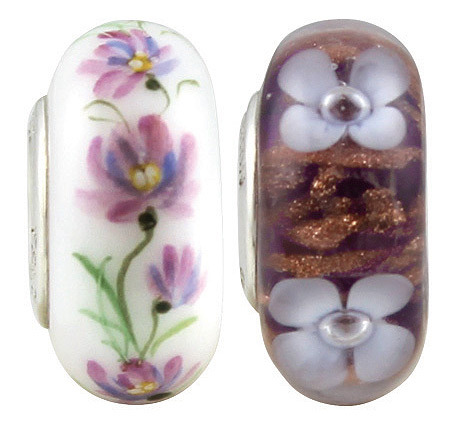 Fenton Artist Events. . . Coming Soon!
We are scheduling our Artist Events at participating Fenton dealers around the country. This year we have "two" Artist Event beads. These beads will only be available at Fenton dealers hosting an Artist Event. Fenton bead designers Jena Lane Blair or Truda "TJ" Mendenhall will be demonstrating the art of beadmaking! Shown at right are our new Artist Event beads: Trellis Treasures, a handpainted bead designed by Truda and Blue Lilacs, an Encased Vasa Murrhina bead designed by Jena. Be sure to check out the Events Calendar at www.fentonartglass.com as updates will be added!
---
Fenton eBay Auctions. . . Own a unique Fenton creation, including rare, one-of-a-kinds, through our weekly ebay Auctions! Items featured this week...
Find a Fenton Dealer. . .
Though we continue to wind down the factory inventory, many authorized Fenton dealers around the country still have a nice selection of Fenton Art Glass! Click here to find a dealer near you!
For questions or comments, please do not reply to this email. Instead, email: askfenton@fentonartglass.com.

This email has been sent to you because you have agreed to receive offers and information from the Fenton Art Glass Company. We respect your privacy and do not sell your personal information. For details, please review our privacy policy.

How to unsubscribe: If you prefer not to receive offers or information from Fenton Art Glass, please use this page to unsubscribe.

If you use a Challenge-Response system for email, please make certain that you can receive our email by adding askfentononline@fentonartglass.com to your Allow List.

For specific instructions for major ISPs, click here.

The sender of this email is the Fenton Art Glass Co., 700 Elizabeth St., Williamstown, WV, 26187