Fenton USA Presents. . . Hop Into Spring Online Bunny Figurine Special!

Easter comes early this year and Fenton Art Glass bunnies want to hop into your figurine collection! Our Hop into Spring Online Bunny Figurine Special begins at 9 a.m. (ET) March 6 and ends at 9 a.m. (ET) on Saturday, March 9th. Each handmade in USA figurine shown below will be offered at a 20% savings! The sale price appears in red above each item. As you know, our factory inventory is becoming very limited, so these pieces are being offered While Supplies Last! Choose from these remaining limited quantity bunny figurines. Click on each image for details or click here for more beautiful handcrafted glass from the Fenton Art Glass While Supplies Last offering.

Be sure to check with your local Fenton dealer, however, as they have many pieces not available through the Fenton web site (see below on how to locate a Fenton dealer near you). Please note that sale prices may not apply with Fenton dealers.

---

A Double Treat. . . Fenton's Bunny Treasure Boxes!

You'll receive a double treat with our Bunny Treasure Box! Remove the top half of this handcrafted Bunny Treasure Box to reveal a secret compartment in the bottom! This delightful mould was designed by Suzi Whitaker. We have fewer than a dozen left of each of the three Treasure Boxes shown below. . . so don't delay, order yours online today!


Shown at far left is our adorable Bunny Treasure Box handcrafted in rich Chocolate glass. Chocolate glass ranges in color from a deep mocha shade to a milky cocoa color, and no two pieces are the same. Dating back to 1907, Chocolate glass is a Fenton collector favorite - it looks good enough to eat! The soft hue of our Rosemilk Bunny Treasure Box (middle image) provides an excellent canvas for the handpainted Spring floral design and you'll love the adorable detail on the face. Each handpainted Bunny Treasure Box is signed by the talented Fenton artist who completed it. Our Opal Satin Bunny Treasure Box was included in our Springtime Glitter grouping from 2008. Handpainted details and a glittery finish make this Bunny Treasure Box perfect for your Easter tabletop display!


04930CK - $34.50 Buy Now!
5'' Chocolate Standing Bunny Box


C4930IF - $45.00 Buy Now!
5'' Rosemilk Handpainted Standing Bunny Box


04930H3 - $44.00 Buy Now!
5'' Rosemilk Handpainted Standing Bunny Box
---
Add a Touch of Classic Fenton Hobnail to Your Easter Tabletop!
Hobnail, one of the best known and collected Fenton patterns,
has been in and out of the Fenton line since the late 1930s.
Here's your chance to add this collector favorite to your
Easter tabletop display.

Handcrafted in Milk Glass, this Sugar and Creamer Set is being offered, while supplies last, at a special price of $50.00 and the matching Milk Glass Toothpick Holder is yours for just $13.50!
You'll Be "In the Pink" with Fenton's Handmade in USA Glass Beads. . .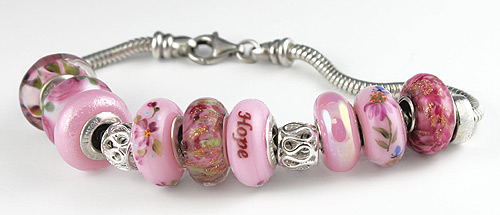 Fenton handmade in USA glass beads make a unique gift and are heirlooms in the making! Mix and match our lovely pink hues and you'll be pretty in pink! This bracelet includes our new Eternal Hope bead. "Touching lives with hope. . . mothers, daughters, sisters, and friends. . . let's give them our love and support." $1.00 from the sale of each Eternal Hope bead will be donated to breast cancer research through the American Cancer Society. This soft pink bead, with the word "Hope" on one side and a handpainted Hawthorn blossom on the other, was designed by Truda "TJ" Mendenhall. Each handpainted bead is initialed by the artist! Click on each bead for details. Click here to view the Fenton Handmade in USA bead collection.
Because of the handmade process, bead size may vary from 1/2'' to 5/8'' in diameter. Fenton beads will fit most popular brands of bracelets and jewelry accessories. The bracelet and spacers shown above are not currently available to purchase through our web site, but we're working on adding accessories in the near future! In the meantime, we suggest you check with your Fenton jewelry dealer or local jewelry store.
Frequent Buyer Program! Purchase 10 beads and qualify for your choice of a FREE limited edition bead!
Click here for details about our Fenton Beads Frequent Buyer Program. The handpainted Nichole and Vasa Murrhina Elisabeth beads are the current limited edition Frequent Buyer beads.
---
Fenton eBay Auctions. . . Own a unique Fenton creation, including rare, one-of-a-kinds, through our weekly ebay Auctions! Items featured this week...
Find a Fenton Dealer. . .
Though we continue to wind down the factory inventory, many authorized Fenton dealers around the country still have a nice selection of Fenton Art Glass! Click here to find a dealer near you!
For questions or comments, please do not reply to this email. Instead, email: askfenton@fentonartglass.com.

This email has been sent to you because you have agreed to receive offers and information from the Fenton Art Glass Company. We respect your privacy and do not sell your personal information. For details, please review our privacy policy.

How to unsubscribe: If you prefer not to receive offers or information from Fenton Art Glass, please use this page to unsubscribe.

If you use a Challenge-Response system for email, please make certain that you can receive our email by adding askfentononline@fentonartglass.com to your Allow List.

For specific instructions for major ISPs, click here.

The sender of this email is the Fenton Art Glass Co., 700 Elizabeth St., Williamstown, WV, 26187