Fenton's Dancing Ladies Vase. . . Revisited
We have a limited quantity of these ''Preferred Second'' Dancing Ladies Vase, handcrafted in Key Lime Iridized glass. The photo at right shows the complete vase with an inset of the other side. Each side features a "dancing lady." The addition of a metallic salts spray creates the vivid iridescence and this piece is sure to make an elegant statement when displayed in your home or office. Our skilled glassworkers produced this vase in 2009 for a Special Order Customer. These are considered Preferred Seconds as a result of tool marks, which are often found in handmade glass. These marks were created by the tapered carbon paddle used inside the vase to flare it. However, the "Dancing Ladies" on either side of the vase have no flaws.

Inspired by a classic Northwood motif, our company's founder, Frank L. Fenton, designed moulds for "Dancing Ladies" vase that became popular Fenton products in the 1930s. Some years ago, we searched in vain for these moulds. However, at that time, Fenton sculptor Suzi Whitaker was able to work from Frank L. Fenton's original sketches so that we could make an entirely new mould for a Dancing Ladies vase.
IP048HJ 6-3/4'' Dancing Ladies Vase in Key Lime Iridized Preferred Second, $68.00 While Supplies Last - Buy Now!
Fenton Handmade in USA Jewelry Collection. . . Heirlooms in the Making!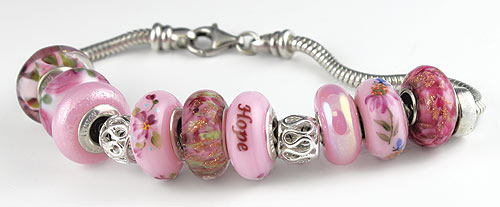 Fenton's handmade in USA glass beads are ''heirlooms in the making,'' according to Fenton jewelry collector Mary Healy Smith Marlowe. She commented on her recent order: "I had

a fun time this Christmas with my granddaughters making bracelets with my Fenton beads. Your beads are heirlooms in the making!''

We are pleased to introduce exciting new handcrafted bead and Teardrop earring designs for 2013. The 2013 collection should be available at your local Fenton jewelry dealer within the next four weeks. Click here to view the 2013 Catalog. Our jewelry team is busy completing the Spring 2013 collection to ship to authorized Fenton jewelry dealers as soon as possible, so be sure to check with your local Fenton dealer for these coming soon selections!
Fenton Reference Books. . .

Click here to view all available reference materials.

FG974 - Buy Now!
Fenton Glass 100th Anniversary Coffee Table Book
Originally $100, Special Online Price $45 + $4.95 S&H


FG947 - Buy Now!
Fenton Glass Especially for QVC (Paperback)
Special Offer: $20 each + Free Shipping!

Click here to view the complete offering
of the Glass Messenger... available for a limited time at $1.50 each with FREE shipping!
Fenton eBay Auctions. . .
Our Fenton eBay listings resume today at noon ET. Own a unique Fenton creation, including rare, one-of-a-kinds, through our weekly ebay Auctions! Items featured this week...

Fenton Dealer Locator

Can't find it online? Contact your local Fenton dealer! Authorized Fenton dealers still have large selections of quality Fenton glass available and many now carry the Fenton jewelry line. Click here to find a Fenton dealer near you!

Fenton Art Glass While Supplies Last. . .

We still have a large selection of beautiful Fenton glass
to choose from. . . and many feature exclusive handpainted designs. . . while supplies last! Quantities may be limited.
Be sure to check with your local Fenton dealer for Fenton Art Glass items not shown on our web site!


Click here for more fine Fenton glass from our While Supplies Last category!

I6016SLH4 - Buy Now! 12'' Dia. Baroque Bowl in Shell Pink
with Robin Spindler ''Winter'' Design - $199.00

HOT LINKS. . .

Find beautiful Fenton glass selections via our website with these categories:
For questions or comments, please do not reply to this email. Instead, email: askfenton@fentonartglass.com.

This email has been sent to you because you have agreed to receive offers and information from the Fenton Art Glass Company. We respect your privacy and do not sell your personal information. For details, please review our privacy policy.

How to unsubscribe: If you prefer not to receive offers or information from Fenton Art Glass, please use this page to unsubscribe.

If you use a Challenge-Response system for email, please make certain that you can receive our email by adding askfentononline@fentonartglass.com to your Allow List.

For specific instructions for major ISPs, click here.

The sender of this email is the Fenton Art Glass Co., 700 Elizabeth St., Williamstown, WV, 26187