Fenton Handmade in USA Jewelry Collection. . .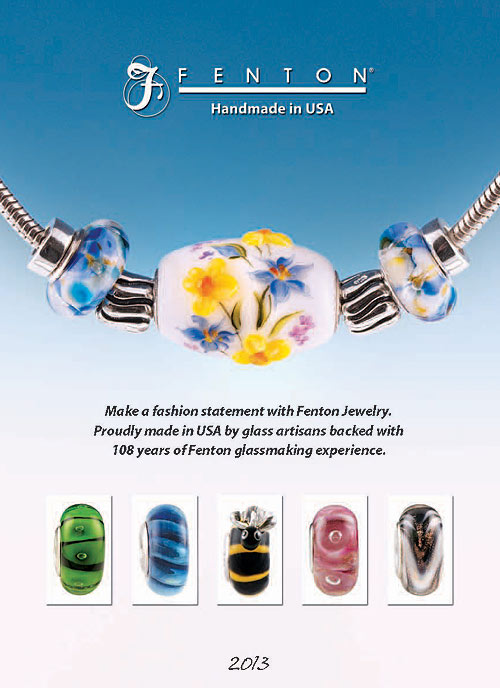 What's Coming for 2013!
We are pleased to introduce exciting new handcrafted bead and Teardrop earring designs for Spring 2013. Click on the catalog image at right to preview what's coming! The Spring 2013 collection should be available at your local Fenton jewelry dealer within the next four weeks. Click here for a preview of the 2013 Catalog.

What's New for Spring 2013? Shown here are just of few of our forthcoming new designs.
April Garden - A unique three dimensional and handpainted Focal bead (0B913GW - $95). . . you'll start many a conversation with this beautiful handcrafted glass bead!
All of our beads have a "story" and the story card included with this bead reads: Lovely jonquils and blue iris...
my garden of tranquility. Designed by Jena Lane Blair and Truda "TJ" Mendenhall. Shown on the 2013 Catalog cover.

Copenhagen - Pair this Encased bead with April Garden to make your fashion statement with Fenton handmade in USA jewelry! Designer Jena Lane Blair says Copenhagen (0B721 - $39.50) has a heritage of deep blue porcelain with soft yellow accents.

Eternal Hope - Mothers, daughters, sisters, and friends. . . give them our love and support! $1.00 from the sale of each Eternal Hope bead will be donated to breast cancer research. Eternal Hope (0B032GR - $35) is handpainted with a design by Truda "TJ" Mendenhall. The word Hope is on one side and a handpainted Hawthorn blossom is on the other side. The image above shows both sides of this beautiful bead. Every Fenton handcrafted glass bead has a sterling silver core embossed with Fenton USA and will fit most major brands of bracelets and necklaces. Accessories are currently not available through the Fenton web site. Our jewelry team is busy completing the Spring 2013 collection to ship to authorized Fenton jewelry dealers as soon as possible, so be sure to check with your local Fenton dealer for these coming soon selections! Click here to see our currently available line of handcrafted glass jewelry.
Glass Messenger Back Issue Special. . .
We are pleased to offer remaining back issues of the Glass Messenger at a special 50% discount per issue. This 8-page publication, for friends and collectors of Fenton Art Glass, was printed four times a year and sent to paid subscribers. The Glass Messenger ceased publication after the March 2007 issue, but back issues are available and are offered through our web site. Each issue contains informative articles with background history
of the glass as well as profiles of Fenton family members and company employees.

---


56823 - Buy Now!
Poly Binder for Glass Messenger Issues
Special Offer: $5.00 each + Free Shipping!


Also available are Glass Messenger Binders. These binders hold 12-24 Glass Messenger issues. . . and helps you keep them organized and easily available in issue order.

Click here to view the complete offering
and details for each issue... available
for $1.50 each with free shipping!

Our most recent Fenton reference book is Fenton Glass: The 1990s Decade. The Glass Messenger issues from 2000 onward are an excellent resource for accurate background information for glass produced by the Fenton Art Glass Company during 2000-March 2007.
Fenton eBay Auctions. . .
Our Fenton eBay listings resume today at noon ET. Own a unique Fenton creation, including rare, one-of-a-kinds, through our weekly ebay Auctions! Items featured this week...

Fenton Dealer Locator

Can't find it online? Contact your local Fenton dealer! Authorized Fenton dealers still have large selections of quality Fenton glass available and many now carry the Fenton jewelry line. Click here to find a Fenton dealer near you!

Fenton While Supplies Last Art Glass. . .

Add a spray of rosebuds, candy, or even Fenton jewelry to this vase and you are set
for a unique gift for someone special this Valentine's Day!

Our 4-1/2'' American vase is handcrafted in Rosalene glass and iridized for extra sparkle! Rosalene contains pure gold in the formula. Fenton's skilled glassworkers coaxed the pink tone from within the molten glass using special reheating techniques.

Click here for more fine Fenton glass from our While Supplies Last category!

04545RJ - Buy Now! 4-1/2'' American Vase in Rosalene Iridized

HOT LINKS. . .

Find beautiful Fenton glass selections via our website with these categories:
Fenton International Anniversary Collection

Say I Love You with this unique handcrafted heart-shaped vase! Perfect for an Anniversary, Valentine's Day, or just to say ''I Love You''. . . from Fenton International's Anniversary collection.

Each colorful flower is hand cut into the glass. Precious metal lettering is applied and the design is handpainted and fired to create the brilliantly sparkling image. Imported.

Click here to view the entire Anniversary Collection from Fenton International.

92008 - Buy Now! - Special Price!
9-1/4'' Heart Vase with "Love is Patient, love is kind" lettering
For questions or comments, please do not reply to this email. Instead, email: askfenton@fentonartglass.com.

This email has been sent to you because you have agreed to receive offers and information from the Fenton Art Glass Company. We respect your privacy and do not sell your personal information. For details, please review our privacy policy.

How to unsubscribe: If you prefer not to receive offers or information from Fenton Art Glass, please use this page to unsubscribe.

If you use a Challenge-Response system for email, please make certain that you can receive our email by adding askfentononline@fentonartglass.com to your Allow List.

For specific instructions for major ISPs, click here.

The sender of this email is the Fenton Art Glass Co., 700 Elizabeth St., Williamstown, WV, 26187