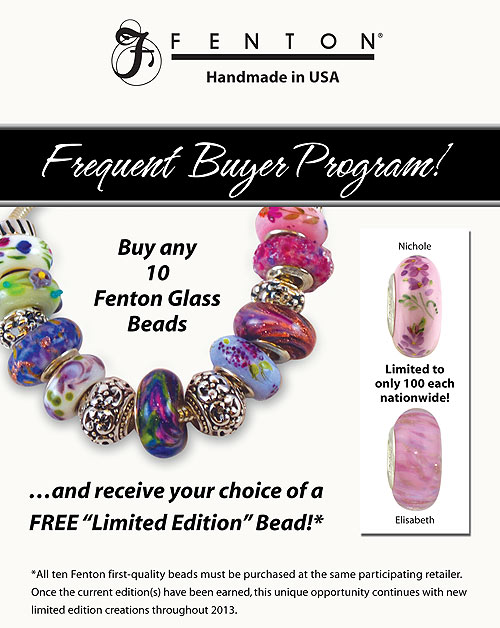 ---
Here's your chance to receive a beautiful limited edition bead absolutely FREE! Simply purchase ten beads online from our website: www.fentonartlgass.com and you'll qualify for a bonus bead!

We'll keep track of your orders. Once you have ordered ten beads from www.fentonartglass.com, using the same customer name and address information, you can receive your choice of the two limited edition beads shown above (Nichole - handpainted or Elisabeth - Vasa Murrhina). This fourth offering is limited to 100 beads of each design.
The Frequent Buyer Program which began January 1, 2012. The above bead offering applies to all purchases made through the end of 2013, so you still have time to get your "wish list" and "gift list" started! You must purchase all ten beads from the same authorized Fenton dealer or from the Fenton website at www.fentonartglass.com. Those of you who have already purchased the required number of beads online will be contacted by Fenton about your free bead from the limited edition selections shown above. Almost there? Find your tenth bead purchase - click here to view the Fenton Made in America handcrafted glass bead collection!
The first edition of the Frequent Buyer beads, limited to just 50 beads nationwide, sold out! The 50th of each bead was auctioned on eBay at record-setting prices! Watch for the 75th bead from the third limited edition set to be auctioned soon on eBay. This unique opportunity continues with new limited edition beads available only to Fenton's Frequent Bead Buyers.
---
For questions or comments, please do not reply to this email. Instead, email: askfenton@fentonartglass.com. This email has been sent to you because you have agreed to receive offers and information from the Fenton Art Glass Company. We respect your privacy and do not sell your personal information. For details, please review our privacy policy.
If you use a Challenge-Response system for email, please make certain that you can receive our email by adding askfentononline@fentonartglass.com to your Allow List. For specific instructions for major ISPs, click here.
The sender of this email is the Fenton Art Glass Co., 700 Elizabeth St., Williamstown, WV, 26187
---
Copyright ©2013 Fenton Art Glass Company
All rights reserved
powered by Network Associates