Trouble viewing this email?
Click here.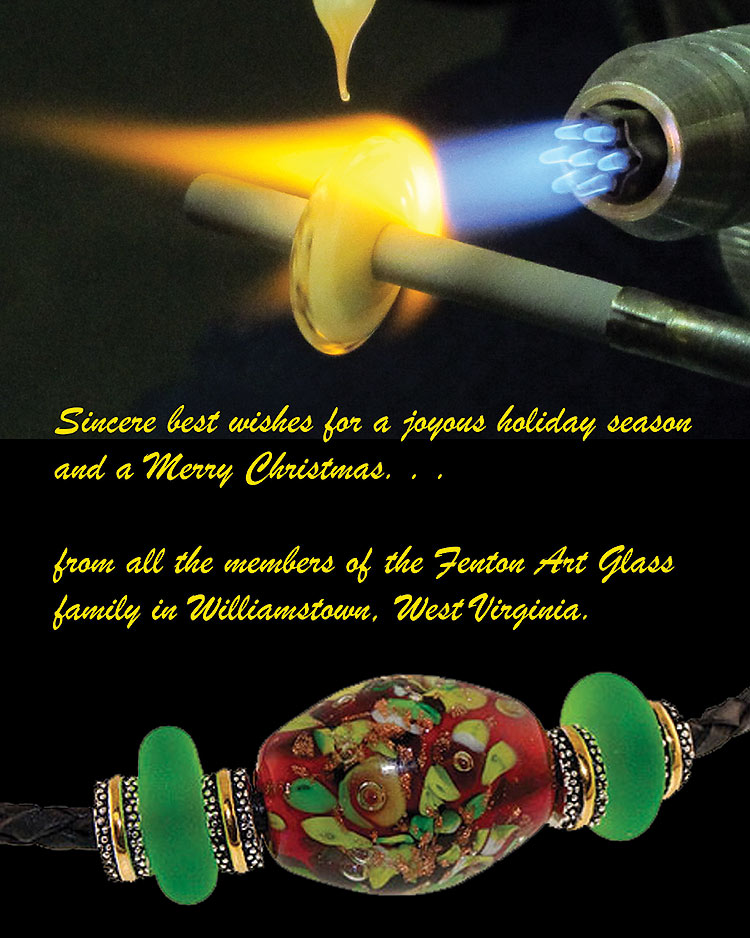 Fenton Holiday Schedule. . .
We will be on a holiday schedule next week. There will be limited tours of the beadmaking department. Please call ahead to confirm tour times: 304-375-7772. Fenton Gift Shop phone and internet orders will be shipped from December 26-28th. All other internet orders will be shipped the first week of January.

Fenton eBay Auctions. . .
We're going to take a break from eBay auctions for the next two weeks. Look for our next listings of Fenton items to go up at noon ET on Wednesday, January 2, 2013. In the meantime, HAPPY HOLIDAYS to all of our friends who have enjoyed our eBay auctions.

HOT LINKS. . . Find beautiful Fenton glass selections via our website with these categories:

Beads - Handmade in USA
Earrings - Handmade in USA
Internet Specials
Fenton Clearance Corner

Fenton Gift Shop Exclusives
Fenton Glass While Supplies Last

Fenton International
Glassmasters

Just seven now remain of this beautiful handcrafted Fenton basket! Blue Lagoon Satin provides the perfect canvas for this lovely design by Stacy Williams of a church in a winter landscape. Each basket is numbered and signed by Stacy.

I5842V81
8-1/2'' Rib Panel Basket
$79.50 Buy Now!

Fenton baskets are like no other basket!
Click here to learn more!
For questions or comments, please do not reply to this email. Instead, email: askfenton@fentonartglass.com.

This email has been sent to you because you have agreed to receive offers and information from the Fenton Art Glass Company. We respect your privacy and do not sell your personal information. For details, please review our privacy policy.

How to unsubscribe: If you prefer not to receive offers or information from Fenton Art Glass, please use this page to unsubscribe.

If you use a Challenge-Response system for email, please make certain that you can receive our email by adding askfentononline@fentonartglass.com to your Allow List.

For specific instructions for major ISPs, click here.

The sender of this email is the Fenton Art Glass Co., 700 Elizabeth St., Williamstown, WV, 26187
Copyright ©2012
Fenton Art Glass Company
All rights reserved
powered by
Network Associates