Fenton USA Presents. . . Limited Quantity Handcrafted Turkey Boxes
A lovely addition to your holiday table. . . handcrafted glass Turkey Boxes, made in the USA! This mould originated at the L. G. Wright glass company.

The Opal Satin Turkey Box shown at right features a handpainted design by Stacy Williams. Each Turkey Box is signed by the talented Fenton artist who completed it and fewer than a dozen now remain.


The Chocolate and Burmese glass Turkey Boxes shown below are Fenton Gift Shop Customer Appreciation Event Exclusives. They are numbered and limited to 25 each. The handpainted designs are by Stacy Williams and her signature is on each piece.


06410HP61 5-1/2'' Turkey Covered Box Opal Satin Top with Autumn Gold Base, $69.50, Fewer than a dozen now remain! Buy Now!

220173 - Buy Now! $69.50
Limited Edition (25), Numbered
5-1/4'' Burmese Turkey Box with Buttercup Base


220174 Buy Now! $69.50
Limited Edition (25), Numbered
5-1/4'' Chocolate Turkey Box with Orange Slice Base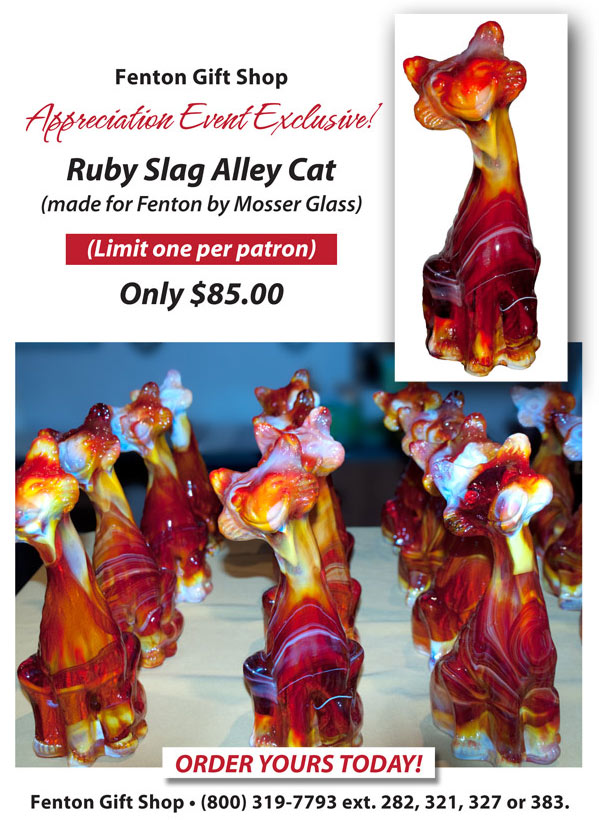 The Fenton Gift Shop has a limited quantity of these unique Alley Cats available for $85 each. . . while supplies last! This charming Alley Cat stands approximately 11" tall and was made for the Gift Shop by Mosser Glass, using the Alley Cat mould with the Fenton logo. Each Alley Cat is handcrafted in Ruby Slag glass. . . each as unique as its owner! The photo above shows the wide variety of color striations in this handcrafted Ruby Slag Alley Cat!
One of Fenton's most popular items, the Alley Cat was first made in 1970. The mould, originally designed by Reuben Haley, originated at the U.S. Glass Co. plant in Tiffin, Ohio, during the 1920s, and we acquired the mould in the mid-1960s. Since that time, we have made the Alley Cat in many different colors and decorative treatments. Each has been greeted with much enthusiasm by Fenton collectors, who just can't get enough of the Alley Cat's characteristic grin. Slag glass is a collectors' name for opaque pressed glass with white and/or cream streaks. The name derives from the belief that the colors were achieved by adding "slag" from iron smelting works to the glass.

This popular Gift Shop exclusive is strictly limited to one per customer. Please call the Fenton Gift Shop to place your order today: 1-800-319-7793, ext. 282, 321, 327, or 383. Orders will be taken on a first come, first serve basis. . . while supplies last!
---

New Offerings for Fenton Beads Frequent Buyer Program!
Just in time for holiday gift giving! We are auctioning on eBay the 100th bead from the two Limited Edition Frequent Buyer Program selections. This is our second Limited Edition offering and it has proven a success! We thank you all for your continued support of our jewelry program.

Now we introduce our third offering, limited to just 75 of each bead. Shown at right is the handpainted Katie glass bead, designed by Truda Mendenhall. Each handpainted bead has the initials of the artist who completed it. The Heather bead, shown far right, is a Vasa Murrhina bead, a glass treatment introduced by Fenton in the 1960s. According to our designers, Katie is reminiscent of a lovely Scottish lass and Heather reminds us of the Scottish highlands. Close to your ten bead purchase or want to start building your next bracelet? Check out our latest Fenton designs so you can earn these two beautiful Frequent Buyer beads for yourself or someone special on your holiday gift list! Click here to view the 2012 Holiday Collection and click here to view the complete Fenton USA jewelry collection, including handcrafted Teardrop earrings - which pair perfectly with Fenton beads!

---
Fenton eBay Auctions

Own a unique Fenton creation, including rare and
one-of-a-kinds, through our weekly eBay Auctions!
We've just added remaining inventory of musical movements. . . purchased for use in our glass music boxes. . . perfect for crafters! Items featured this week...

Fenton Dealer Locator

Can't find it online? Contact your local Fenton dealer! Authorized Fenton dealers still have large selections of Fenton glass available with new pieces from our remaining factory inventory recently shipped.
Click here to find a Fenton dealer near you!
For questions or comments, please do not reply to this email. Instead, email: askfenton@fentonartglass.com.

This email has been sent to you because you have agreed to receive offers and information from the Fenton Art Glass Company. We respect your privacy and do not sell your personal information. For details, please review our privacy policy.

How to unsubscribe: If you prefer not to receive offers or information from Fenton Art Glass, please use this page to unsubscribe.

If you use a Challenge-Response system for email, please make certain that you can receive our email by adding askfentononline@fentonartglass.com to your Allow List.

For specific instructions for major ISPs, click here.

The sender of this email is the Fenton Art Glass Co., 700 Elizabeth St., Williamstown, WV, 26187