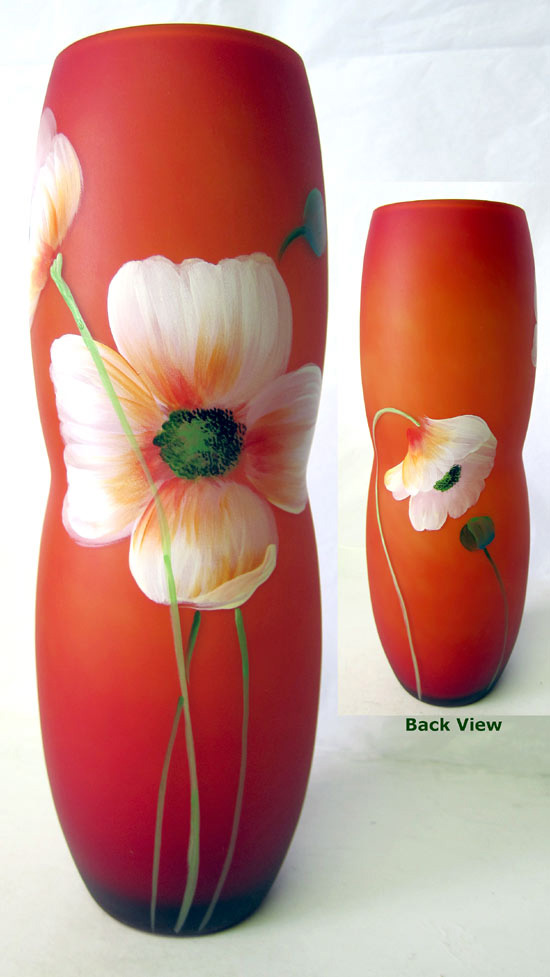 Fenton's USA Presents. . .
Persimmon Poppy Vase Special
We have just 14 of this beautiful Persimmon and Milk Glass Overlay Vase available as an Internet Special. Persimmon glass requires great care during production to achieve the perfect color effect, and designer Stacy Williams added a handpainted Poppy design that is the perfect complement to this vibrant Fenton glass color. Click here to learn more about Stacy Williams. Each vase is signed by the artist who completed it. Click here to view more Internet Specials.

For more than half a century, overlay colors have been produced by Fenton. Typically, a core of Milk Glass is gathered and shaped by a skilled glassworker called a Blocker. Then, a layer of colored glass is gathered over the Milk Glass. Our glass technologists assure that the two layers of glass will match perfectly, expanding and contracting at the same rate.

I4397QT 11'' Persimmon Milk Glass Overlay Vase, $149.50
''Spice Up'' Your Fashion Accessories
with Fenton Handmade in USA Jewelry. . .

0B027FR Chili Pepper
Handpainted Glass Bead
$35.00
You'll delight in our colorful and festive Chili Pepper bead! This handcrafted glass bead features two handpainted chili peppers, complete with a toothy smile and mustache, designed by Truda ''TJ'' Mendenhall.

Pair with our other colorful beads and Teardrop earrings to create your own unique look! Each Fenton bead has a sterling silver core embossed with Fenton USA. Each handpainted bead has the initials of the artist who completed it. Because of the handmade process, bead size may vary from 1/2'' to 5/8'' in diameter, but do fit
most major brands of necklaces and bracelets. Free Shipping on this item!
Click here to view the current Fenton USA jewelry collection. Click here for details on the Frequent Buyer Program for bead collectors.
Fenton Gift Shop
Z5058HPH
3-1/2'' October
Elephant Figurine
$45.00, Buy Now!

Special Offerings. . .
Z5058HPI
3-1/2'' November
Elephant Figurine
$45.00, Buy Now!


01834TS
4-1/4'' Topaz Satin Drapery Optic Vase,
$30.00, Buy Now!


Z6540OY
6 1/2'' Marigold Carnival
Grape Leaf Box
$79.50, Buy Now!
Fenton eBay Auctions
Own a unique Fenton creation, including rare, one-of-a-kinds, through our weekly ebay Auctions! This week's offerings include one-of-a-kind Halloween-themed Ghost and Pumpkinhead figurines! Be sure to check out our large selection of cruet, perfume and decanter stoppers! Items featured this week...
Fenton Dealer Locator
Can't find it online? Contact your local Fenton dealer! Authorized Fenton dealers still have large selections of Fenton glass available with new pieces from our remaining factory inventory recently shipped. Click here to find a Fenton dealer near you!

HOT LINKS. . . Find beautiful glass selections and gift ideas with these special offerings. . .
Fenton Gift Shop Exclusives


Fenton Made in America Jewelry

While Supplies Last

GM1012
Glassmasters
Mad Bluebird 6-1/2'' Roundel
$35.00, Buy Now!

Don't miss your opportunity
to add this Mad Bluebird stained glass Roundel to your collection before they fly south for the winter! Bluebirds stay in one area all year long, but our limited remaining inventory is going to fly the coop! Just a dozen remain in stock!
---