Fenton's 2012 Presents. . . Halloween Glass Offerings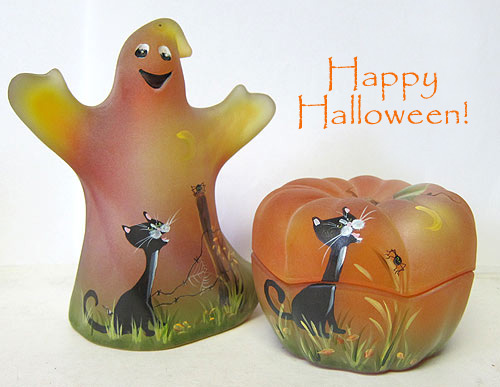 We have very limited quantities of our popular glass styles decorated as Internet Specials with Halloween-themed designs by Stacy Williams! Our popular Ghost has been handpainted with a cat serenading the moon or perhaps having a nice chat with a spider under a Halloween moon. The coordinating design appears on the Covered Pumpkin Box, perfect for storing treats or treasures!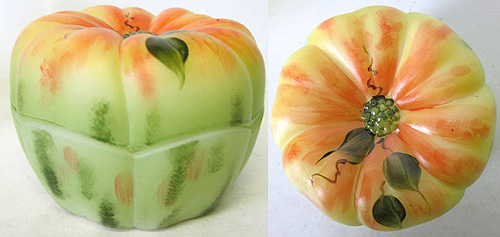 Here's your opportunity to add one of these unique pieces to your collection! One per customer, please. Click on each item to order. There are just seven Ghost figurines, four Pumpkin Boxes in Orange Slice Satin and three Pumpkin Boxes in Opal Satin. Each handpainted piece is numbered and has Stacy's signature. Watch for special selections to be offered on eBay next week (10/17), also handpainted with one-of-a-kind Halloween-themed design that complement the pieces shown here.
Fenton Handcrafted Beads

0B008GG
Pumpkin Patch
Milk Glass Bead
$39.50
Don't forget to get your pumpkin-themed beads for the upcoming holidays! As you can see from this photo, our talented Fenton artists are busy handpainting these beads for special occasions. The photo at right shows one of our talented artists meticulously painting Pumpkin Patch beads. This bead was designed by Truda Mendenhall and features a pumpkin trio. Each handpainted bead is initialed by the artist and the sterling silver core is embossed with Fenton USA. Click here to view the current Fenton USA jewelry collection. Click here for details on the Frequent Buyer Program for bead collectors.

Fenton Gift Shop's «Spook-tacular» Limited Quantity Offerings!

07737MI1 Limited Quantity
4-1/2'' Handpainted Milk Glass
Buckle Shoe, $37.50, Buy Now!

220065
5-1/4'' Ruby with Milk Glass Overlay Hobnail Pitcher, $95.00, Buy Now!


05937DI - Limited Quantity!
10'' Handpainted Ruby Basket
$99.50, Buy Now!
Here's your opportunity to add to your Halloween displays with fun and festive handcrafted glass from the Fenton Gift Shop! Each piece is signed by the talented Fenton artist who completed it. Limited quantities of these items remain, so don't delay adding these delightful
pieces to your collection!

This 4-1/2'' Buckle Shoe is handpainted in an Orange and Black stripes and polka dots design by Stacy Williams. Fill with candy corn for a tabletop treat!
Perfect to display alone or add seasonal flowers, this 5-1/4'' Hobnail Pitcher is handcrafted in Ruby glass with a satin finish Milk Glass interior. The handle is handcrafted in crystal.
Ruby glass with a satin finish provides the perfect canvas for Michelle Kibbe's spider and web under a Halloween moon. Perfect to display with seasonal flowers or Halloween treats!
Fenton eBay Auctions
Own a unique Fenton creation, including rare, one-of-a-kinds, through our weekly ebay Auctions! Check out our large selection of cruet, perfume and decanter stoppers! Items featured this week...
Fenton Dealer Locator
Can't find it online? Contact your local Fenton dealer! Authorized Fenton dealers still have large selections of Fenton glass available with new pieces from our remaining factory inventory recently shipped. Click here to find a Fenton dealer near you!

---