Fenton's 2012 Presents. . . The 2012 Holiday Collection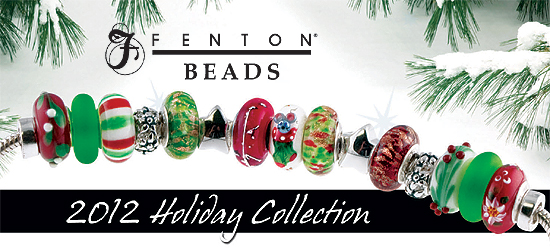 Our exciting new collection includes 18 unique handcrafted beads and three new handpainted Teardrop earring styles. . . plus NEW ''fashionable findings'' for our Teardrop earrings (more on those next time!).
Create your own unique holiday-theme bracelet or necklace with Fenton handmade in USA jewelry. . .
from vivid greens and reds to sparkling blues and frosty whites!


Click here to view
the complete Fenton 2012 Holiday Jewelry Collection as a pdf. Share with a friend. . . or share with Santa as your Christmas Fenton Jewelry Wish List!

New additions to our Fenton jewelry collection include Three Dimensional Mistletoe, Christmas Eve and Christmas Wreath beads, as well as an Encased bead Peppermint Candy. We also welcome a new Precious Metals bead, which we call Silver Bells.


Jena Lane Blair really got into the Christmas spirit when designing her latest Focal beads. You'll be amazed at the beauty that appears from deep within these unique beads. Shown at left is the Christmastide Focal bead with our new Velvet Kelly Green Bead-tween Spacers.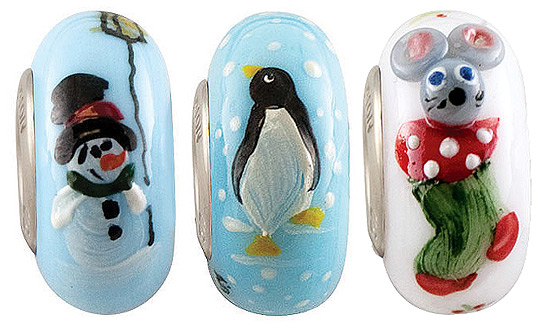 You'll appreciate the creativity of Truda Mendenhall in our latest handpainted selections, including the adorable Frosty and Penguin Love beads shown at right! Jena and Truda combined their talents to create this adorable Christmas Eve three dimensional bead. This bead features a mouse peeking out of a stocking,

reminding us of the popular Christmas story in which we're told that Not a creature was stirring...not even a mouse? Each handpainted bead is initialed by the artist who completed it.

Don't forget about our Frequent Buyer Program: Purchase ten beads from the Fenton web site or from any single Fenton dealer and receive your choice of a limited edition bead FREE! Shown at left are our second Limited Edition Frequent Buyer handcrafted bead selections: Playful Posey and Spring Fancy. Limited to 100 each, the 100th bead will be auctioned on eBay. Click here for details. Click here to view the current Fenton USA jewelry collection.

Fenton Gift Shop One of a Kind Creations by J.K. ''Robin'' Spindler

220171 One of A Kind!
7-1/4'' Handpainted Fairy Vase
$295.00, Buy Now!


220172 - One of a Kind!
8'' Handpainted Grape Vase
$295.00, Buy Now!
Here's your opportunity to own a unique
one-of-a-kind Fenton creation by award-winning Fenton designer J.K. ''Robin'' Spindler.

This one-of-a-kind 7.25" tall vase in black glass is a sight to behold! Robin satin-finished some areas of the glass but allowed other areas with a lustrous sheen to become part of her creative design. The handpainted fairy princess seems to float like a butterfly, and the applied gemstones and realistic foliage design form an enchanting background. This vase is signed and lettered on the underside: "Fenton USA OOAK 2012 J. K. Spindler".
Robin created the innovative decorative treatments for this fantastic one-of-a-kind
8" tall vase. The glass itself is very dark blue/purple, and Robin airbrushed and handpainted the entire outer surface all around to create wonderful texture and color shading. The leaves and grapes are splendidly realistic in appearance, and the overall design is simply remarkable. This vase is lettered, dated and signed on the underside: "Fenton USA OOAK 2012 handpainted by J. K. Spindler".
Fenton eBay Auctions
Own a unique Fenton creation, including rare, one-of-a-kinds, through our weekly ebay Auctions! Check out our large selection of cruet, perfume and decanter stoppers! Items featured this week...
Fenton Dealer Locator
Can't find it online? Contact your local Fenton dealer! Authorized Fenton dealers still have large selections of Fenton glass available with new pieces from our remaining factory inventory recently shipped. Click here to find a Fenton dealer near you!

---