Fenton's 2012 Holi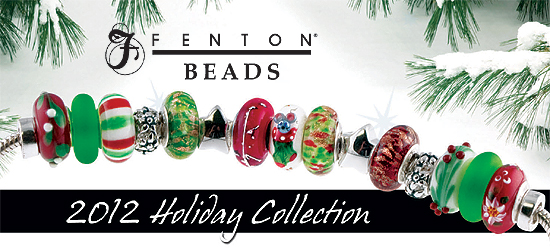 day Jewelry Collection. . . Sneak Peek!
Here's a sneak peek
at our 2012 Holiday Jewelry Collection!
Watch for next week's newsletter for the launch of this exciting new collection, which includes 18 unique handcrafted beads and three new handpainted Teardrop earring styles. . . plus NEW fashionable findings for our Teardrop earrings.
You'll love our adorable

Christmas Eve, a three- dimensional handpainted glass bead featuring a mouse peeking out of a stocking, as well as our Peppermint Candy bead, which looks good enough to eat! We've also added two new bead-tween spacer beads: Velvet Kelly Green & Velvet Cinnamon!

Don't forget about our Frequent Buyer Program: Purchase ten beads from the Fenton web site or from any single Fenton dealer and receive your choice of a limited edition bead FREE! Shown at left are our second Limited Edition Frequent Buyer handcrafted bead selections: Playful Posey and Spring Fancy. Limited to 100 each, the 100th bead will be auctioned on eBay. Click here for details. Click here to view the current Fenton USA jewelry collection.

Fenton International Anniversary Selections
Our popular Anniversary Glass collection features a floral design. Each flower is hand cut into the glass using special wheels. The precious metal lettering is applied and fired into the glass. Finally, each design is handpainted and fired again to create the brilliantly sparkling image. As we continue to wind down remaining factory inventory, we have limited quantities of nice Anniversary selections at special prices! Please click on each item below for details or, to view our complete offering of International glass, please click here.
Online Stained Glass Special from Glassmasters. . . Three Days Only!

Glassmasters is world renown for creating stained glass designs of licensed museum artwork and replicas of original stained glass windows. We are pleased to offer a special pre-holiday savings opportunity on our remaining inventory of Hummel Stained
Glass suncatchers.

Three-Day Hummel Online Special:
Receive the four items shown here,
regularly priced at $15.00 each, as a set for just $29.95! That's a $60.00 value!
To take advantage of this special offer, you must place your online order from October 5 through October 7, 2012.
You'll receive one each of these Hummel Suncatchers: HM2000 Gift for Jesus, HM2001 Angel Horn, HM2002 Light of the World, and HM2003 Guiding Angel. Now is the perfect time to stock up on holiday gifts or seasonal decorations. Click here to order this unique collectible Hummel stained glass set from Glassmasters.

A talented artist and devoted Franciscan nun, the art created by Sister Maria Innocentia Hummel between 1932 and her untimely death in 1946, is renowned for characteristic simplicity, celebration of childhood innocence and warm reflection on human nature. The enduring quality of the art, and the constant reminder that it is all about the children is an appeal to the heart that spawned a worldwide legacy now into its second century. Since 1932 the craftsmen of ARS AG, Switzerland, have reproduced the sacred art of Sister M. I. Hummel, to be loved and enjoyed by countless generations. These products are imported.

Fenton eBay Auctions
Own a unique Fenton creation, including rare, one-of-a-kinds, through our weekly ebay Auctions! Check out our large selection of cruet, perfume and decanter stoppers! Items featured this week...
Fenton Dealer Locator
Can't find it online? Contact your local Fenton dealer! Authorized Fenton dealers still have large selections of Fenton glass available with new pieces from our remaining factory inventory recently shipped. Click here to find a Fenton dealer near you!

---