Fenton USA Presents . . . Cameo Vase Weekend
Special

As we continue to wind down inventory from our glass factory, we've located very limited quantities of our cameo carved selections. We are pleased to offer this elegant Cameo Carved ''Entwined'' Vase as a weekend special. We have just five vases and no two are alike!

Each vase is lettered "ENTWINED Fenton USA" on the underside and is inscribed with the Kelsey/Bomkamp signature. Originally priced at $845, these remaining five vases are being offered at a special price of $676 with FREE shipping. This offer ends at 8 a.m. on Monday, September 24. Don't delay or you'll miss your opportunity to own one of these beautiful handcrafted works of art. . . made in America!

Designed by cameo artists Kelsey Murphy and Robert Bomkamp, this elegant Entwined vase is handcrafted in Black glass and cased with Milk Glass. The design features Clematis flowers entwined around the vase. The detail on this vase is remarkable!

Cameo carving is a painstaking process. After the glass has been annealed, a special mask is taped to the surface of the glass. Using an advanced "vignetting" technique, each piece is carefully sandcarved, by hand, using aluminum oxide crystal under pressure to take away some of the surface. Great individual skill and experience are needed to control this operation,
as many distinct stages of successive cameo carving are required to create the remarkable depth and the intricate details. Click here to learn more about Kelsey Murphy and Robert Bomkamp.

02468CJB
10-1/2'' Vase in Black glass cased with Milk Glass
''Entwined'' design by Kelsey Murphy and Robert Bomkamp
Just five vases remain at this SPECIAL PRICE: $676.00
with FREE Shipping until 8/24/12! Buy Now!

Handcrafted Figurines from Fenton Gift Shop. . .

Z5039T6
4'' Robin's Egg Blue
Cat Figurine
$21.50, Buy Now!


I5033HP2
4'' Handpainted Robin's Egg Blue
Elephant Treasure Box
$48.50, Buy Now!


Z5151HPRU
3-1/2'' Handpainted
Ruby Amberina Bear Figurine, $38.00
Buy Now!


Z5148HPV
3'' Fenton Gift Shop Exclusive Handpainted Patriotic
Mouse Figurine
$39.50, Buy Now!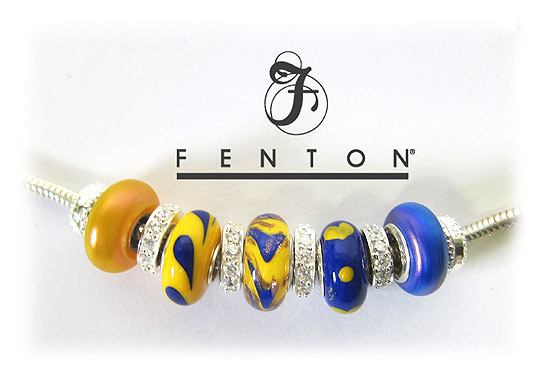 Show Your Fan Spirit with ''Special Color'' Fenton Beads!
The vibrant hues of Fenton's handmade in USA glass beads are the perfect way to wear your favorite school colors and an ''in fashion'' way
to show your fan spirit for schools and sports teams! Handcrafted glass beads in many color combinations are available. We have a large selection of special colors and designs from which to choose. . . including blue/gold, red/white, red/gold, and green/white. Mix
and match to create your favorite colors!

Shown here are bracelets featuring our regular line and ''special color'' beads. Each bead has a sterling silver core embossed with the words "Fenton USA." All handpainted Fenton beads are initialed by the artist who completed it.


Click on each bead image shown above or click here to view the entire Fenton handmade in USA jewelry collection. Fenton handcrafted glass beads are compatible with most major brands of bracelets and necklaces. Bead accessories are not sold through www.fentonartglass.com at this time. We suggest you contact the Fenton Gift Shop or another Fenton jewelry dealer, your local jeweler or online supplier.
Fenton eBay Auctions
Own a unique Fenton creation, including rare, one-of-a-kinds, through our weekly ebay Auctions!
Items featured this week...
Fenton Dealer Locator
Can't find it online? Contact your local Fenton dealer! Authorized Fenton dealers still have large selections of Fenton glass available with new pieces from our remaining factory inventory recently shipped. Click here to find a Fenton dealer near you!

---