Fenton USA Presents . . . Four Seasons Baroque Bowl
by Award-Winning Fenton Designer J.K. ''Robin'' Spindler

Our handcrafted 12'' diameter Baroque Bowl in Shell Pink features a lovely handpainted seasonal design by award-winning Fenton designer J.K. ''Robin'' Spindler. Shown at right
is the Fall design.
If you love Robin's work, then you'll enjoy the different Four Seasons theme on these Baroque Bowls. Click here to learn more about Robin.
We have a limited quantity of these Baroque Bowls and Robin's created a unique design for each season: Spring, Summer, Fall, and Winter. The scene on each bowl includes a small pond along with a small boat or sled appropriate to the season. The word Fenton
is handpainted on each rowboat and on the sled.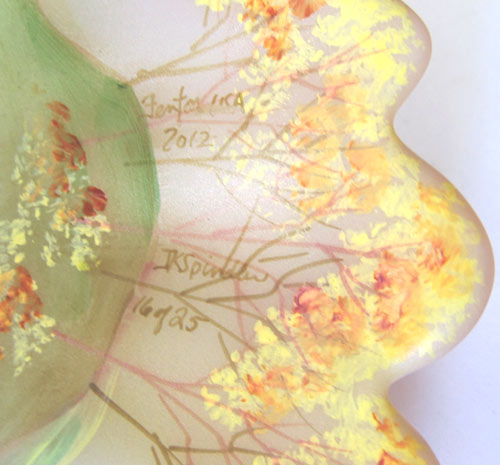 Robin handpainted her signature, Fenton USA 2012 and the appropriate number (16 of 25, 17 of 25 etc.) on each Baroque Bowl as shown in this photo. Handpainted as Internet Specials, just 25 of each Four Seasons bowl are available . . . offered While Supplies Last!

Click on the links below to view all of the Four Seasons bowls.
I6016SLH3 Fall, $199.00, Buy Now!
I6016SLH4 Winter, $199.00 Buy Now!
I6016SLH1 Spring, $199.00 Buy Now!
I6016SLH2 Summer, $199.00 Buy Now!

Fenton Reference Materials. . . While Supplies Last

FG947 - $20 - Buy Now!
Fenton Glass Especially for QVC


FG974 - $45 - Buy Now!
100th Anniversary Coffee Table Book
Includes signatures of nine
Fenton family members
Originally $100, Now $45


IG2005 - $5 - Buy Now!
Fenton Glass 2005 General Catalog
100th Anniversary Edition

Fenton Birds and the Bee Handpainted Made in America Glass Beads. . .

0B043DM - Buy Now!
Melancholy Loon

NEW DESIGNS!
These handpainted beads
are $45 each. All Fenton handpainted beads are initialed by the artist.


0B008DX - Buy Now!
Home Sweet Home


0B004FG - Buy Now!
Moonlit Owl


0B801FD - Buy Now!
Feisty
Special Bell Offering from the Fenton Gift Shop. . .

220157 - Buy Now!
7'' Portrait Bell
Green Opalescent Iridized


220158 - Buy Now!
7'' Portrait Bell
Green Opalescent Satin


220159 - Buy Now!
7'' Portrait Bell
Marigold Carnival

During the past 25+ years, the Special Orders Department at Fenton Art Glass produced a wide variety of souvenir or commemorative items.

We recently found small quantities of very interesting bells and are pleased to offer these for sale at the special price of $50 each through the Fenton Gift Shop. These bells would definitely be a unique addition to a Bell or Carnival Glass collection! Shown
here are three bells handcrafted in the
Circle Scroll pattern
that were produced
as Special Orders.

The Iridized Green Opalescent Circle Scroll Bell features portraits of Frank L. Fenton and John W. Fenton as well as this lettering: "FAGCA 1991" and a small butterfly. These men founded Fenton Art Glass in 1905 and worked together in Williamstown after 1907 until John founded the Millersburg Glass Co in Millersburg, Ohio, in 1909. The Green Opalescent (non-iridized) Circle Scroll Bell features a portrait of Frank L. Fenton and the lettering "Good Luck 1986 HOACGA". The Marigold Carnival Bell features a portrait of Edward Muhleman on the front and ''Good Luck 1988 HOACGA" and was produced as a special order for the Heart of America Carnival Glass Association. Edward Muhleman was associated with the Imperial Glass Co. in Bellaire, Ohio, during the early 20th century. His niece, Lillian Muhleman, married Fenton Art Glass Company co-founder, Frank L. Fenton. These bells are very limited in quantity and are being offered while supplies last.
Fenton Dealer Locator
Can't find it online? Contact your local Fenton dealer! Authorized Fenton dealers still have large selections of Fenton glass available with new pieces from our remaining factory inventory recently shipped. Click here to find a Fenton dealer near you!

Fenton eBay Auctions
Own a unique Fenton creation, including rare, one-of-a-kinds, through our weekly ebay Auctions!
Items featured this week...
HOT LINKS. . . Find beautiful glass selections and gift ideas with these special offerings. . .


This 7'' Bell is handcrafted in Crystal Iridized and features a handpainted pumpkin design with the script word: Blessings.

Each handpainted bell is signed by the talented Fenton artist who completed it. Just eight bells now remain in stock! Click here for more Internet Specials!

I7668HP1
7'' Crystal Iridized Bell Blessings Design
$57.50, Buy Now!

Fenton Made in America Jewelry

In Remembrance 9/11/01
---