Fenton USA Presents . . . Offhand Glass Selections

M8150QSHM
Dave Fetty 6'' Spout Pitcher
Buy Now! $88.50


M251999HM Dave Fetty
10-3/4'' Vase, Buy Now! $89.70


M8115WVHM
Frank Workman 12'' Footed Vase
Buy Now! $117.50
We are pleased to offer a few more remaining selections of offhand glass creations by glass artisans Dave Fetty and Frank Workman. These are ''slightly irregular'' production samples and, being offhand glass, each piece will vary in size and color. . . no two will be alike and are being offered while supplies last. Each piece is embossed with the personal stamp of either Dave or Frank.
The Artistry of offhand glass continues with the craftsmanship of Dave Fetty. Dave created a unique finish for the top of this pulled feather spout pitcher. The magnificent 10-3/4'' vase features an interior of simulated granite. Dave added ruby threads that go round and round and the vase is all cased with pure crystal! Quantity is very limited on this piece, fewer than a dozen remain!
The black footed vase was created by glass artisan Frank Workman. Beginning with a core of Milk Glass, Frank applied molten green glass in various ways to create a unique interior that will vary from piece to piece. The exterior design is also applied molten glass, and Frank designed the overall look. The applied black foot is done by a special technique Frank mastered. The result is this unique 12'' footed vase. Fewer than a dozen now remain!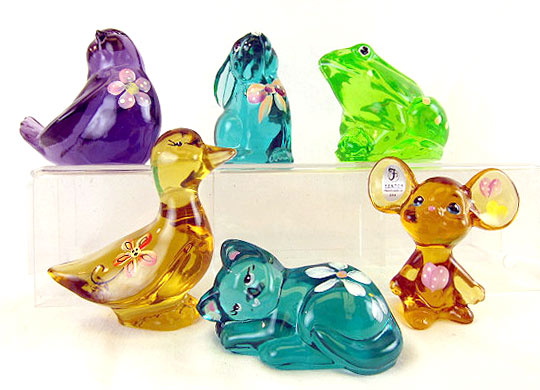 Fenton Figurines. . . Great Gifts at Great Prices!
These adorable figurines, handcrafted in a rainbow of Fenton colors, are great stocking stuffers for figurine collectors or use them as unique Thank You, Just Because, or birthday gifts. . . each piece is Made in America! You'll receive a special price of $29.50 on each figurine.
The Violet Songbird and Autumn Gold Mouse figurines feature a handpainted design by Kim Barley. The Mini-Bunny and Kitten in Robin's Egg Blue, the Key Lime Frog and the Autumn Gold Duck all sport handpainted designs by Stacy Williams. Each figurine is signed by the talented Fenton artist who completed it. Click on each figurine image to place your order. . . while supplies last!
Fenton handcrafted glass beads. . . truly unique!

Shown above are some of our newest selections from the Fenton Summer Jewelry Collection paired with beads offered within the last year to create a unique bracelet. Click on each bead for details. This bead collection includes many of our unique glass colors and treatments. Fenton is the only beadmaker creating handpainted beads using high-fired enamel paints for unmatched design flexibility and strong durability. Fenton beads have a solid sterling silver core embossed with the Fenton USA logo. Each Fenton bead has its own individual character because of the handmade process. Fenton beads are compatible with most popular brands of accessories. Please contact your local Fenton dealer or jewelry store for bead accessories, such as those shown above. Click here to view our entire line of handcrafted glass jewelry, including these new designs for Summer 2012.
Fenton Dealer Locator
Can't find it online? Contact your local Fenton dealer! Authorized Fenton dealers still have large selections of Fenton glass available with new pieces from our remaining factory inventory recently shipped. Click here to find a Fenton dealer near you!

Fenton eBay Auctions
Own a unique Fenton creation, including rare, one-of-a-kinds, through our weekly ebay Auctions!
Items featured this week...
HOT LINKS. . .
Find beautiful glass selections and gift ideas with these special offerings. . .
---