Fenton USA Presents A Special Offering. . .
Dave Fetty and Frank Workman Offhand Art Glass Creations
Fenton is pleased to continue offering offhand art glass creations by Dave Fetty and Frank Workman
at special prices while supplies last. Offhand glassblowing involves gathering a gob of molten glass on the end of a blowpipe. The glass is then fashioned into its final form by various techniques of blowing and shaping with hand tools and moulds. These offhand selections, some of which are very limited in quantity, are ''slightly irregular'' production samples. The sizes and colors will vary somewhat.
The Lavender Vase shown above was created by master glass artisan Dave Fetty. One of Dave's favorite off-hand decorative techniques is Pulled Feather, which he learned when working with Robert Barber in the mid-1970s. Milk Glass and opaque Lavender provide the perfect background for the hand-applied threading that is transformed into "feathers" with special tools in Dave's skilled hands.
Shown above right is a unique 5-1/2" Bowl created by glass artisan Frank Workman.
It features a light Apple Green inside color with wavy blue stripes and white dots on the outside. Because it is created offhand, no two pieces will be alike and size may vary. The top of the bowl measures approximately 9-1/2'' diameter.
Dave Fetty's Orange and Black vase shown at far left features hot glass threading that goes round and round on this magnificent 9-1/2'' vase. The iridized surface of the vase casts a vivid rainbow iridescence.
The 11'' footed vase created by glass artisan Frank Workman reminds one of the blue-green waves of the ocean. Using finely-powdered green and blue frit, Frank used special techniques to create the color drifts of blues and greens in this vase. The crystal foot is applied and shaped by hand.
Offered while supplies last, each of these ''slightly irregular'' production samples is embossed with the personal stamp of either Dave or Frank.
---
Nobody makes baskets like Fenton and this one is no exception! Our 10'' Panelled Basket is handcrafted in Ruby glass and sanded for a Satin finish. This basket was handpainted, with a design by Stacy Williams, as an Internet Special. There are fewer than 15 baskets available. The design features a stylized flower painted in such a way that the petals appear to be opening from "inside" the basket. Delicate handpainted flowers and stems adorn the outside panels as well. Each basket is signed and numbered by the talented Fenton artist who completed it. Click here to view all Internet Specials.
The basket handler's mark is distinctive and identifies the artisan who created the basket. Collectors enjoy adding their favorite basket handler's creations to their collection. The skilled basket handler has about 25 seconds within which he must accomplish the following: attach a glowing ribbon of molten glass to one side of the basket; deftly twist the rapidly cooling glass; stick it to the other side; impress the base of each side of the handle with his handler's mark, and finally, fashion the handle into a graceful arch. Click here to learn more about Fenton basket handler's marks.
Express your "team spirit" with Fenton handcrafted beads. . .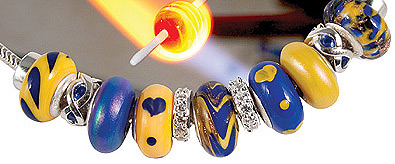 The vibrant hues of Fenton's Made in America glass beads are the perfect way to wear your favorite school colors and an "in fashion" way to show your spirit for schools and sports teams! Shown at left are our beads handcrafted in a blue/gold color theme suitable for West Virginia University.
Handcrafted glass beads in many color combinations are now available at authorized Fenton dealers throughout the country, including the Fenton Gift Shop (304-375-7772) in Williamstown. Mix and match to create your own school colors! Here's some suggested combinations that are currently available: black and gold (University of Iowa), blue and gold (West Virginia University), cardinal and gold (Iowa State University), green and white (Marshall University and Ohio University), and yellow and green (Green Bay Packers). For details, including beads in colors of your local schools, please contact your local Fenton dealer or the Fenton Gift Shop.

Fenton welcomes inquiries about special orders for custom beads. . . a unique fundraising opportunity for schools and organizations. For more information on the Fenton Bead Special Order Program, please contact Sue McCue at (304) 375-6122, Ext 209. In addition to the regular Fenton bead collections, we also have attractive state bird and flower designs. The Fenton bead collection includes many of our unique glass colors and treatments. Fenton is the only beadmaker creating handpainted beads using high-fired enamel paints for unmatched design flexibility and strong durability. Fenton beads have a solid sterling silver core embossed with the Fenton USA logo. Each Fenton bead has its own individual character because of the
handmade process. Fenton beads are compatible with most popular brands of accessories. Click here to view our line of handcrafted glass jewelry, including new designs for Summer 2012.
Fenton Dealer Locator
Can't find it online? Contact your local Fenton dealer! Authorized Fenton dealers still have large selections of Fenton glass available with new pieces from our remaining factory inventory recently shipped. Click here to find a Fenton dealer near you!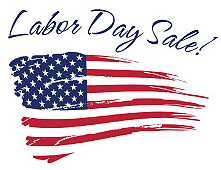 Click here for details on the Fenton Gift Shop Labor Day Sale!

Click here for details on other special events, including Artist Events at participating dealers (featuring a Victorian Rosebuds bead designed by Jena Lane Blair that will be available exclusively at these events) and a Beadmaking Workshop at Fenton Gift Shop on September 8th!

Fenton eBay Auctions
Own a unique Fenton creation, including rare, one-of-a-kinds, through our weekly ebay Auctions!
Items featured this week...
HOT LINKS. . .
Find beautiful glass selections and gift ideas with these special offerings. . .
---