Fenton Presents. . .

HV8340CHP - Buy Now!
8'' Blue Burmese Satin Vase - Limited Edition
Handpainted Design by Stacy Williams - $165.00
Fenton Gift Shop Exclusives!
Fenton is pleased to offer a limited quantity of Fenton Gift Shop Exclusives, including this beautiful handpainted vase, handcrafted in Blue Burmese Satin.
This vase is handpainted with a Stacy Williams design of a bunny gazing at a Christmas tree in the snow-laden forest. Each vase is signed by the talented Fenton artist who completed it. Numbered and limited to 35 pieces, only a few vases now remain!

Blue Burmese Story. . .
Frank M. Fenton had a passion for glass color chemistry and he worked closely with Fenton chemists to recapture several of the famous heat-sensitive art glass colors of the late 19th century. Frank was always intrigued by the challenges of recreating vivid hues, such as Burmese, for the Fenton product line.
Frederick Shirley patented Burmese ware in 1885. Mr. Shirley substituted cobalt and/or copper oxide for uranium oxide in his formula and the result was the pale yellow of Burmese turning to a delicate, pale blue. The gold present in the formula caused the glass to become pink when portions were reheated. The resulting pink/blue combination, made all the more intriguing and subtle by a velvet-like acid finish, was unique.
Shown below are a few other limited quantity Gift Shop Exclusives from which to choose. These handpainted figurines are must haves for collectors or as a gift for someone special. Beautiful Lavender glass handpainted with a lovely floral design make the Egg on a Stand a real treasure. Our Hyacinth Duck figurine will brighten any home with his cheery handpainted hearts and polka-dot pattern. Special in color and design is our Blue Burmese Butterfly figurine. A popular legend is that if you capture a butterfly, whisper a wish to it and then release it. . . the butterfly will carry your wish to the heavens and the wish will come true.

280002 - Buy Now!
3-3/4'' Lavender Satin
Egg on Stand, $39.50


Z5317HPB - Buy Now!
3-1/2'' Hyacinth Duck Figurine, $28.00


280001 - Buy Now!
3-1/2'' Blue Burmese
Butterfly Figurine, $39.50

Each handpainted figurine is signed by the talented Fenton artist who completed it. These pieces are very limited in quantity, so don't delay placing your order! Please click on each item's image or Buy Now! for details and to place your order.
Internet Special: Stocking Santa Figurine
Here's a great addition to your holiday decorations. . . but don't delay,
we only have a dozen! You'll marvel at the handpainted details on this
8-1/2'' Opal Satin Santa figurine. Kim Barley's handpainted design includes sparkling golden stars within Santa's beard, a duck peeking out of the stocking, wonderful details on Santa's merry expression and red, rosy cheeks, and a colorful red and green check fur-trimmed cloak to complete his festive holiday look!

The mould for our ''Stocking Santa'' figurine was designed by sculptor
Suzi Whitaker in 2007. . . the perfect addition to our Santa figurine collection.

Just 12 of these Santas were handpainted as an Internet Special and signed by Kim Barley. Each figurine is numbered 1/12, 2/12, 3/12, etc. Limited to one per customer... going, going, gone!

I5356MX1 8-1/2'' Santa with stocking, Kim Barley design, $95.00, Buy Now!
Our Latest Offering of Fenton Handcrafted Beads. . .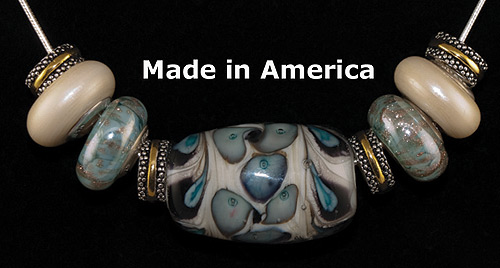 We are pleased to introduce eye-catching new styles in our line of handcrafted glass beads. Shown here (left to right) are our Natural Pearl, Aquamarine and Glacier Focal beads. . . attractive accessories to suit all your fashion styles!

Pearlized beads were designed by Jena Lane Blair and have a soft, satin luster. Jena's inspiration for these beautiful pearlized glass beads were nature's treasures from the ocean, so we call them Sea Treasures. In addition to the Natural color, our Pearlized beads are also available in Golden, Azure, Blush, and Sky. Precious metals add a new dimension to glass beads. They are used in two forms, melted into the glass formulas or added as pure metals to the bead during the forming process. Because of the handmade process, bead size may vary in size, but most will be approx. 1'' in length and 3/4'' in diameter. Our new Glacier Focal bead was designed by Jena Lane Blair. She describes this bead as "ever changing, melting, moving, freezing, magical!" The icy blue pools in Glacier are formed from inclusions of pure copper. Aquamarine is a Robin's Egg Blue glass iridized Vasa Murrhina bead, a time-honored Fenton Art Glass treatment using gold aventurine frit (finely ground glass).
Fenton beads are compatible with and will fit most major brands of bracelets and necklaces. Jewelry accessories are currently not available through the Fenton web site. Click on each bead for details or
click here to view the entire Fenton jewelry collection.
Fenton Dealer Locator
Can't find it online? Contact your local Fenton dealer! Authorized Fenton dealers still have large selections of Fenton glass available with new pieces from our remaining factory inventory recently shipped. Click here to find a Fenton dealer near you!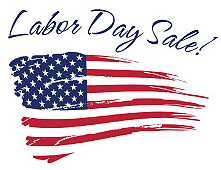 Click here for details on the Fenton Gift Shop Labor Day Sale!

Click here for details on other special events, including Artist Events at participating dealers (featuring a Victorian Rosebuds bead designed by Jena Lane Blair that will be available exclusively at these events) and a Beadmaking Workshop at Fenton Gift Shop on September 8th!

Fenton eBay Auctions
Own a unique Fenton creation, including rare, one-of-a-kinds, through our weekly ebay Auctions!
Items featured this week...
HOT LINKS. . .
Find beautiful glass selections and gift ideas with these special offerings. . .
---