Fenton USA Presents. . . Online Specials on Offhand Glass!

025111IHM - Dave Fetty
Blue/Black Hanging Hearts
Footed Vase, $147.00, Buy Now!


070700JHM Dave Fetty
Ruby/Black Pulled Feather Vase
$102.00, Buy Now!
Fenton celebrates the art of offhand glassblowing with another offering of unique
creations by glass artisans Dave Fetty
and Frank Workman. Offhand glassblowing involves gathering a gob of molten glass on the end of a blowpipe. The glass is then fashioned into its final form by various techniques of blowing and shaping with hand tools and moulds. These pieces, some of which are very limited in quantity, are slightly irregular production samples and the sizes may vary somewhat from the dimensions provided and are offered at special prices while supplies last. Each piece is embossed with the personal stamp of either Dave or Frank.
Dave Fetty
Dave Fetty began his glassmaking career
at age 19, when he worked at the Blenko Glass Company in Milton, West Virginia. Dave's mentor at Blenko was glassworker ''Shorty'' Finley, who taught him some of the skills for making glass offhand. Dave joined Fenton Art Glass in 1965, and he worked closely with artisan Robert Barber in the mid-1970s, designing and making some of Fenton's first limited edition pieces. Later, as a production supervisor and trainer, Dave helped other Fenton glassworkers develop special skills. Although he ''officially'' retired in 1998, Dave continued to contribute his design and glassmaking talents to Fenton, producing unique items that are tributes to American art glass.
Frank Workman


081911QHM
Frank Workman
Flared Bowl, $111.00, Buy Now!


025017ZHM
Frank Workman Vase
$117.00, Buy Now!


025151VHM
Frank Workman Vase
$58.50, Buy Now!
Visitors at Fenton Art Glass would watch in awe as glass artisan Frank Workman sat at his finisher's bench and carefully applied a molten thread of glass to a vase. Within a few minutes, Frank deftly fashioned the thread into an intricate zigzag pattern whose bright color contrasts perfectly with the hue of the vase. Frank mastered all the traditional skills of the glassmaker since joining Fenton in 1996.
In recent years, he worked closely with master glass artisan Dave Fetty. Frank had taken on some of the most challenging jobs in our factory. Frank most enjoys working "off hand," producing vases and similar objects with a basic mould and creating vivid decorative motifs ranging from hanging hearts and thin threads to amazing swirls, twists and exaggerated geometric various techniques of blowing and shaping with hand tools or moulds.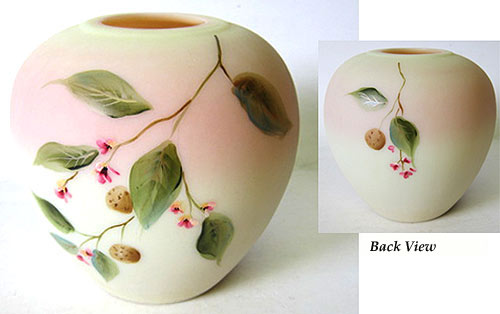 Internet Special: Burmese Vase
Fenton's classic Burmese glass provides the perfect canvas for Stacy Williams' handpainted design of flowering branches on this handcrafted vase.
Burmese contains pure gold in the formula, which creates the soft, pink blush. A smaller branch is shown on the back of the vase. Just 18 of these vases were handpainted as an Internet Special and are limited to one per customer. Each vase is signed and numbered by Stacy Williams.

I5341BR1 Burmese Vase $99.50, Buy Now!
---
New Handpainted Designs . . . Fenton Made in America Beads!


We are pleased to introduce 14 handpainted designs as part of our 2012 Summer Jewelry Collection. Each handpainted bead is as unique as the person wearing it! Shown above are our new selections: Tilly the Turtle, Charlotte, Feisty, Fenton the Feline, Muttley, Home Sweet Home, Don't Eat the Daisies, Chicory, Wild Violets, Blessed Blossoms, Bubba Bear, Tiger Lilies, Melancholy Loon, and Moonlit Owl. Featuring designs by Truda ''TJ'' Mendenhall, each handpainted glass bead has the initials of the talented Fenton artist who completed it and includes a silver core embossed with ''Fenton USA.'' Jewelry accessories are currently not available through the Fenton web site. Fenton beads are compatible with and will fit most major brands of bracelets and necklaces.
Contact your local Fenton dealer to see what's new or order online. Click on each bead for details or click here to view the entire Fenton Made in America jewelry collection. Reminder: Several of you are close to receiving a FREE bead as part of our Fenton Frequent Buyer Bead Program! Purchase ten beads and receive a special limited edition bead FREE! Click here for details.
Fenton Dealer Locator
Can't find it online? Contact your local Fenton dealer! Authorized Fenton dealers still have large selections of Fenton glass available with new pieces from our remaining factory inventory recently shipped. Click here to find a Fenton dealer near you!
Fenton eBay Auctions
Own a unique Fenton creation, including rare, one-of-a-kinds, through our weekly ebay Auctions!
Items featured this week...
HOT LINKS. . .
Find beautiful glass selections and gift ideas with these special offerings. . .
---