Fenton USA Presents. . .
Made in America Summer 2012 Jewelry Collection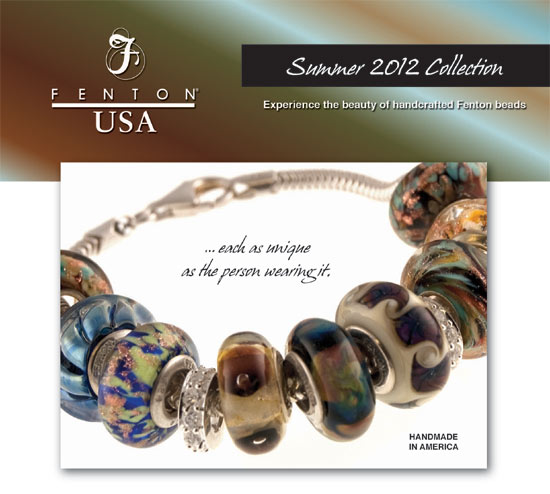 Fenton is pleased to introduce the Summer 2012 Jewelry Collection. This collection is available at your Fenton dealer and you can also order online through our website. This offering includes exciting additions to our handcrafted glass beads. Click here to view our current selections of handcrafted, Made in America jewelry. Click here to download the complete Summer 2012 Jewelry Collection pdf.

Included in this Summer 2012 Jewelry Collection are new styles for Vasa Murrhina, Three Dimensional, and Cubesque beads, as well as new handpainted designs by Truda ''TJ'' Mendenhall (Melancholy Loon,
Wild Violets and Chicory to name a few!) Shown above is a bracelet featuring some of the new designs. . . each is as unique as the person wearing it! Click on each bead image for details. Fenton handcrafted beads fit most major brands of bracelets. Accessories may be purchased through your local Fenton dealer or jewelry store.

New Handpainted Teardrop Earrings for Summer 2012
Four new handpainted designs join our Teardrop earring line for Summer 2012: Don't Eat the Daisies, Baby Cardinal, Audrey, and Party Girl.

Priced at $35.00, these Teardrop earrings make perfect accessories for Fenton Made in America glass beads. Be sure to see these matching bead designs for Daisies (0B021FB) and Baby Cardinal (0B008AHPAB) designs. Please click on each image to order.
---
Fenton Dealer Locator
Can't find it online? Contact your local Fenton dealer! Authorized Fenton dealers still have large selections of Fenton glass available, as well as the new Fenton jewelry collection. Click here to locate a Fenton dealer near you! Do you know of a specialty shop or jewelry store in your area that is not carrying Fenton jewelry? Introduce them to Fenton and show them the website: www.fentonartglass.com for Made in America handcrafted glass jewelry.
Fenton eBay Auctions
Own a unique Fenton creation, including rare, one-of-a-kinds, through our weekly ebay Auctions!
Items featured this week...
HOT LINKS. . .
Find great home decor and beautiful glass selections with these special offerings!
---